This content business model drives interest in live events while also driving revenue from attendees and sponsors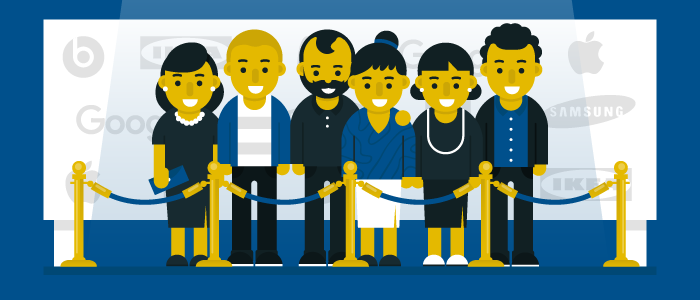 Who would have imagined in the internet age that people would still yearn for live events?
The appeal of hearing, seeing, and speaking with actual people and touching real-life objects has never gone away, and thus the event business is not only surviving, but thriving in an otherwise digital era.
The internet still plays a role, however: Now an event publisher can promote and sell tickets to an event in living color on a website. And a very successful content business model it can be, even for publishers who only added events to their legacy offerings in recent years.
[text_ad]
Unlike subscription-based business models, event content business models are retail websites that are purely transactional, and must be paired with a content-rich portal subscription website to attract traffic.
Alternately, an event website may pay for website traffic using third-party media such as display networks, text ad networks, and other publishers' email newsletters and websites.
These sites are not the same as event promoting websites that allow users to post their own events.
Our longtime client and fellow Boston-based organization, the Program on Negotiation at Harvard Law School, is an excellent mentor site for anyone launching a niche media event site.
PON has offered courses on negotiation and mediation for many years, ranging in length from one day to a complete semester. However, in 2009, at the height of the recession, PON was forced to cut back the number of its programs in the hope of increasing the number of participants. Both attendance and revenues continued to decline, however.
It was the addition of a well-designed event website — as part of the introduction of the Mequoda Method — that pulled PON back to prosperity.
Today, PON's revenues have grown by more than 63%, its programs are filled to capacity and they've added new programs as well. Meanwhile, the cost of marketing via direct mail was 32% of the budget; today, their total marketing spend is a mere 7%, with all event tickets now generated from their own Mequoda portal subscription website (pon.harvard.edu) and their email list.
And one of PON's  improvements highlights the most profitable advantage of event websites: exponentially increased global reach. Before the internet, international attendees comprised 20% of PON's total customer base, while today it's grown to 50%. Because PON is paired with a Mequoda portal subscription website and a newsletter subscription website, this makes them a portal / event / newsletter hybrid.
For a mass media site, look no further than the Consumer Electronics Show, which also dominated its niche long before the arrival of the internet. It, too, has grown exponentially thanks to the power of the Web.
This annual event is a week-long extravaganza of consumerism, and because it only happens once a year, it offers news and blog posts to keep visitors engaged the rest of the year. CES has no affinity website to drive traffic organically, so it must pay for advertising and links on other sites to build its audience.
Examples of event content business models
Taking a look at PON, we can see many of the quintessential characteristics of an event content business model. Its home page promotes all of its varied events, with buttons for browsing through them down the right rail, followed by the promotional copy. Click on one of those buttons, or on a specific tab in the navigation bar, and you can browse through all of PON's seminars and its Negotiation Institute courses.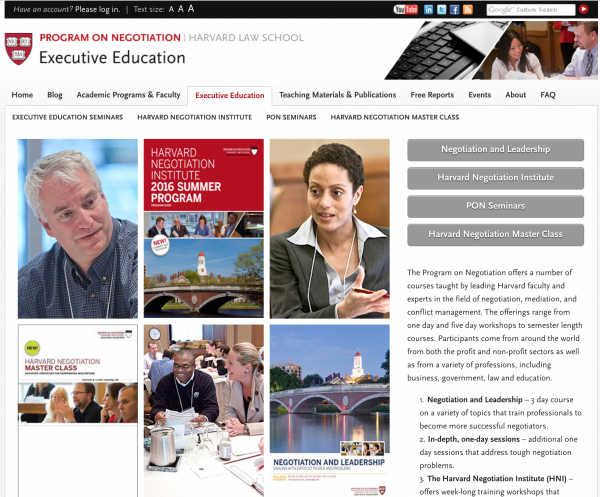 On each separate event page, there's a related OFIE (order form in navigation) promoting the brochure, so even if the visitor doesn't sign up for an event, once he or she hands over an email address, PON can continue to promote its events to that person via its daily email newsletter.
The Consumer Technology Association's event content business model is the mighty Consumer Electronics Show, currently held once a year in Las Vegas for professionals in the industry. Although it's awash in "consumerism," the role of this expo is to advertise companies' high-tech wares to consumers via journalists.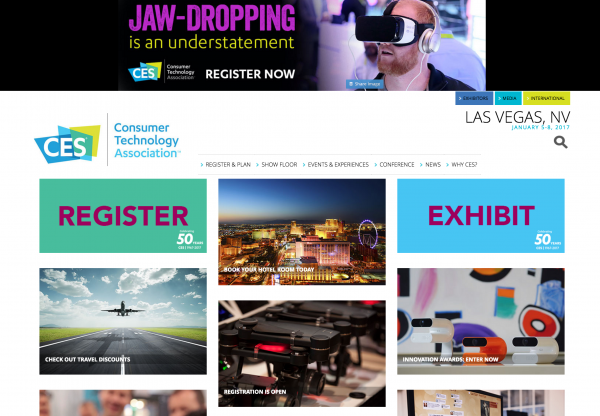 At $100 to $200 per person, that's a lot of cash to attend an expo. CEA also attracts more than 3,000 exhibitors, all of whom pay $20,000-$100,000 to rent booth space. Clearly the draw of seeing, hearing and touching fancy electronics (and, of course, the ubiquitous "booth babes") hasn't waned in the digital era. This home page promotes the next event.
Given that the event takes place just once a year, the publisher has taken pains to add new content of other kinds throughout the rest of the year. If you scroll down the home page past the invitations to register or exhibit, you come to the news, which will bring you to the association's Portal content business model for free content.
All other content on the site, accessed via the navigation bar on the home page, is about the upcoming CES. The site is carefully designed to keep visitors engaged throughout the 12 months between shows.
Characteristics of an event content business model
The event content model shares a low amount of user-generated content with all but one of its premium website siblings. After that, it's pretty much a unique creature.
Who pays: The content on an event page is free to all users; however, both users (attendees) and sponsors (exhibitors, if any) are paying for that content with the cost of their tickets or sponsorship fees. The site benefits attendees by giving them information on who, what, where, when and how, while it benefits sponsors by advertising the event/s where they're exhibiting.
MIU: The minimum information unit of an event website is an event. This can be a single, short event such as a three-hour workshop, a five-day summit, or a major exposition such as CES where attendees don't just sit in chairs and take notes, they can come, go and wander throughout a vast exhibition hall or halls.
Frequency: Publishing frequency at an event site is low. PON posts informational and promotional content for its most frequent event six times a year, and for an event publisher, that's considered high frequency. Both the mass media and niche sites can actually only have one event per year, which is why sites such as CES offer news and/or blog content to keep things interesting.
User-generated content: As noted above, the event site is similar to the magazine, newsletter, library and classroom business models with very low user-generated content. Only the retail premium website differs here, with a high level of user-generated content in the form of product reviews. The only user-generated content at an event site itself are testimonials or videos by attendees.
Number of authors: There is typically only one author at this site, that is, the event producer. Any user-generated content that does appear is heavily moderated by that producer.
Browse or Search: An event site is organized to allow users to browse through its content for a single event or for events with multiple courses or tracks. At the CES site, you might visit the blog to see what's new, but you probably won't be searching for "smart phone ear recognition app."
Home page: The home page of an event site, of course, exists to promote the next event, that is, what's new.
Video: Event websites sometimes offer video, but not all. CES has plenty, and PON will be adding video promotions to its site shortly.
If you're still selling your event tickets by direct mail, what are you waiting for? The internet lives to make you more profitable. And if you do have an event website, do you have any thoughts about our characterization of such sites? We're always interested in publisher experiences and especially business or information architecture we haven't considered. Let us know in the comments!