Boost publishing revenue by creating appropriate revenue zones on the free pages of your website
As a publisher, you should make your website's top goal to maximize your NOPX (New Orders Per Ten Thousand) page views by making sure that every page on your website is ready to convert visitors into buyers and subscribers at any moment and increase publishing revenue.
Your Portal is the main page where you give away free articles and content. For many magazines, this is on their main domain, like TIME.com or People.com.  If you've been following along with Mequoda you know that we advocate for every page on your Portal to have a set of best practice conversion architecture we call 3C Zone Architecture.
Consistent channel conversion zone architecture (3C), when applied to a publishing website, is a fancy way of saying that every channel (or portal topic) consistently aligns with a product that converts the user into a free subscriber or paid user of your website. Together, they create what we call a zone.
[text_ad]
When a user isn't logged in, we suggest using these ad zones, which usually appear above articles, in the middle of articles, and as a pop-up ad, for free downloads. That way you convert free visitors into free email subscribers, which has much less friction than trying to convert free visitors into paid subscribers to your magazine.
The list of pages on your Portal we suggest using these zones are:
Home Page – Your main Portal homepage

Article Page – An individual article page

Tag Page – An individual tag page which features a description of the term, and a list of articles using the tag

Category Page – A category page, which lists all articles published under that category

Browse Topics Page – A page that lists all of the categories

Glossary Page – A page that lists all glossary terms, which may link to tag pages if glossary terms are set up as tag pages

Keyword Index Page – A page that lists all tag pages

Author Index Page – A page that lists all author pages

Author Page – An individual author pages which includes a bio and lists all articles written by the author
However, once the user has become an email subscriber and is a logged in visitor, we don't want to waste all that real estate offering them more free downloads. Instead, we suggest improving publishing revenue by updating all of those ad zones into aligned product promotions for your magazine and books.
When we are building magazine subscription websites for our clients, we use a checklist to build out this best-practice conversion architecture using this 10-point checklist. We will investigate different pages of the Portal to do this:
Does the article or page include a floater? (Learn more about floaters here.)
Is their a Top Leaderboard Ad above the nameplate?
Is there a Middle Leaderboard Ad below the marquee? (Homepage only)
Is there a Top OFIE below the nameplate?
Is there a Bottom OFIE above the footer?
Is there a Medium Rectangle(s) in the Well? (Homepage only)
Is there a Medium Rectangle(s) in the Sidebar? (Homepage excluded)
Are there Nameplate Link(s) such as Subscribe buttons, register buttons, etc?
Are there Premium Text Ads? (Article and Category pages only)
Optional: Is there a Bottom Leaderboard above the footer?
For example, below is an example of #4, a best-practice OFIE below the nameplate on NewEngland.com which promotes a free download for their Best of Massachusetts guide while reading an article about Massachusetts town, Plymouth.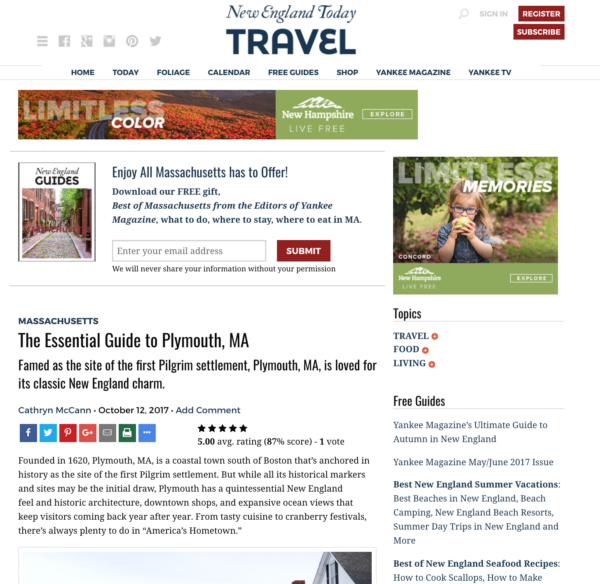 However, once you log in, the ad in this same article turns into an ad for Yankee magazine.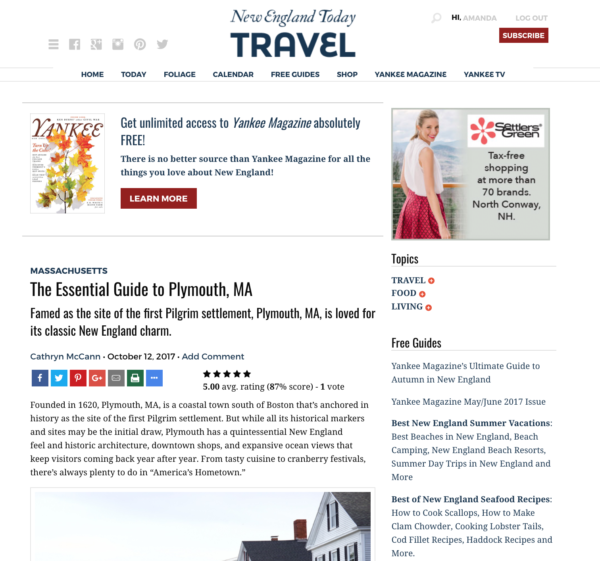 This conversion architecture is to make the best possible use of a person's time when they have arrived on your website. The conversion rate for a visitor who comes to digest free content, to then go around and turn into a paid subscriber, is very low. However, if you take them on a journey by offering them a free digital download instead, your email capture rate will be ten times higher. And once they're on your email list, you have plenty of opportunities to sell them the magazine. And if you follow our best practices here, you'll also have multiple chances right on your website when they come back and visit.
We came up with these best practices by sitting down with our consulting and development teams to discuss each page on a typical Portal to decide which conversion elements should or could be on that particular page. We used a combination of our top performing Systems to define what was necessary.
For ad-driven publishers, these spots can also be used for sponsored ads and will appear as publishing revenue channels right out of the gate, regardless of whether a user is logged in or not.
If you're looking for a partner in creating new publishing revenue channels for your publication, let's talk more. Schedule a call with us to talk about building your multiplatform publishing empire.