Mother Earth News shows how to do it
A 39X increase in online revenues over the past decade.
That's the joyous news that Mother Earth News shared with me the other day. And I love to spread such news, especially in an industry that has its full share of pessimism about the digital age.
What's more, last month those online revenues supplied 23% of their total revenue, and 15% for the year to date. That figure continues to increase, reports General Manager Bill Uhler. You won't hear any gloom and doom about online publishing from the folks at Ogden Publications!
How does Mother Earth do it? There's nothing unusual about it. It's a simple matter of common sense, marketing savvy and the Mequoda Method – MEN became a client in 2004 and has used the method ever since. Says Uhler modestly, "We try not to leave any monetization stone unturned."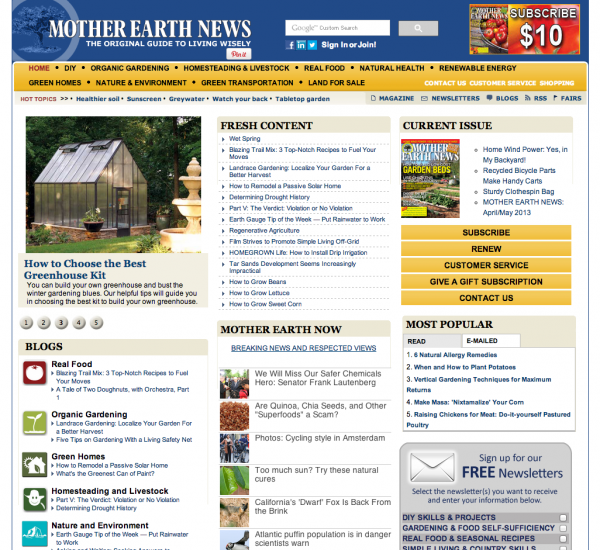 [text_ad]
Turning stones into cold hard cash
It all starts with building your audience, of course, and MEN excels there. In fact, MEN's total audience, including subscribers and website visitors, is now 5.4 million – a 111% increase since 2007. Nope, that's not a typo. Hope you were sitting down when you read that.
MEN is seriously into its SEO work. For example, a recent article, Home Wind Power: Yes, in My Backyard!, ranks 8th in a Google search for "home wind power" (behind the federal government and magazines that focus solely on home wind power), a term that gets 3600 annual searches. It also includes powerful proximity phrases such as "home wind turbine," "residential wind power" and "renewable energy."

MEN's website includes all the magazine content plus related news from other sources and lots and lots of blog posts. Why give away all its content? To cast a wider net with all that lovely organic search optimization, Uhler says.
Of course, MEN doesn't rely solely on organic search. It does use PPC campaigns, largely targeting "Mother Earth News" as the search term. It pays to build up your brand!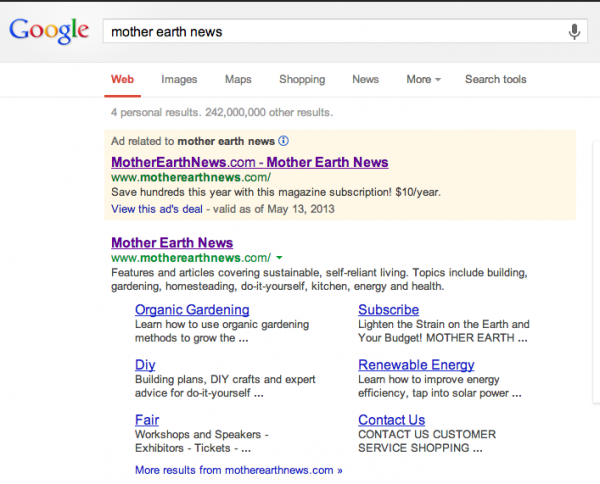 And all this traffic can be turned into profits in various ways. In fine Mequoda fashion, new visitors get a floater promoting MEN or a free report. Naturally, the free reports are aimed at helping MEN build its email list.
The content is surrounded by spots promoting MEN, its newsletters and other products. There is, of course, plenty of third-party advertising. In fact, in the last two months or so MEN has had advertisers lining up waiting for available spots. And it's a hefty audience of eyeballs. MEN had 2.3 million unique visitors in May … an increase of 52% since December. (And ad revenues are 43% higher right now than they were last year.)
See that OMI number at the top of the page? That's one healthy number, calculated by comparing December circulation with the most recent AAM circulation figures for July-December 2012. And it's going to rise next month when AAM releases its January-June circ data and we can compare that number with the new, higher visitor count.
Of course, as a former Mequoda client, MEN also employs free newsletters to the aforementioned email list to bring in visitors and sell products. There are six newsletters on various topics, which are sent three times a week. In between MEN sends promotional emails for their thousands of books, DVDs and other products, and all newsletters carry third-party advertising.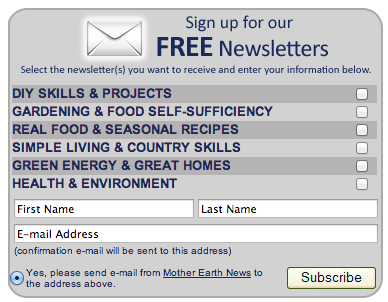 One other strategy which MEN is considering is text marketing. While waiting for cellphone users to become accustomed to the new practice, MEN is gradually building its phone number list. For instance, at their recent Mother Earth News Fair, a series of events now in its fourth year, attendees who signed up received text updates about the fair, and were offered deals at the MEN bookstore, all in exchange for a phone number.
MEN also follows another Mequoda Best Practice in continually engaging with website visitors to turn them into loyal fans and buyers. There are multiple blogs with comments, plus surveys of their audience about MEN quality, and even advisory groups that readers can sign up to join and offer their expertise on various topics.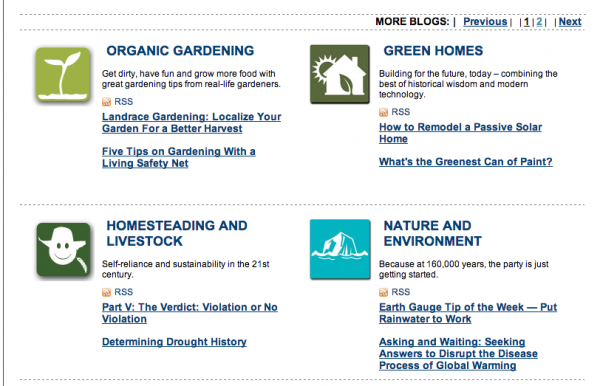 As a mature brand, it's not easy to keep growing. But MEN's wide-ranging catalog of assets includes a print and digital magazine, books, DVDs, events and even apps. MEN routinely turns its content into apps – warning! Do not try out the Pickin' Chicken app unless you're prepared to fall in love! – and podcasts.
The advantages of digital publishing
Being experienced subscription website publishers, MEN leverages digital publishing to its fullest advantage. Uhler reports that MEN is adding younger readers to its audience more than it did in years past, largely because of the iPad revolution. And as I've noted before, younger audiences, especially those who read on tablets, are also more affluent than other consumers, so they have more money to spend on MEN's products.
Another perk: MEN's editorial staff, including Hank Will, Bryan Welch and Cheryl Long, have become brands in and of themselves, extending MEN's reach even further.
And, as Ogden Director of Circulation and Marketing Cherilyn Olmsted
 notes, being able to stay in regular e-communication with their audience is a huge advantage. "We're more in touch with our readers this way," says Olmstead. "It helps us deliver a better product."
If you're looking for a mentor subscription website publisher to follow, you can't go wrong with Mother Earth News. I hope you'll take a look at it and comment below on this fine example of subscription website publishing, and on the ever-evolving benefits of digital publishing.