When it comes to online publishing, some publishers have a clear strategy and others are still confused. But all website owners can increase conversions and improve the user experience.
The solution lies in the Mequoda Website Network—the all-important centerpiece of the Mequoda Marketing System—which defines and determines the organizational architecture required for a 21st Century media company to compete effectively and profitably.
A Mequoda Website Network represents the product portfolio of a media company. The network architecture comprises a free, content-rich, relationship-building Internet hub that is surrounded by—and feeds traffic to—one or more marketing satellites (any of the six website archetypes), where the users can be monetized.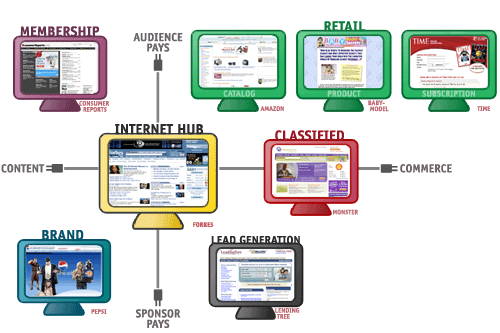 Mequoda Website Archetypes
This article was written by Don Nicholas with the help of Jane E. Zarem. It is just one part in a series on the Mequoda System. See below for the rest of this series:
1. An Introduction to the Mequoda System
2. Mequoda System Habit #1: Implement a Strategic Management System
3. Mequoda System Habit #2: Build a Mequoda Media Pyramid
4. Mequoda System Habit #3: Build a Mequoda Website Network
5. Mequoda System Habit #4: Organize Content Around the Customer
6. Mequoda System Habit #5: Create User-Centric Websites
7. Mequoda System Habit #6: Implement a Mequoda Marketing System
8. Mequoda System Habit #7: Make Metric-Driven Decisions
9. Repeat the Continuous Improvement Cycle
Find out the CMS features that publishers require to manage an online publishing business. Download a FREE copy of 7 Ways Haven Wordpress Goes Beyond Wordpress, and discover the features all publishers should have access to for a bigger audience, greater revenue, and higher profits.