This radical change to our rapid conversion landing page format has increased conversion rate consistently over the past three months

We occasionally run organic marketing tests at the Mequoda Daily and enjoy sharing the results with our community.
The latest test we ran has resulted in a 32% increase in overall net conversion rate on our rapid conversion landing pages, all thanks to a radical change to the template.
We have always taken a hardcore direct response approach to the design of the RCLP. Meaning, there were no distractions on the page. Visitors couldn't navigate to other areas of the site, they couldn't leave a comment – the only thing a visitor could do was provide their email address in order to access the report.
In May, we decided to change the format of the RCLPs and have the RCLP look and function much more like a post. Comments are now enabled, helping facilitate conversations about our free reports and encourage inbound links. Also, logged-in users are now able to read the full contents of each RCLP. In the old format, links to RCLPs for logged-in users would redirect to the Thank You Download page.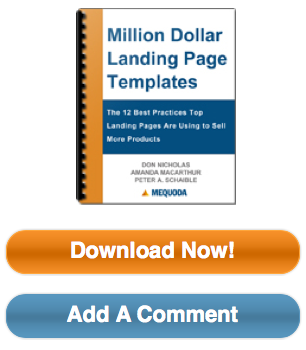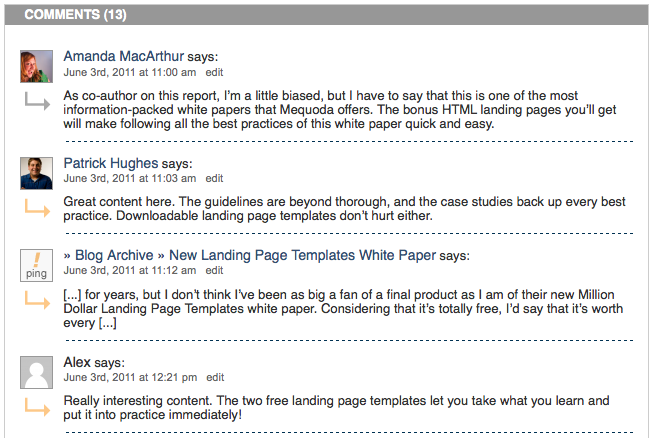 The idea for this test came from data released by SEOmoz earlier in the year, discussing how Google's algorithm appears to be rewarding sites with social signals, which include comments from audience members.
Find out the CMS features that publishers require to manage an online publishing business. Download a FREE copy of 7 Ways Haven Wordpress Goes Beyond Wordpress, and discover the features all publishers should have access to for a bigger audience, greater revenue, and higher profits.
Conclusions of the test
After adding the comments section to all our rapid conversion landing pages we've seen a 32% increase in overall net conversion rate across all our RCLPs. This data compares the overall net conversion rate of all RCLPs from February through April (pre change) with the overall net conversion rate on all RCLPs from May through July (post change).
Why comments are valuable on RCLPs
The interaction on RCLPs keeps the page freshly updated, which is something Google rewards with higher page rankings in relevant search results. Higher results often mean more searchers seeing your page, depending on its search result position.
Positive comments are great testimonials, which other visitors will see. The more you receive from your audience, the better chance at converting you'll have.
If you have the capabilities of allowing comments on your rapid conversion landing pages, we'd recommend giving it a try. Monitor the conversion rate over a span of several months and see how it performs. Also, make sure your landing page template is set up so comments can be entered by logged-out members too.
In the spirit of this new data, we'd like to invite you to leave comments on our RCLPs after you've read the associated free report. Let us know what you think of the content. If you have any questions after reading the free report, please don't hesitate to ask in the comments section.
Win an iPod Shuffle
Any Mequoda Daily reader who leaves a comment on an RCLP between today August 12th and August 26th, will be entered in a drawing to win a free iPod shuffle. People who leave comments and share the link to the RCLP with friends, colleagues or family members, will be entered multiple times.