Is the "walled garden" paying off for the New York Times?
About two weeks ago, The New York Times put up their paywall again, asking users to pay for content. To a lot of people, this is something new, but we remember back in 2007 when they did it the first time around and garnered half a million subscribers in the first twelve months.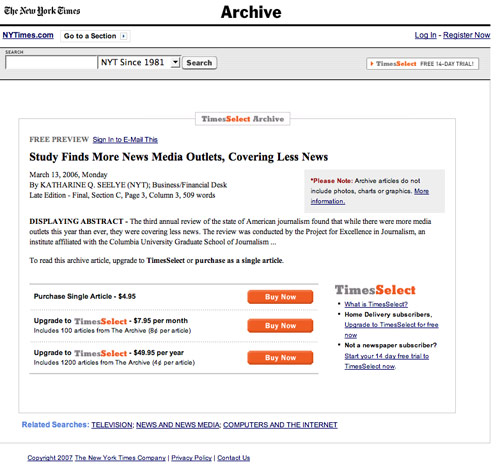 Unfortunately, their "walled garden" approach didn't work back then for two reasons. First, they were blocking search engines, which they've corrected this time around. Second, the average web user didn't "get it" yet. They also didn't have Kindle devices that made a digital subscription make sense.
Four years later, it seems that more people are paying attention now that much of the Internet is a free-for-all.
As soon as the NY Times paywall was announced, searches for "amazon kindle" jumped 160%. Probably because the monthly subscription on the Kindle is only $20.
Find out the CMS features that publishers require to manage an online publishing business. Download a FREE copy of 7 Ways Haven Wordpress Goes Beyond Wordpress, and discover the features all publishers should have access to for a bigger audience, greater revenue, and higher profits.
But whenever a "walled garden" goes up around premium content, a publisher can't be sure that it's going to work. As for the smaller publishers, they just wait to see if someone like The New York Times can pull it off first.
The new NY Times paywall starts with a popup…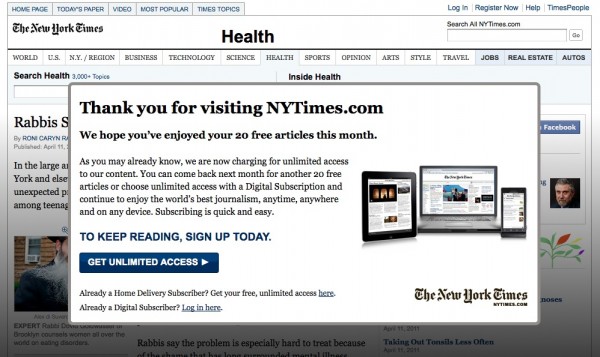 …which leads to a more robust subscription page that is formatted very similarly to their 2007 version. The three option format seems to be working for them.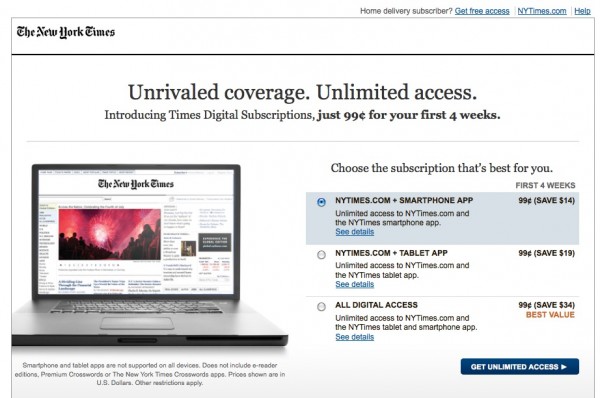 Rick Edmonds at Poynter estimates that the new NY Times paywall will generate about "$58.5 million in new circulation revenue, about an 8.5 percent increase on the paper's 2010 total." This number is based on the 600 million users per month who read 20+ articles per day. Edmonds figures 5% of those people (300,000) may convert to digital-only subscribers.
Mashable has already been tracking their loss in traffic, which is actually somewhat minimal. Their pageviews are where they're taking the hit. Ben Parr at Mashable reports:
Traffic has declined overall by 5% to 15%.
Unique traffic has dropped since the paywall, with most declines in the 5% to 10% range.
Hitwise found that pageviews dropped between 11% and 30%.
In terms of traffic for their advertising partners, The New York Times may be taking a hit, but according to Edmonds over at Poynter, they should be making up for it decently in subscription sales soon enough.