From zero to 19,000 UVs in just 18 months, and much more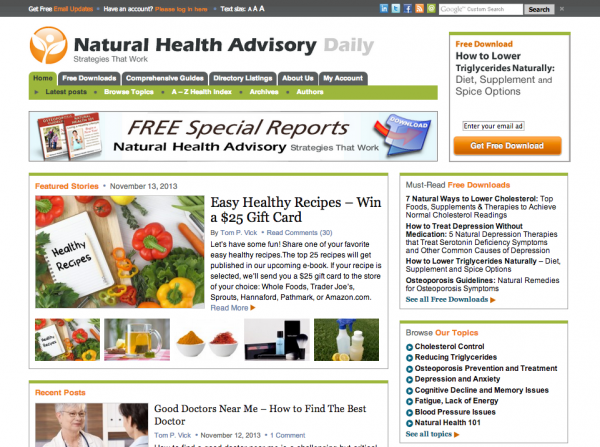 One of the most revolutionary things about the Internet for the publishing industry is that it has allowed people who might never have had access to an audience to become publishers and distribute content that they feel passionate about to a global audience.
One of these subscription website publishing success stories is the Natural Health Advisory Institute, whose website is not only a robust portal for just that kind of content, but a hybrid website consisting of five reference subscription websites, a professional directory website and a bookstore. So basically, a quintessential Mequoda website.
Executive Editor and CEO Tom Vick, after 35 years in the property-casualty insurance industry, was inspired by a personal experience with natural health remedies to launch the current site in March 2012, aiming to help others discover the same natural healing approach that had helped him and turned him into a passionate advocate.
Subscription website publishing allows Vick and his team to research and report to its audience how to "implement the natural healing modalities" that Vick believes can benefit others.
Today, just over 18 months since launch, naturalhealthadvisory.com boasts:
14,000 average monthly unique visitors
19,000 unique visitors in the past month
5,000 email subscribers (up from 51 on March 6, 2012 when the first Week in Review was mailed)
Regular blog posts
5 free downloads
5 premium interactive guides
An interactive tool to find integrative health
Successful subscription website publishing, Part 1: Driving traffic
Like all Mequoda websites, naturalhealthadvisory.com is geared toward organic search and funneling visitors into their conversion architecture. When you arrive at the site, you're offered, via a "Death Star" floater, a free report.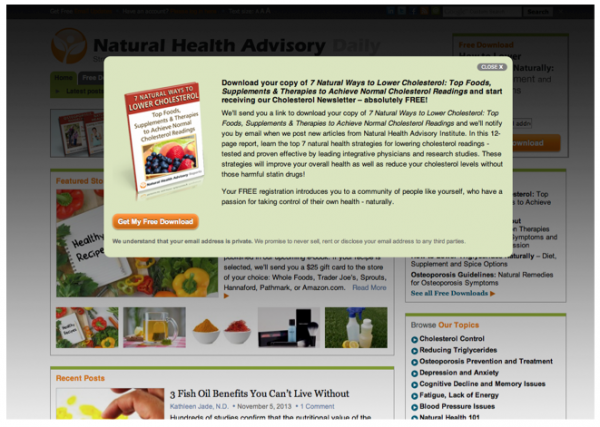 Surrender your email address and you're signed up for Natural Health Advisory Daily, a free newsletter. Vick and team write regular posts serving up useful information to keep their subscribers engaged and happy. At the Mequoda Gold Member Summit, we discussed on of Vick's posts that has earned blockbuster status by delivering a substantial portion of traffic for extended time periods – long after the original publication date.
8 Serotonin Deficiency Symptoms That You Can Identify Yourself was first published on Oct. 12, 2011. Since then, it's accounted for a full 7% of the website's organic traffic. And that's just one post of hundreds! Clearly the NHAI team understands how to drive traffic: They've picked a popular topic, written a keyword-rich title and post, and included a list, which, as you know if you hang around here a lot, is a killer way to write headlines and subject lines.
The post is optimized for critical keywords like serotonin deficiency, serotonin deficiency symptoms and depression and anxiety. Google serotonin deficiency symptoms and this post is ranked fifth – a real feat in a field as crowded as healthcare.
Driving traffic is, of course, a key effort for naturalhealthadvisory.com as it is for any website. NHAI focuses on keywords for the blog that have metrics more favorable to small niche health websites, rather than compete with the big health players for certain keywords – no matter how appealing their competitive index might seem.
Also important, Vick says, are those emails that encourage readers to read more at the website. After all, once a reader is at your site, there's plenty more to read that could catch that person's attention, rather than just the single article they might read in an email.
NHAI writers also do guest blogging for reputable, authoritative websites in order to build credibility and drive additional traffic. And in that area, it's also important, Vick notes, to make sure your content is accurate, well researched, well written and genuinely helpful.
Vick says small sites like his own, without deep archives and no historic brand presence, are often overlooked by Google's algorithms. "You need to learn to be satisfied with steady but slow growth over the first several years of existence," he advises. That's why he emphasizes the quality of his content.
"We believe by doing so Google ultimately will recognize us as an important and authoritative source, and will consequently reward us with favorable page rankings resulting in traffic growth."
And in the interim, NHAI is building its audience and its traffic not just with organic traffic, but with paid search.
Successful subscription website publishing, Part 2: Products
In addition to keeping the NHAI audience happy, the emails also promote additional free reports and premium guides at $29 each, or $49 for an all-access pass. There are five free reports aligned with specific topics.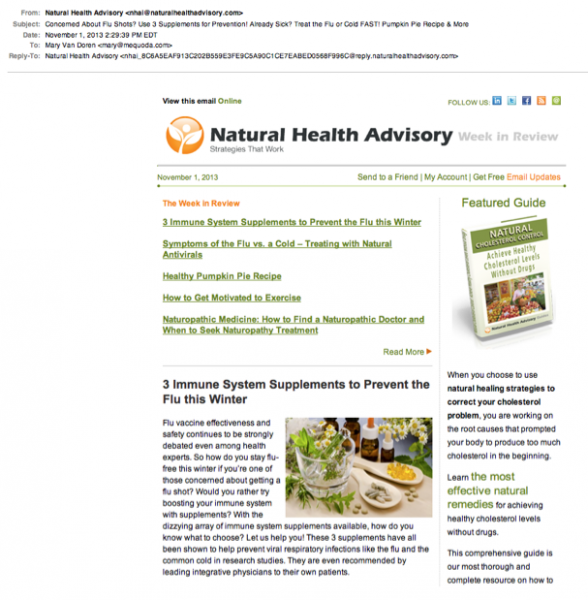 NHAI premium guides are unique products. They're set up to be interactive, so readers can move around in the book to check related, hyperlinked information, easily return to where they were, and research complex material much more easily than with a non-interactive guide.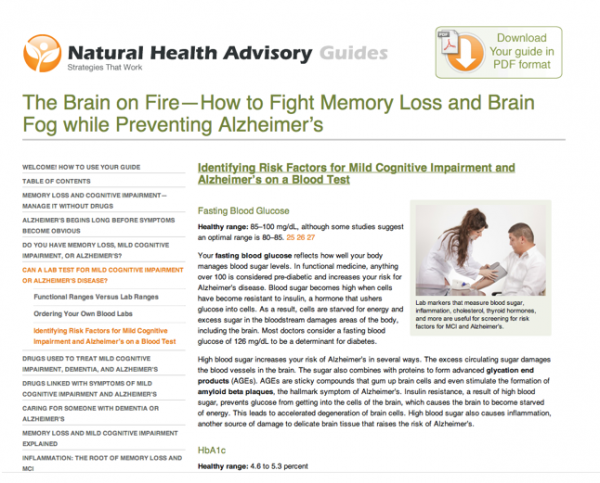 Vick launched the site with three guides and has now added two more. Sales of the guides are modest, he reports, but as he says, slow and steady growth keeps him forging ahead. They're a bit tricky to create, because most writers are uncomfortable at first with the taxonomy required to make the material interlinked, but response from customers who buy them has been positive.
In addition to written reports, free and paid, NHAI also has a free, very robust natural health doctor and practitioner directory. The directory boasts a whopping 331 pages of listings, and Vick reports that it's "gaining steam" even as the team considers new ways to promote its usefulness.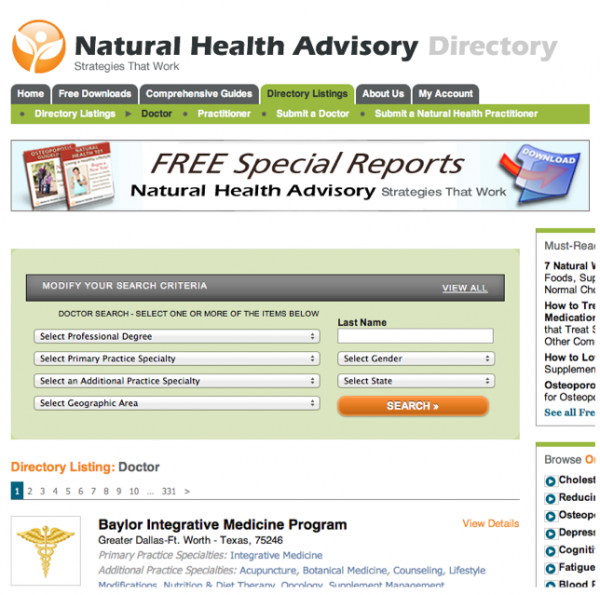 It's clear that the Mequoda Method, executed by a dedicated publisher and a few team members, is able to become an Internet presence, even in only 18 months. For the first year of the site's life, NHAI saw 5,400 average unique visitors per month. Since then, the number has skyrocketed to 14,000 – 160% growth, and still climbing.
Do you know of any similar subscription website publishing success stories? Who else has recently launched without a legacy publication or large publisher behind them and made a go of it? We're very interested in hearing about other publishing winners, even if they don't use the Mequoda Method.