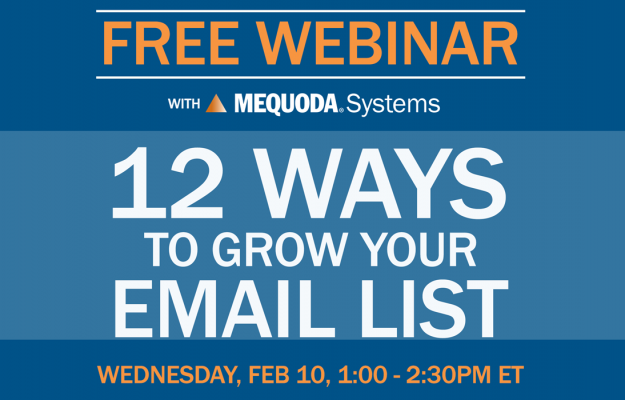 Are you like most publishers, who want to know how to best leverage their existing subscription website to convert more visitors into email subscribers, but aren't sure what to test or where to start?
If yes, then you're in luck, because at Mequoda we develop, design, and write copy for email capture conversion elements that are tested against millions of website visitors every month.
And on February 10 at 1:00 PM ET, during our FREE webinar, 12 Ways to Grow Your Email List, we'll share how we increase email capture rates for our partners, and the exact process and approach we take to testing multiple email capture elements. You'll learn how to create a massive email marketing list through your own subscription website by knowing what and how to test.
We will walk you through a case study of one publisher who increased their email capture rate by 50% in 18 months through careful and meticulous testing using the 12 strategies we'll dive into during this webinar. This testing and subsequent increase in capture rate led to a 53% increase in the size of their email list and a 27% increase in total revenue.
The best kind of email list is one that is built organically, with people who have come to your website by their own methods, and decide they want more of your content on a regular basis. But publishers spend so much money buying lists, rather than making it easier for visitors to subscribe to their email newsletters.
In this webinar, we'll show you how you can turn that around.
During this 90-minute webinar, 12 Ways to Grow Your Email List, you'll:
Get a checklist of email capture elements you can implement on your site that will actually make a difference
Discover how to conduct more effective A/B tests
Learn how to do a sequential test
Start understanding how to validate your test results more strategically
Begin analyzing how to maximize the different channels on your website
Join me and Bill Dugan, Mequoda's Senior VP and resident expert on email capture testing, direct response copywriting, and overall testing strategy and economics. Bill leads the marketing and editorial content teams at Mequoda and is a world-class award-winning copywriter. Prior to joining Mequoda, Bill was marketing director for Nutrition Action, the world's largest consumer health newsletter. While implementing the Mequoda System for Nutrition Action, he and his team more than tripled the email capture rate using the methodology and testing ideas we are going to reveal in this webinar.
The only caveat is that seats are limited to the first 97 attendees to help ensure a successful Q&A session at the end of the webinar, so register now.