Study these examples to learn how to succeed in multiplatform publishing
When the Internet burst on the scene and magazine publishers decided to get on the bandwagon, a lot of people simply shoveled their content up to the Web and called it a day. After all, there wasn't a lot of guidance available in this brave new world.
Now we know a lot more about subscription website publishing than we did 10 years ago … but some of those early websites have barely advanced in strategy, purpose or profitability. There's no real goal, just lots of content.
That's great for the audience … not so much for the publisher. That's why Mequoda has documented nine most profitable subscription website models and even published a book about them. Publishers must plan to make money with their websites – not just hope a miracle occurs.
We do realize, though, that understanding which website is right for you can seem a bit esoteric. So let's take a look at active examples of some of these models and what makes them successful. The following case studies are examples of clients who've mastered the Mequoda Method. The information we've included below came from interviews with the publishers and from public information.
They also represent five specific niches that we call the "Big 5:" food, travel, business, news and investing, so you can see that these models are flexible enough to handle any content niche.
For the two examples whose magazine circulation is readily available, I've also included the Online Media Index (OMI) – Mequoda's measurement of a subscription website's success as an audience development platform.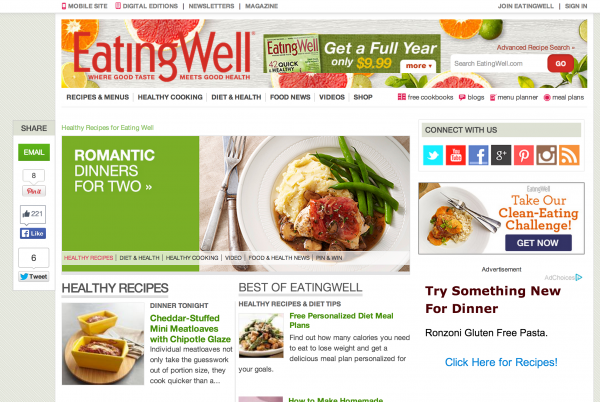 Online Media Index (OMI):
5.3

Total circ:

670,716

UVs / month:

3,554,614
Portals are seen most often because not only are they a profitable model on their own, they're also intended to build and feed an audience for premium content. They are specifically designed for SEO, email marketing, list building, lead generation and building engagement and loyalty. It's a Mequoda best practice to build a portal for every subscription website we create.
EatingWell is a stand-alone portal. While adding some kind of premium content would be a preferred, it at least executes this model well. It boasts a  unique visitor count vastly higher than its magazine circulation, giving it an OMI of 5.3, a solid A.
And that's not because its circulation is dropping, either. In the year between June 2012 and June 2013, the last date for which we have AAM audited data, EatingWell's circulation has increased a whopping 21%. They are clearly doing something right.
The "something right" includes a free content-rich website to engage visitors, optimization to drive that traffic, and free newsletters to allow the magazine to engage with and sell products to those subscribers.
EatingWell follows a Mequoda Best Practice of offering free content in exchange for an email address. EatingWell offers 65+ free cookbooks, promoted on more than 500 pages where relevant content resides, and also promoted on recipes and in the right rail. EatingWell tells us that this has dramatically increased their newsletter signups and website registrations – all to become prospects to buy EatingWell products.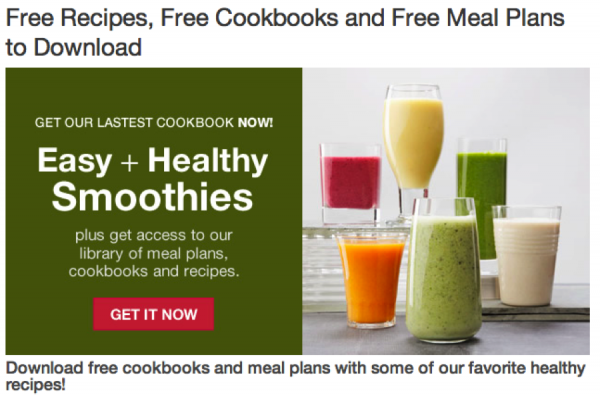 The portal is suited for almost any magazine, legacy or new, from news to business to fashion, travel, gardening and more.
Find out the CMS features that publishers require to manage an online publishing business. Download a FREE copy of 7 Ways Haven Wordpress Goes Beyond Wordpress, and discover the features all publishers should have access to for a bigger audience, greater revenue, and higher profits.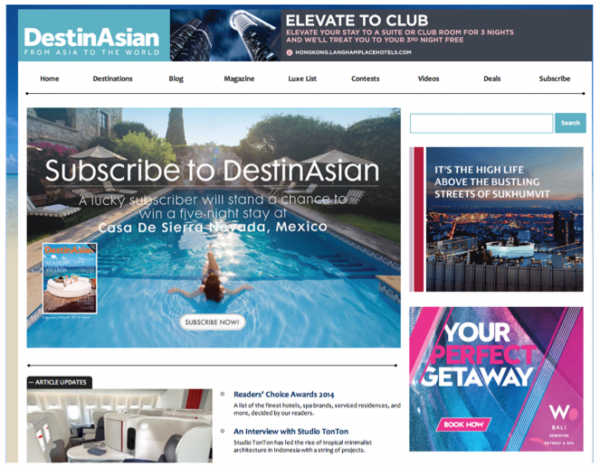 MODEL: Portal
DestinAsian, delivers another portal subscription website. It's a luxurious travel website for centered on the Pacific Rim, is a subscription website on steroids: It's all about the advertising. Lots and lots of advertising: Colorful, lush banner ads, some of them allowing users to book vacations, others featuring rotating images or videos.
While it's tempting to think of a website where the magazine is available as a magazine site, the magazine content is free, so it's simply a portal.
Most of the content, including the blog, videos and articles, are essentially more advertising for restaurants, hotels, shops and airlines. Think of DestinAsian as the Internet version of those lush city magazines you find in hotels, designed to get out you of your room and spending money.
Like a good Mequoda Method operator, DestinAsian features a free newsletter to convert visitors to subscribers and allow it to market to them. But the prime real estate at the top left, dedicated to rotate photos that promote features, and includes one that promotes the premium product.
DestinAsian also offers a sort of community feature, Luxe Nomad, which is free to join, and which shares vacation deals that members can book, and awards credits on trips if a member's friends book their own trips.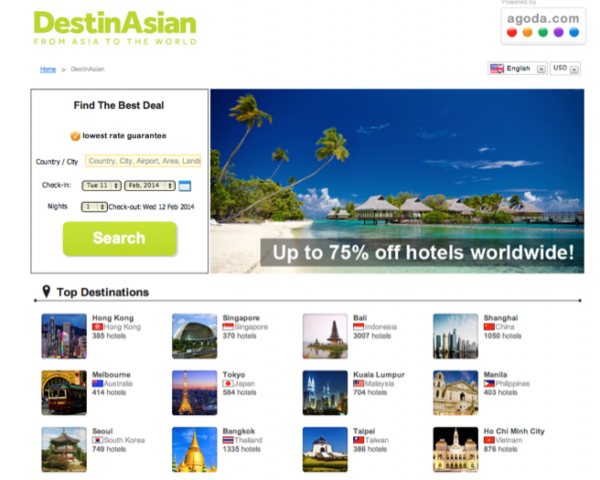 DestinAsian even includes application tools for booking flights and hotels – but with so much additional content, it doesn't really qualify as an application model. In other words, this site is quite the amalgam of subscription website models – with every feature and tool designed to generate revenue.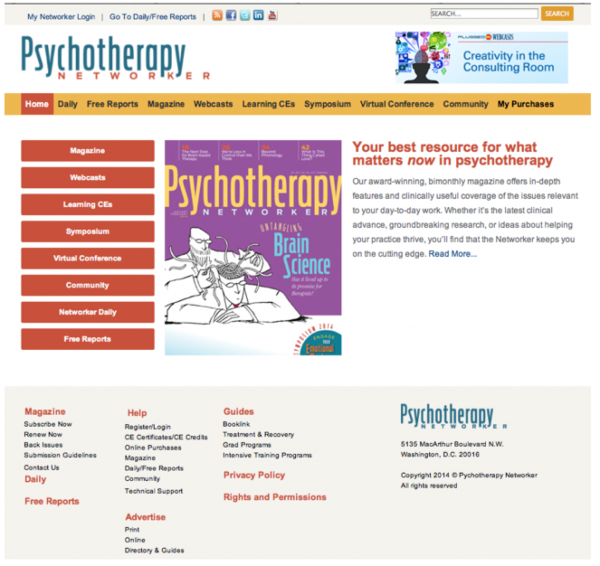 MODEL: Portal
Psychotherapy Networker has a recently revamped website. Its editor-in-chief, Rich Simon, freely admits that his team is one of those that jumped on the Internet without any clear idea of how to actually make money. Because the magazine is available for free, it qualifies as a portal. With its new website, it's been averaging 58,087 unique visitors per month since the launch in November.
The Psychotherapy Networker team will add a paywall to the magazine later this year, so it's about to become a portal/magazine hybrid. Psychotherapy Networker's site also helps it promote its main revenue generator, an annual live event as well as allowed the team to create an all-new revenue stream in live webinars and online courses.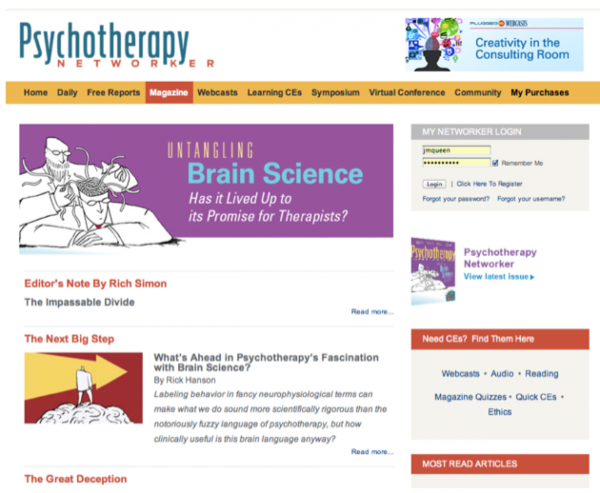 The site is easily recognizable to readers of this blog. It features simple, easy-to-navigate architecture, with pages for a free daily blog, free downloads, a forum, the premium products and the magazine.
To access forums, the magazine archive and an audio library, and network with other users, you have to register for free. As you've probably guessed by now, that also gets you an email newsletter – another Mequoda staple.
On the website, there are numerous opportunities taken to promote the premium products, including banner ads, OFIEs and lists of the free reports to tempt the new visitor.
Other publications leveraging the magazine website model include MAKE and LEDs (light emitting diodes) Magazine, two completely different niches. The advantage to this is in allowing you a global audience to whom you can deliver your magazine without mail costs. Of course, with the advent of tablet magazines, this model may become less widely used over time.
Find out the CMS features that publishers require to manage an online publishing business. Download a FREE copy of 7 Ways Haven Wordpress Goes Beyond Wordpress, and discover the features all publishers should have access to for a bigger audience, greater revenue, and higher profits.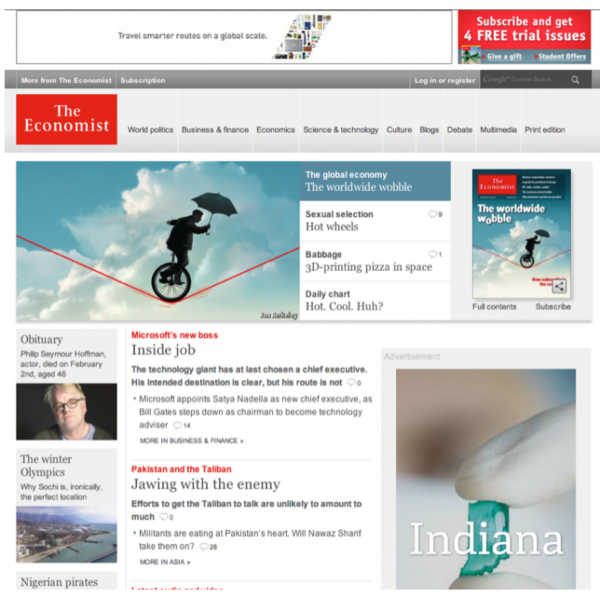 MODEL: Portal/Periodical Hybrid
Online Media Index (OMI):
3.61

Total circ:

833,104

UVs / month:

3,040,789
Like EatingWell, The Economist's website exists to engage visitors daily and to promote its products. If you've read the this blog one or two times, you'll know we believe The Economist is one of the top operators in multiplatform publishing.
Unlike EatingWell, The Economist doesn't give all its website content away for free; it used the content as teasers to encourage readers to register after reading six articles, so that The Economist has developed a large email list to promote to. After another six articles as teasers, a paywall arrives to sell a subscription, turning this portal into a periodical.
The periodical website archetype is often associated with newspaper brands and other news periodicals that include trade papers like Computerworld and Variety.
Mequoda's best practice would avoid this kind of mixture in a subscription website, because it confuses users and makes revenue streams indistinct. But with a company as large as we're not going to make a huge fuss about it.
The home page carries banner and display advertising. An ad for subscribing shares a small portion of the banner across the top of the page. Below the navigation bar is a horizontal layout that includes snippets of four articles that are new every day, and next to that is an image of the current issue's cover, where subscribers can click to access their magazine online, and visitors can click to subscribe.
The Economist also monetizes its content lavishly in books, archive subscriptions, DVDs, calendars, prints of its famous cartoons, T-shirts and leather accessories.
One other area where The Economist excels is its buttoned-down email newsletter program. There are two different newsletters, New on The Economist.com and Editor's Picks. These are delivered at precise times, which encourage readers to expect and anticipate their latest fix.
The Economist doesn't appear to send promotional emails, third-party or otherwise, but don't confuse their lack of an email strategy with a lack of a revenue strategy.
Both emails are editorial in nature and set up to get a subscriber to do one of three things:
Click a link to visit the website (drive website traffic)
Click the ad that gets them to subscribe to the magazine (build circulation)
Click on an ad (drive event revenue)
There's a clear content and revenue strategy going on at Economist.com. They have a registration wall, so they're focused on getting people to hit the website as many times as possible. They don't seem overly concerned with which medium they come in on, so they do a fair amount of promotion for their social networks in addition to their emails.
The Economist also realizes they're a news site, and email isn't always timely. But people love curated newsletters, so by hand-picking the best news of the day or week in their emails, they can build an email list of fair-weather news readers. By getting in front of readers with at least six new articles at a time, they can easily get a subscriber to hit their 6-article limit within the week.
This variation of a periodical model in which only a small portion of the website content is free works best when you have a large staff and plenty of content. With publishers starting to eye Forbes' method of getting tons of free content from thousands of bloggers, this strategy might start spreading across more than just news magazines with vast editorial staffs.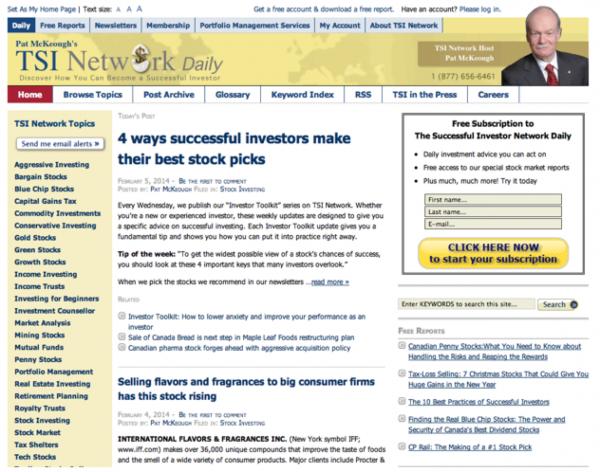 MODEL: Portal/Newsletter Hybrid
A newsletter subscription website is set up solely to sell subscriptions for a related print – or, even cheaper to produce, digital – newsletter, and to provide access to issues of the newsletter.
A newsletter subscription website is commerce-based, with an overall objective of increasing product sales and providing customer service to existing subscribers. The Minimum Information Unit (MIU) is an article, and the primary product sold through the website is a single issue of the newsletter.
The newsletter, as a model requiring only a small number of authors, is perfect for a space like investing that's heavily populated by individual experts. At The Successful Investor, that expert's smiling face is featured prominently on every page to emphasize the nature of this newsletter.
The Successful Investor also features daily free content, qualifying it as a portal, plus paid weekly content from its newsletters, thus qualifying it as a newsletter website as well.
Of course, all of the free content delivers an order form in editorial (OFIE) encouraging you to download a free report, which means you'll get a free newsletter. There's also a banner ad in the right rail encouraging you to sign up for one of those newsletters.
The free reports are also prominently featured in the right rail, just below the newsletter banner ad. Finally, you can sign up for dozens of email alerts, featured in the left rail on every page.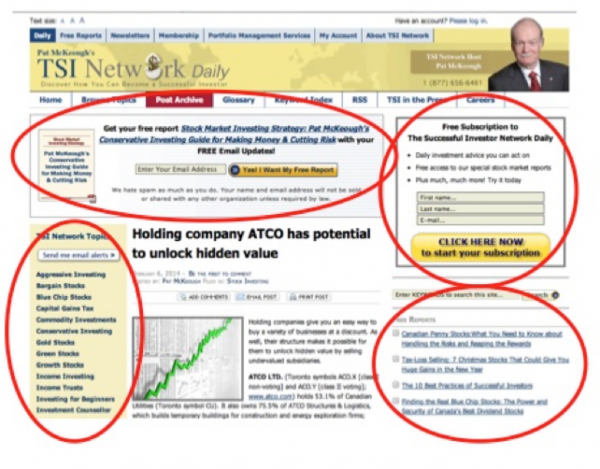 Not a single piece of real estate is wasted, not a single opportunity to harvest an email address is overlooked. This is superb monetization of one person's knowledge, expertise and reputation.
Of course, if you'd rather sell advertising and keep your content free, you can always start a blog, which has made some people very rich indeed. And of course there are nine models in total, as we often note. If you're not familiar with all of them, and want to see other models that might suit you better, be sure to check out our free book, Subscription Website Publishing: The 9 Most Profitable Subscription Website Business Models.
What model or models do you use to support your publishing business?