While many magazine publishers struggle to find the right subscription marketing strategy, The Economist demonstrates its regard for long-term subscriber relationships.
Editor's note: Since we published this article, we've since moved in favor of contrast pricing, and here's why.
The simplest subscription website pricing strategy is Universal Access and The Economist uses it well.
I've spent hours, and several hundred dollars, buying digital magazines. I've bounced around between my iPad, Kindle Fire, and the World Wide Web. I purchased from Condé Nast, Hearst, Rodale, and The Economist.
The Economist offers subscribers the best customer experience
I started by purchasing a one-year subscription to The Economist on the iPad. The experience was clean and effortless. I chose the one-year offer, entered my Apple password, agreed to share data with The Economist and set up an account that would give me unrestricted access to The Economist website. Unrestricted website access allows me to read the entire archive back to 1997, breaking content, and the weekly audio edition delivered as a podcast. The subscription offer on the website also informed me that my subscription granted me access to the Android and iPhone editions.
Obviously, the above is a very customer friendly offer. It grants me access to the same content in different formats. It accommodates my need for snack reading on the iPhone, in-depth reading on the iPad, audio listing on the go, and archive research from my iPhone, iPad, MacBook, and iMac from anywhere in the world.
Four reasons publishers should adopt universal digital access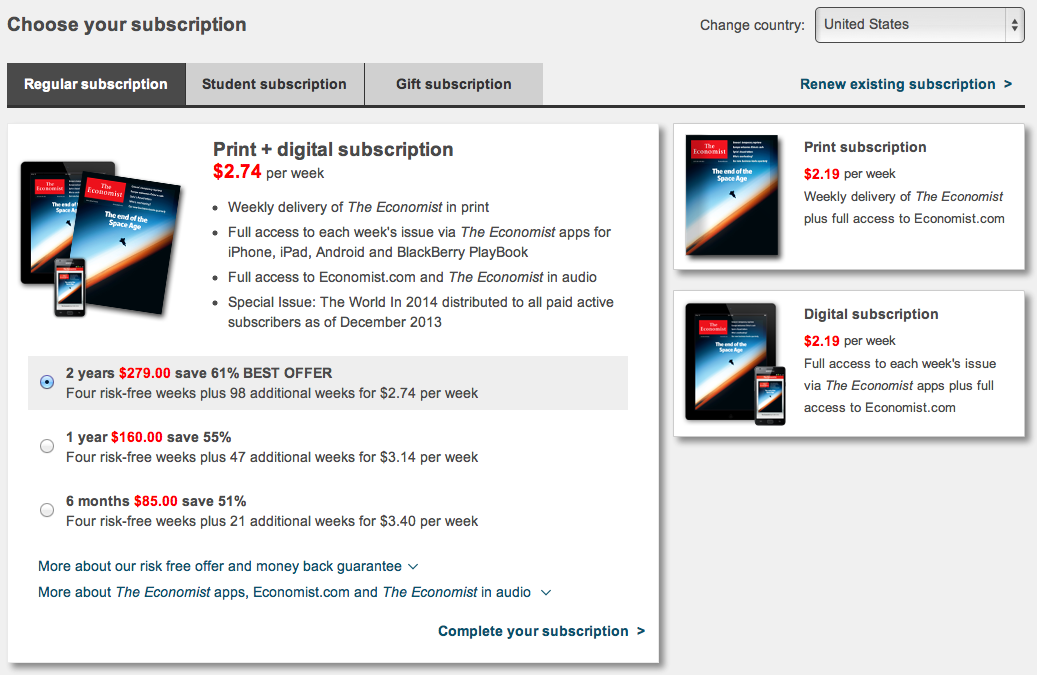 No subscriber left behind: If I had to handicap the various formats on which we are currently publishing magazines and magazine content, the World Wide Web looks to be the best contender for long-term stability and success. The iPad and iPhone would be numbers two and three in my digital magazine winners circle. I'm also pretty sure print is not an edition The Economist or any other magazine will be serving up in 20 years (with the possible exception of hardbound collector's editions). Thus, it's important for publishers to build direct relationships that are simple and straightforward with their customers on every conceivable platform that may come and go over the next couple of decades. Universal Digital Access, as a policy, creates an environment where subscribers can safely sample different platforms without fear of being left behind. From the publishers point of view, a subscriber is a horrible thing to waste, and anyone who subscribes to our content on any platform, in any edition, should be given the big bear hug of love that includes premium access to our subscription website.
Note: If you don't have a premium subscription website, build one, now.
[text_ad]
Permission to communicate: When a customer buys a print edition, an iPad edition, an iPhone edition, a Kindle edition, a Nook edition, a Zinio edition, or any other non-website edition, the publisher should make it priority-one to get that customer registered for unrestricted website access. There is an old direct marketing adage that marketers should never ask for information they don't need, and get the information they need by giving the customer what they want. A robust next-generation subscription website with HTML archives, issue archives, audio content, video content, and an engaged and interactive user community provide the digital or print customer with plenty of reasons to claim their right to unrestricted website access. The claim, of course, grants the publisher permission to communicate via the website, e-mail newsletters, and perhaps Twitter and Facebook. Permission to communicate is the lifeblood of a multi platform niche media publisher.
Building customer relationships: While I am incredibly excited about the rapid adoption of tablet computers and digital magazines, I still believe the World Wide Web is the nexus for niche media customer relationships. A well-designed niche media website will include a next-generation magazine subscription website, plus an open portal for building and maintaining affinity relationships, and an online store for marketing books, videos, software, and the myriad of special interest merchandise that a niche media publisher can recommend to its constituents.
Keep more money: The Economist can promote to subscribers to buy their subscription on their website, which allows them to keep subscriber information and all of the revenue from the sale. Buying directly on the website gives users credentials that activates on iPad or Android with no additional money being spent as well.
The short and the long of it
While charging customers separately for the same content or similar content on multiple platforms in multiple editions may provide the opportunity for some short-term profit taking, it is not in the customers' or publishers' long-term best interests. It looks as if many publishers may take a decade or more to discover their long-term best interest. For the moment, we can look to publishers like The Economist for inspiration that transcends short-term thinking.
Do you have a case study that exemplifies Universal Digital Access? If so, please post a comment and share it with the Mequoda Community and me.
Disagree with my position? Then post a comment, and make the case for short-term thinking.
—–
Originally published on Nov. 28, 2011