The Ladders, Match.com and others utilize the membership subscription website business model to properly serve their audiences
A membership subscription website is user-driven and content-based, and unlike some other subscription website business models, whose minimum information unit (MIU) is an issue of a publication, the membership site's MIU is content created by a member. It can be an individual's profile on TheLadders.com, or an individual's expertise on sites such as SSWUG.org. A membership subscription website is a destination in and of itself, and members are an asset to the site. Its business goal is to generate revenue from user-access fees by acquiring and retaining members. While some such sites sell diverse advertising, Mequoda's best practice for them is to limit advertising to sponsorships, or what we refer to as SEA advertising.
Mequoda has identified 12 discrete website business models for subscription websites. These include eight content-driven models and four transactional models. At Mequoda, we always pair a portal, one of the eight content-driven sites, with one of the other models.
Content subscription website business models
Transactional subscription website business models
Lead generation
Classifieds
Directory
Retail
Characteristics of a membership subscription website business model
The membership website is the only archetype that uses member-created content as the MIU. As noted above, this can be a member's personal profile, resume or other content. This is a fairly unique model, with high levels of user-generated content, interactivity, post frequency and number of authors. This makes the membership model easily distinguishable from the other eight archetypes and the easiest to understand.
Who pays: Like the magazine, newsletter and application subscription website archetypes, the membership site requires users to pay for access. This allows the site to maintain credibility and exclusivity. A membership website can also sell sponsorship advertising, which we at Mequoda refer to as SEA (Scarcity, Exclusivity, Alignment).
MIU: The membership site's unique MIU is content created by a member. It can be an individual's profile on Match.com, or an individual's expertise on sites such as SSWUG.org.
User-generated content: Almost all content on a membership site is generated by the users.
Number of authors: Because the users generate the content, there are many different "authors" on a membership website. 

Taxonomy: A membership site is organized around a search function so users can find what they're looking for. Browsing by subject just isn't an efficient way to find the perfect date at Match.com, or the answer to a question about a specific kind of collaboration software at SSWUG.org.
Homepage: Because it's by, for and about users, the homepage of a membership site is all about what's popular with those users, rather than what's new, as less user-oriented sites such as magazine and newsletter models are.
Membership website business model: The Ladders
A good example of a membership website in the B2B space is TheLadders.com, a job search and career management website, where the MIUs are job descriptions posted by member employers, and resumes posted by job seekers who are also members. Both employers and jobseekers pay to join.
The Ladders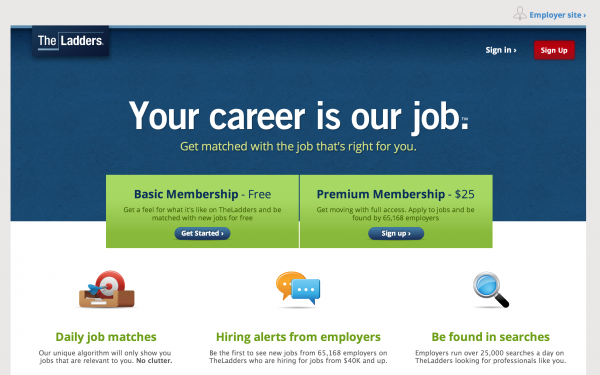 The purpose of the site is to bring appropriate employers and job candidates together. Job-seeking members can filter the information in the database by geography, job title, and industry sector in order to customize the search results. Users post the bulk of the content on the site. The website is updated constantly with new jobs and new resumes.
Find out the CMS features that publishers require to manage an online publishing business. Download a FREE copy of 7 Ways Haven Wordpress Goes Beyond Wordpress, and discover the features all publishers should have access to for a bigger audience, greater revenue, and higher profits.
Membership website business model: Match.com
Other  websites leveraging the membership website business model include the B2C site Match.com, where the MIU is the user's personal information submitted in order to meet singles for relationships. Probably relying on its large advertising budget and people's presumed urgent interest in their content, Match.com doesn't let you see a single solitary piece of content until you register for a free membership.
Once you've given them the basic details about yourself and the kind of person you're interested in, you can finally get a look at some limited content. Of course, other content is guarded by an access challenge page, where you're enticed to buy one of several membership options.
It's all prototypical for a membership website business model, and as we all know, it's modestly successful − at a mere 20 years old, it currently serves 25 countries in more than eight languages.
Many new publishers, lacking an archive of content or a staff of content producers, could find the membership model a profitable start-up venture: They're easy to set up and, judging by the success of our examples, wildly popular with users.
And if you're an existing publisher, considering the visitor numbers these membership models generate, it could make good sense to add a membership section where readers can create content and get additional value out of your site. Got a knitting website? Start a member-only group so users can share their expertise have their problems solved by more experienced knitters.