Subscription websites are uniquely positioned to take advantage of SEA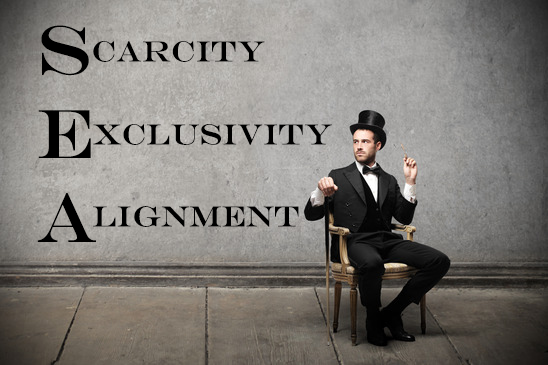 Forbes contributor Benjy Boxer warned, "The combination of free publishing, social distribution, and the commoditization of advertising will eventually wipe out almost all of the advantages of a large media company."
Further, he advised that "scarcity" is the only advantage left to media companies, and they'll have to create that with their unique content or unique services to advertisers. Luckily for the niche subscription website publishers we advise, scarcity comes right along with being "niche," unlike larger publishers competing with Yahoo and CNN for cost-per-click (CPC) dollars.
At Mequoda, we've long preached the scarcity sermon. But there's more to it than that. We believe scarcity, whether it comes naturally in a small subscription website niche or is the product of vigorously working to create it, works best when combined with two other advantages all publishers should offer advertisers: exclusivity and alignment.
We refer to this concept as SEA, for the first letters of the three attributes.
Scarcity – Exclusivity – Alignment (SEA)
Scarcity: Subscription website publishers must create positions on their sites similar to the positions they've always been able to sell in print – back cover, inside front cover, inside back cover. For the most profitable websites, this coveted real estate might be on your home page, or next to your wildly popular columnist, or your expert analysis of the corn futures market.
Exclusivity: In Mequoda land, exclusivity on subscription websites is created by selling that scarce advertising position to only one sponsor for an extended length of time – one month, six months, one year. This instantly creates competition for that position and adds value for the advertiser – and revenue for the publisher.
Alignment: Technology allows every advertiser to access positions next to highly relevant content. But it's highest for the niche subscription website publishers we advise, because their tight focus on specific topics gives them an advantage over general interest publishers.
Mequoda believes the SEA strategy is superior to traditional strategies that have Mr. Boxer issuing dire warnings, including cost per click (CPC), cost per action (CPA), cost per thousand (CPM) and directory listings (DIR).
[text_ad]
Best of all, with the multiple advantages it offers, the SEA strategy helps those who aim to build the most profitable websites to combat the gradual decline in revenues from online advertising sold in those traditional ways – the trend of "print dollars" turning into "digital dimes," as the saying goes.
Here's how we look at it, measured by benefits to both the advertiser and to the subscription website publisher. The all-important scarcity that Boxer writes about is, as you can see, low for all of the traditional strategies but CPM advertising, which at best is only moderate.  Exclusivity and alignment vary among the traditional strategies, but using the combined power of SEA the sponsor gets the benefit of top marks for all three.
And how do these attributes benefit subscription website publishers? None require labor-intensive sales, with CPM and SEA moderate and the others low. They also vary across the board in terms of revenue generation and the rate at which advertising space is sold. And time and effort spent calculating all these factors is also something to consider, as our chart shows.
As you can see, by our calculations, the SEA advertising strategy is the clear winner: The only area where it doesn't achieve top scores is the moderate cost of sales it requires.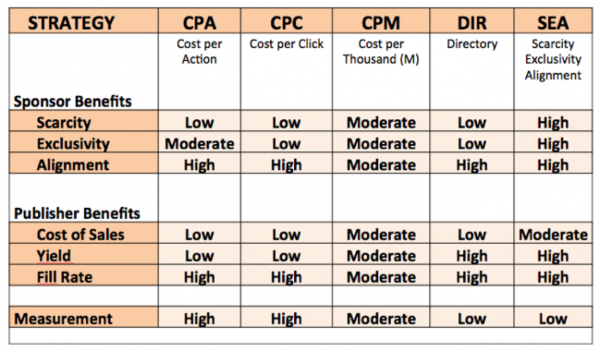 How to make SEA work for you
To get some numbers, we'll use Green Gardens Network – a case study we created as an amalgam of many actual publishing businesses we have studied – as an example. GGN's SEA strategy looks like this:
Gardens Daily Portal & Newsletter
52 weeks of exclusive portal channel sponsorship: $1,977 per topic page, annually (Sponsor White Flower Farms, for example, might actually choose to buy the space on the azaleas, gladiolus and orchid topic pages.)
6 Daily email newsletter exclusive sponsorships: $6,965 each, annually
1 Spotlight email and portal infomercials for your products: $3,483 each, annually
Hidden Gardens Magazine
6 full-color pages in the print edition: $92,341 annually
6 full-color, interactive pages in the digital edition: $4,536 annually
Hidden Garden Tours
Product placement in 12 tour packages: $6,000 annually
Sponsorship of tour app and print guides: $6,000 annually
There's no need for Boxer or anyone else to wring hands. It's a simple proposition, simple to execute and simply delightful for the bottom line. Boxer is correct, of course, that large general interest publishers must offer something unique to create scarcity, but we're confident that niche subscription website publishers already know how to do that.
Are you struggling with the solutions to "digital dime" syndrome, with advertising rates continuing to fall? Or do you already leverage the SEA advertising strategy to best effect? How else can niche publishers win the advertising game?
If you're looking to advance your website with this new approach to magazine revenue, schedule a time to chat with us.