One UTM code per day keeps the analysts at play
An Urchin Traffic Monitor (UTM) code is the way that businesses track sales from their origination point (like a Tweet, email, or a brochure) down the funnel to their conversion page. Every audience development campaign is packed with UTM codes to see which campaigns perform best. In Google Analytics, these codes can be tracked under Audience > Campaigns  > All Campaigns.
In physical media, a business could send a postcard that promotes an easy-to-remember custom URL. The business could then redirect that URL to a new one that includes a UTM code. That UTM code can be tracked in Google Analytics to tell you how many sales came directly from your postcard effort.
In digital media, it's even easier. You can include UTM codes in Tweets, Facebook posts, and email to keep track of where all of your sales originate. It's the best way to discover your most effective sales funnels.
[text_ad]
A typical URL with a UTM tracking code looks something like this:
http://www.yourwebsite.com/?utm_source=yoursource&utm_medium=yourmedium&utm_campaign=yourcampaignname
The source is where your link is hosted, like search, affiliate website, or email campaign name or anywhere else.
The medium is how it's delivered, like a postcard, pay-per-click (PPC), email, or social media.
The campaign is typically what you're promoting, or the special way you're promoting it (like a holiday sale).
If you're using this UTM code to monitor PPC, you can add a value for term, which can be the keyword you're targeting. If you're A/B testing, the value for content would be a variation between the pages you're testing, like "headline" or "image".
Google Analytics can help out with all of this with their Google Analytics URL Builder while you're still getting the hang of it. Google Adwords has the ability to do auto-tagging but when using another network, sending emails or using banner ads, you need to manually tag the links with UTM codes yourself.
Installing UTM tracking codes
I asked Norann Oleson, Mequoda's Analytics Guru, to help me explain how we track UTM codes from our audience development efforts. I'm on the front end including them in the things we send out into the world, and she's on the back end, telling me how well they worked.
Urchin has already provided a pretty basic thousand-foot view of how to install UTM tracking codes and it goes something like this:
Copy UTM files into the website document root
Enable Cookies in Logging
Implement UTM tracking code into your HTML
Set Urchin 6 Profile to use UTM
Check for correct implementation
[text_ad]
How to use UTM tracking codes
Here's an example of how you might track a promotion from Twitter:
Let's say you have a new ebook about cats that you want to track from a Tweet sent at 9am on March 18, 2018.
Use the Google Analytics URL Builder to add in your destination URL (the landing page).
Your source might be "twitter"
Your medium might be "tweet_03182018" (that's "tweet" then the month, day, year)
Your name might be "cat-ebook"
Your new URL would look like this – http://www.yourwebsite.com/?utm_source=twitter&utm_medium=tweet_08182018&utm_campaign=cat-ebook
Or let's try something more traditional, like an email campaign. You're trying to promote an event in your email newsletter.
Your source might be "promo" (because you're sending from your promotional email template)
Your medium would be "email" (because you're sending an email)
Your campaign might be "2018-cat-conference" (because you're promoting your 2018 conference about cats)
The URL you'll use in that email would look like this – http://www.yourwebsite.com/?utm_source=promo&utm_medium=email&utm_campaign=2018-cat-conference
Some publishers also choose to use a unique UTM code for every link in their newsletter so they can track which links get the most clicks.
How to track UTM codes
In Google Analytics, you can find your traffic from UTM codes by looking at Acquisition > Campaigns > All Campaigns. Take a look under the hood of Mequoda to see what a properly working UTM code dashboard looks like: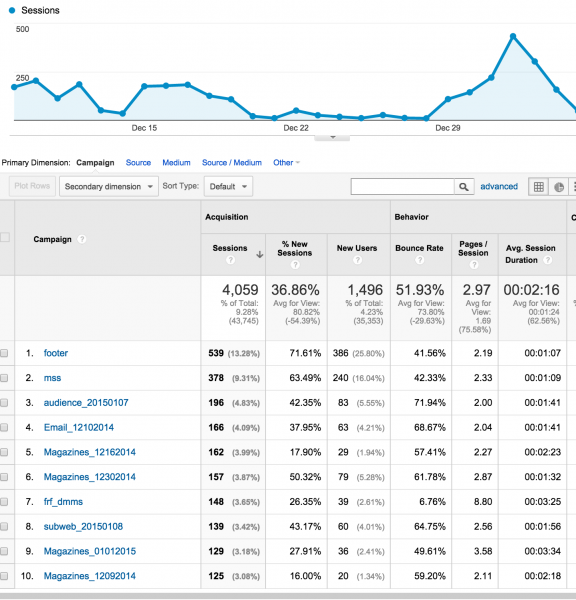 Publishers with more diverse streams of traffic, like affiliates, partner ads, and PPC, have a robust dashboard to filter through. You can use this data from UTM codes to determine your best sources of traffic so that you know you're always spending your ad budget in the right places.
Editor's Note: We wrote the first version of this UTM code post with Norann back in 2012 and updated it for 2018. There are some helpful questions and answers below, so please join in on the discussion.