The newsletter subscription website is editorially-focused and relatively easy to publish
So you want to be a publisher. One of the first decisions a new publisher has to make is what kind of subscription website to create. That's why Mequoda identified its discrete subscription website business models. And one of the easiest to get up and running is the newsletter website, with its tight editorial focus and typically small editorial staff. Mequoda currently supports 10 of the 16 identified website business models (with an 11th coming soon). These are:
Affinity subscription website business models
Mequoda portal website
Mequoda lead generation website
Mequoda directory website
Mequoda community website
Premium subscription website business models
Mequoda newsletter website
Mequoda classroom website
Mequoda event website
Mequoda retail website
Today I'm focusing on the newsletter subscription model, one of the more profitable models on the Internet. Newsletters have long been a staple of the periodical publishing industry, focusing on a specific, narrow topic in a shorter, less graphic format than magazines, usually black and white text only and shorter than 20 pages.
A newsletter subscription website is set up solely to sell subscriptions for a related print – or, even cheaper to produce, digital – newsletter, and to provide access to issues of the newsletter. A newsletter subscription website is commerce-based, with an overall objective of increasing product sales and providing customer service to existing subscribers. These sites are fairly simple: Usually the home page consists of a free area, with content that focuses on the benefits of becoming a subscriber to the related publication – a sales letter – and conversion architecture where a visitor can subscribe.
t also has a password-protected private area, where paid subscribers can view an HTML version of the current issue of the print or digital newsletter or download it in PDF format, as well as access and/or download back issues and other premium content. Like all premium models, a newsletter website is typically paired with an affinity (free) model like a portal or community which promotes the newsletter website.
The newsletter website does not produce any free content, so the heavy lifting of SEO and Social Media is left up to their affinity site.  Editorial staff can be minimal, though each writer must be an expert in the newsletter's specialized field, rather than a generalist as many magazine editors and writers are.
text_ad]
The newsletter's tight topic focus and simple format always made it easier and cheaper to publish than glossy magazines. At the same time, newsletters, particularly those in the investing space, have always commanded higher prices than even the fattest consumer magazine, where the urgent need to maintain advertiser rate base led over the decades to insanely low prices for a year's subscription. Thus an aspiring publisher, with expertise in a specific field, can most easily jump into the newsletter space.
Newsletter website business model examples
If you're looking for a good niche media newsletter example, a splendid example is Negotiation Briefings from Harvard University's Project on Negotiation. Like all Mequoda-compliant websites, it's paired with a free portal to drive traffic and keep the audience engaged. Once at the newsletter site itself, the user can click to either subscribe or to read the latest issue at the top of the page.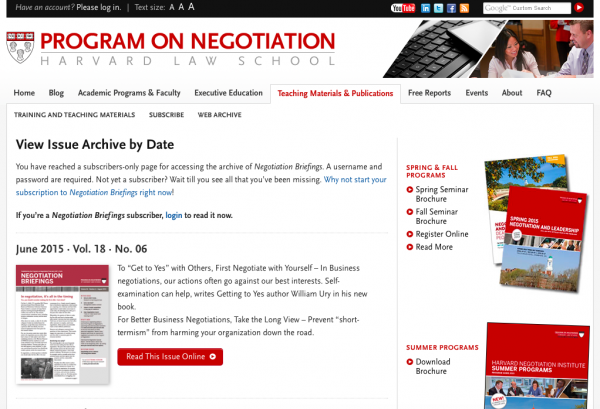 A user who tries to read the issue without subscribing, of course, gets only the table of contents, along with this message:
"You have reached a subscribers-only page for accessing the archive of Negotiation Briefings. A username and password are required. Not yet a subscriber? Wait till you see all that you've been missing. Why not start your subscription to Negotiation Briefings right now!"
Below that is link for subscribers to log in.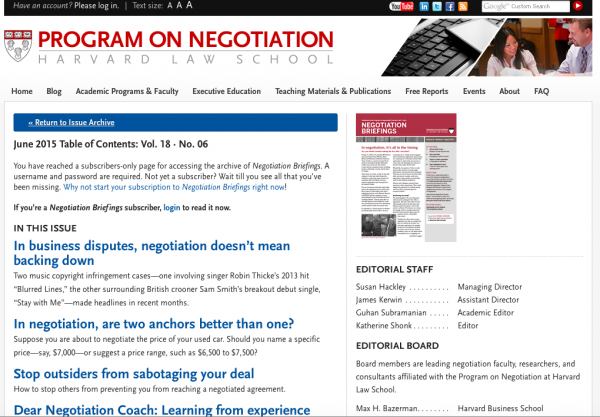 Like many newsletter publishers, PON also produces books and events, plus B2B training materials. There are many potential revenue streams for a newsletter, which is yet another reason why it's such a profitable and appealing website business model.
Meanwhile, a B2C example of the newsletter subscription website model is Golf Odyssey.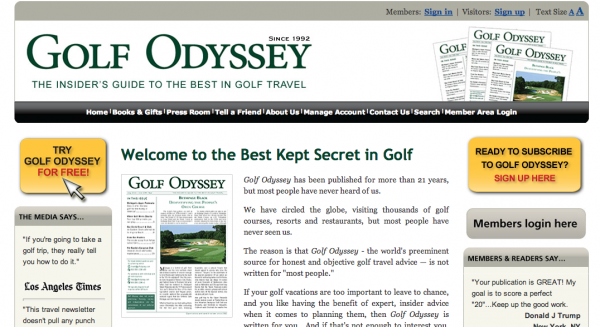 In this case, there's only one piece of content – no alerts, videos or other material for paid subscribers – but there are other pages that are available to non-subscribers, such as a store. Otherwise, the execution of the model is textbook – sales letter on the home page, and no other free content or forums anywhere (except for the blog at GolfVacationInsider.com, their affinity model pairing.) And of even more importance to any topic expert who's considering becoming a publisher, Golf Odyssey is the product of one single writer, rather than a team, as Negotiation Briefings offers. It's a simple, profitable way to turn expertise into publishing dollars.
Characteristics of the newsletter website business model
The newsletter subscription website has defined characteristics that help to promote the newsletter and increase circulation and profits.
Who Pays
MIU
Frequency
% UGC
Authors
Taxonomy
Homepage
PAID
Magazine
User
Article
Low
Low
Many
Issue
What's New
Newsletter
User
Article
Low
Low
Few
Issue
What's New
Application
User
Record
NA
Low
Few
Search
What's Popular
Club
User
Profile
NA
High
Many
Search
What's Popular
Periodical
Varies
Article
High
Moderate
Many
Subject
What's New
Reference
Varies
Record
NA
Low
Many
Subject
What's Popular
FREE
Portal
Sponsor
Post
High
Moderate
Many
Subject
What's New
Community
Sponsor
Post
High
High
Many
Subject
What's Popular
Blog
Sponsor
Post
Moderate
Moderate
Few
Subject
What's New
Who pays: Like the magazine business model, the newsletter site requires users to pay for access. Selling these subscriptions is generally the only monetization channel.
MIU: The Minimum Information Unit (MIU) for a newsletter site is an article, and the primary product sold through the website is a subscription to the newsletter.
User-generated content: None.
Number of authors: Newsletter content can be generated by one writer or by a team.
Taxonomy: A newsletter site is organized around issues of the newsletter.
Home page: The homepage of a newsletter site is focused on what's new, rather than what's popular with users, as are sites such as membership websites.
In short, there's really no way to go wrong here, and the newsletter, and its subscription website model, is perfect for topic experts who want to focus solely on their topic. Do you have any interesting examples of newsletter subscription websites? Have any comments or questions on how to execute it? Leave a comment below, or talk to Don!