Pinterest is a social media community built on the idea of "inspiration boards", and is currently the fastest-growing website in history, having just clocked 11.7 unique monthly visitors last month. As Pinterest users surf around the web they can "pin" webpages and images to one of their boards, which might be named something like "foods I want to eat" or "wedding ideas" or "crafty things".
It's like many other social bookmarking sites, but what sets it apart is the visual appeal (all posts are based on photos) and the rapidly growing community. Pinterest lets you invite friends to pin things to your boards and "re-pin" them to their own boards. You end up with community curated content.
These boards we're talking about look like this: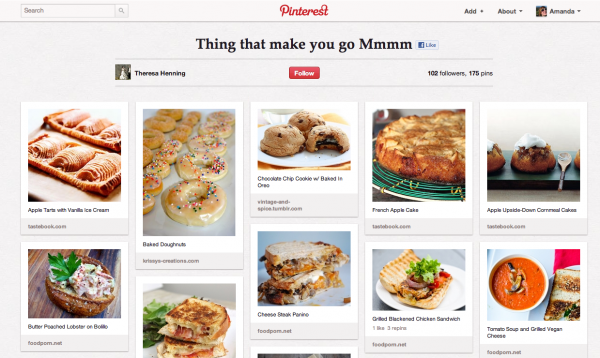 [text_ad]
The way that Pinterest users normally post these photos (which link to their original articles) is usually by either manually posting them, or by using the "Pin It" bookmarklet that Pinterest gives you.
If you host content on your website that people would be likely to pin (anything with a great photo will do), then you're going to want to make it easy as possible for people to "pin" your articles and photos.
Thankfully, there is a WordPress plugin that will let you quickly implement Pinterest sharing on your site. It's called the Pinterest Pin It Button. Within the plugin's settings you can enable the
button to appear on pages or posts. The plugin also includes a short code so you'll be able to make the Pin It button available within your articles.
The Pin It button is perfect for publications like Knitting Daily, Martha Stewart, Travel and Leisure Magazine and Bon Appetit or any publication that posts featured images with their posts. If you've been using it on your site, we'd love to hear how it's working out for you. And don't worry, we're working on a much bigger post about publishers using Pinterest, so watch out for that!