Lots of traffic, reader engagement and advertising inventory makes publishers of these community website examples very happy
Some of the most successful publishers let their users generate more than 99 percent of their content. The publishers who can do this become masters at building communities that draw users to both read and post.
Out all the website business models that Mequoda currently monitors, the community subscription website archetype is the only one where the publisher relies on its community to create the content.
Find out the CMS features that publishers require to manage an online publishing business. Download a FREE copy of 7 Ways Haven Wordpress Goes Beyond Wordpress, and discover the features all publishers should have access to for a bigger audience, greater revenue, and higher profits.
We usually say that a good complete publishing business model includes at least one free and one paid archetype. That means that you might run a paid newsletter subscription website, but build in a community for your subscribers to engage with each other through forums.
Websites with frequent postings by users not only encourage frequent traffic, they usually generate a webpage for every topic posted, which creates thousands of website page and drives Search Engine Optimization through the roof.
Community subscription websites are used to create a setting where people with similar interests can use the virtual world to make real connections—whether purely social relationships or specifically B2B networks. It's the online version of meet and greet.
Members might decide to share via his or her member profile, forum posts, file uploads, links, and other data. Registration is typically required, and most communities do not require payment.
Facebook, the granddaddy of communities, is our mass media example of a community website business model. Like other communities, its content is completely user-generated. It's a stand-alone community subscription website that is ad-driven, so they don't require the pairing of a premium content subscription site. Facebook generates their revenue through users who opt into paying to promote their posts and business pages.
The Mequoda niche media community website example is Ceramic Arts Community, the robust forum section of the Ceramic Arts Daily portal. Unlike Facebook, it sells no advertising on these pages; instead, the publisher relies on this community to generate website traffic and build audience loyalty, which is valuable in itself.
Community website business model examples
Users are required to register for Facebook, where they log in to create a free profile. They fill their profile with content, which they can then share with old friends and with new friends they make on Facebook. Content posts on Facebook are searchable if the user allows it, but the item most likely found in a search engine is a profile.
Brands use Facebook to build up communities around their brand. By creating a fan page and deploying regular content on their page, they create a discussion board of sorts where users can approve (like) what's being posted, but can also build further discussion by commenting on the post.
Facebook , however, does none of this publishing themselves. Their website is set up to allow users to create, manage and maintain all of the information they and their community is publishing.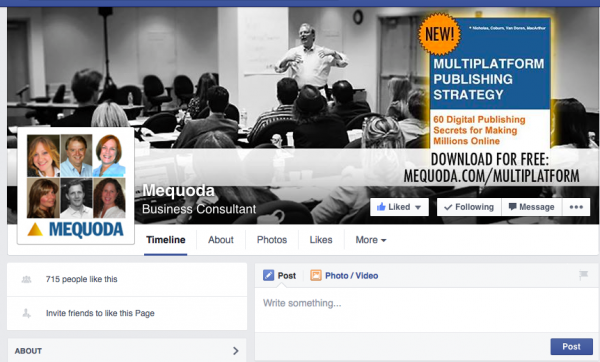 Our niche media example, Ceramic Arts Community, isn't in the business of selling advertising or even allowing companies to set up their own pages. It is, however, chock full of content: As of this writing, there are 15,309 members, 7,313 topics, or "threads," started by those members, and an astounding 80,136 posts on all those topics. There surely can't be many ceramic artists in the world who aren't members of this thriving community!
All of that helps keep those members stopping by the host Ceramic Arts Daily portal often, where, if they venture outside the forum, they continually see promotions for the two magazines supported by the site, plus books and DVDs, not to mention the advertising that other parts of the portal does include. All of those eyeballs popping in, plus the user loyalty such forums generate — it's a win-win for the non-profit American Ceramic Society and its educational mission.

Characteristics of the community affinity subscription website
As one of four affinity websites, a community shares many characteristics with its siblings, the portal, lead generation and directory website business models.
| | | | | | | | | |
| --- | --- | --- | --- | --- | --- | --- | --- | --- |
| | Who Pays | MIU | Frequency | % UGC | Authors | Browse/Search | Homepage | Video |
| FREE (AFFINITY) | | | | | | | | |
| Portal | Sponsor | Post | High | Moderate | Many | Search | Varies | Sometimes |
| Directory | Sponsor | Listing | High | Low | Many | Browse | What's new | Sometimes |
| Community | Varies | User profile | High | High | Many | Search | Varies | Sometimes |
| Lead Gen | Sponsor | Free product | Low | Low | Many | Browse | Varies | Sometimes |
| PAID (PREMIUM) | | | | | | | | |
| Magazine | User | Article | Low | Low | Many | Browse | What's new | Sometimes |
| Newsletter | User | Article | Low | Low | Few | Browse | What's new | Sometimes |
| Library | Varies | Record | Varies | Low | Many | Search | What's Popular | Sometimes |
| Classroom | User | Lesson or course | Low | Low | Many | Browse | Varies | Always |
| Event | Hybrid | Single event | Low | Low | Low | Browse | What's new | Sometimes |
| Retail | User | Product | High | High | Many | Browse | Varies | Sometimes |
Who pays:  The most noticeable difference between the community and the other three is that unlike them, it may or may not have sponsors, whereas the others are entirely sponsor-supported.
MIU: The minimum information unit of a community website business model is a user profile. These sites are all about the users, and finding out who (Facebook) and what (Ceramic Arts Community) other users know.
Frequency: Like the portal and the directory, the community website has a high frequency of content posting — in fact, as we like to say in Boston, it's wicked high. It's usually one big, happy, 24/7/365 conversation.
User-generated content: Community subscription websites are entirely user generated. This is the opposite of the other three affinity websites, where the portal has a modest amount of user-generated content, and the lead generation and directory have almost none.
Authors: Like a portal, the community website has many authors. However, unlike a portal, directory or lead generation site, which also have many authors, community websites don't have much control or choice over who contributes to the website. On a community website, there may be as many authors as there are members or subscribers.
Browse/Search: Like the portal, users of a community website business model are searching for topics they want to discuss. Directories and lead generation sites are all about browsing through potential subject matter.
Home page: The home page of all community subscription websites looks like a news feed and can be focused on either what's new or what's popular. Users may have the ability to sort by most popular discussions or by most recent.
Video: Like all but one of the other website business models, free and premium, the community website may or may not have videos onsite.
Building a community alongside a website's content allows publishers to expand on their unique expertise, which might be in the form of a blog or newsletter, and create a bigger perspective on the most important topics. The more trust created through a large community, the more subscribers that will likely join that community.
If you have experience running a community website, or are considering launching one, be sure to tell us about it in the comments below. We may be in touch one day to chat about your experiences!