How to tell if your social media strategy with Twitter really does drive traffic, and if it does, how so?
If you dug a little into the Google Analytics of our site, you'd see that Twitter is our #3 source of incoming traffic next to Google and direct links (email).
Whether you consider Twitter a customer service or marketing tool, we've used it to build relationships with our current readers, introduce ourselves to new readers, conduct surveys, promote our products, and even solicit positive comments on our blogs when someone leaves a negative one.
Big sites with big traffic are great places to drive traffic to your own site, whether it's on Twitter, in blog comments, with a facebook fan page, or whatever is appropriate for your niche.
Twitter happens to be a great place for those in the B2B market, and it's proven to be very successful for us.
The trouble with driving traffic from external sources is that you don't always know (other than through website analytics), how these portals are working for you. Google Analytics can tell us that Twitter drives a big percentage of our traffic, but how do we know which links and conversations are driving traffic?
This is where bit.ly comes in. Bit.ly is a neat little tool you can use on micro-blogging networks (like Twitter) to track who is clicking on your links. There are other tools, such as HootSuite, TwitClicks and TweetBurner, but I still prefer bit.ly due to its simplicity and ability to be used across many sites, not just Twitter.
You would NOT want to use bit.ly, however, when posting comments on blogs. This is because bit.ly changes the structure of your URL, and Google won't pick it up as an inbound link to your blog. Inbound links from Twitter (and many other social networks) however, are set to no-follow (as requested by Google).
If you're wondering whether a site uses no-follow tags, check for the "rel=nofollow" qualifier. If they are, use bit.ly and track, track, track away.
Find out the CMS features that publishers require to manage an online publishing business. Download a FREE copy of 7 Ways Haven Wordpress Goes Beyond Wordpress, and discover the features all publishers should have access to for a bigger audience, greater revenue, and higher profits.
Twitter Metrics – What to Measure
With bit.ly you can measure how many people click on your links, where they're from, when they clicked on them, whether others re-tweeted your message, and some pretty interesting statistics about the page you're linking to.

You should also pay attention to the types of "tweets" that get clicked on. By watching how your followers respond (or don't respond), you can plan future messages accordingly.
Another tool I find helpful is Qwitter. With their daily email digest, you can find out who has stopped following you on Twitter, and the last tweet they saw before they made their decision. Use your unfollow metric to determine what type of content users respond to (and don't respond do).
On occasion, you might also want to check out TweetVolume and Twitter-Friends.
TweetVolume is the Compete.com of Twitter. You can use it to track the success of your competitors on Twitter by comparing how many times you're all mentioned on Twitter. Then you can use the stats from the above tools to increase your  volume.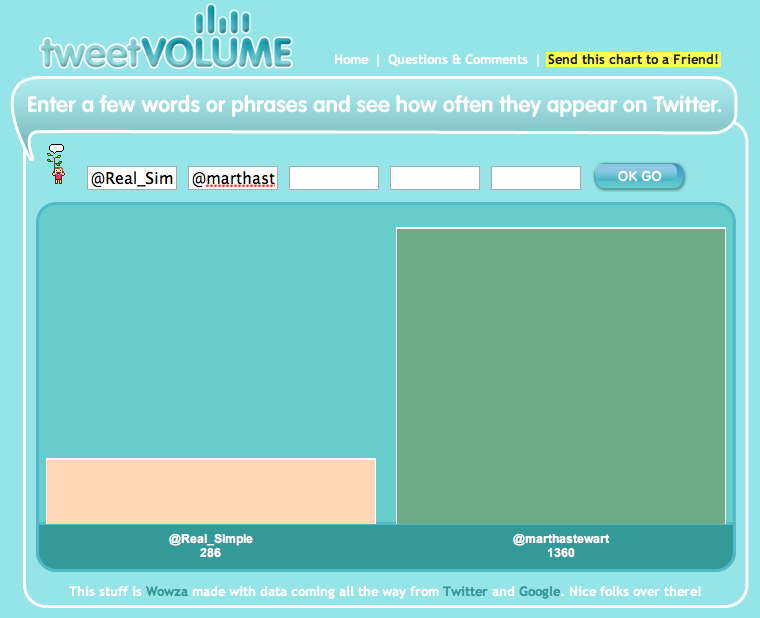 Twitter-Friends gives you 19 metrics about your own usage such as Twitter Rank, Loyalty (Stickiness), Conversational Rank and other interesting metrics. It comes with all kinds of pretty graphics for those "convince the boss that Twitter is useful" presentations.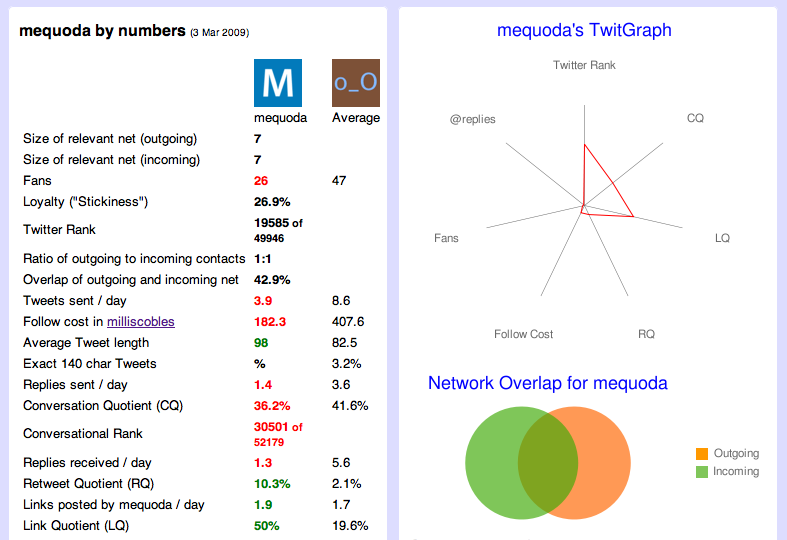 While the above two tools are explicitly for Twitter, I must come back around to bit.ly as an essential tool for tracking your success anywhere on the web. Don't just engage, measure that engagement!
What tools do you use? Please share them with us in the comments…
By the way, if you haven't already, you can follow us on Twitter at @mequoda.