The Ultimate Goal of Community-Building Programs is to Increase the Consumer's Connection to the Site by Fostering a Sense of Camaraderie Among Unique Groups of Individuals.
Community Building
The Mequoda criteria for community building expect visitors to feel enthusiastic and loyal to the site. Are they inspired with feelings of belonging and encouraged to contribute?
Websites that encourage a feeling of belonging among users, that offer mechanisms for being involved in the site and that motivate them to become involved are good at community building. Examples of community-building options are:
Chat rooms, discussion boards, and specialized forums
Comment or testimonial forms
Q&A surveys and daily polls
Associated clubs and games
Classified listings and bulletin boards
Live online events and blogs
Opportunities to email articles to friends or associates
For a marketing site, community-building tactics function as word-of-mouth marketing tools and increase both site traffic and search-engine visibility. For example, in the spot where a user may choose to "Email Article" or "Print Article" in the site's navigation, the site could also encourage readers to start a conversation by adding "Discuss Article" and, if selected, transporting the user to a chat room. The very popular user forum at BabyCenter.com and the user product ratings and reviews employed by Amazon.com are other examples of successful community-building devices.
Find out the CMS features that publishers require to manage an online publishing business. Download a FREE copy of 7 Ways Haven Wordpress Goes Beyond Wordpress, and discover the features all publishers should have access to for a bigger audience, greater revenue, and higher profits.
For membership websites, providing a space for members to communicate with one another and to interact with the association or site editors should be a high priority. When that is the case, in fact, members often supply much of the content. A site doesn't have to be a membership site, however, to act like one and benefit from its resulting community. Monster.com, eBay.com and IMDb.com are non-membership websites that encourage "member" or user input and, as a result, are among the Internet's most successful sites. Users provide up to 99 percent of the content on those sites.
Community building adds value to the site experience, as users appreciate the opportunity to participate and to meet others with similar interests. The ultimate goal of community-building programs, therefore, is to increase the consumer's connection to the site by fostering a sense of camaraderie or belonging among unique groups of individuals.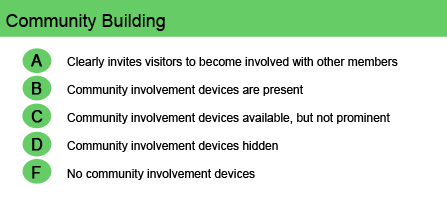 Website Examples
Best Practice Websites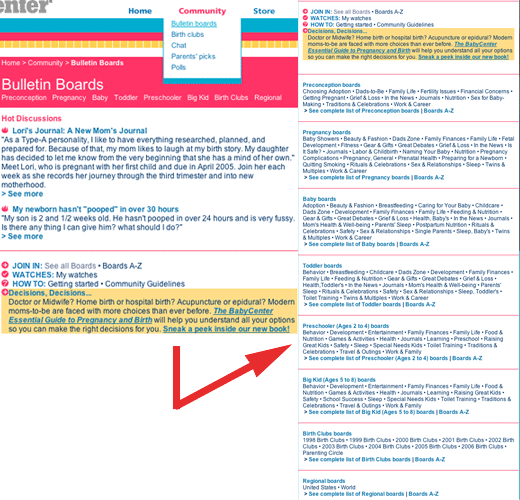 BabyCenter.com Website Design Review
BabyCenter is all about community—more than almost any other site I felt like I was literally at a community center where I could hear what other people like me were saying and have the chance to tell my own stories. Users are offered boards for posting, chat rooms for talking, and Birth Clubs to find other parents in the exact same place of child development as themselves.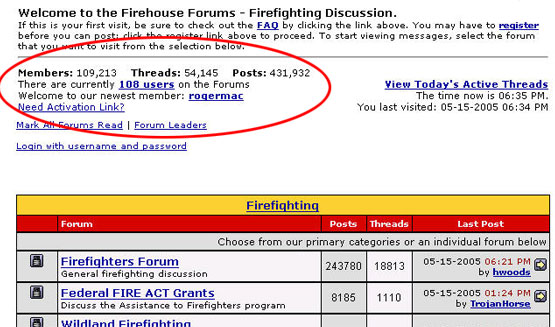 Firehouse.com Website Design Review
Forums are an example of a very effective community-building tool.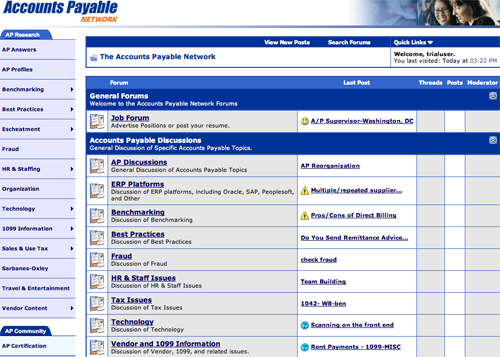 TheAccountsPayableNetwork.com Website Design Review
The site includes 10 discussion forums plus a job forum. An events calendar is also displayed.
Not-So-Good Examples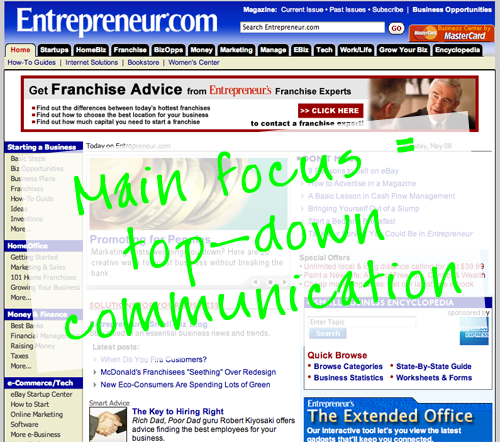 Entrepreneur.com Website Design Review
Entrepreneur.com is primarily one-way (site to visitor). This is not to discount the value (quantity or quality) of the articles that can be accessed, but puzzlement over the exclusive focus on top-down communications.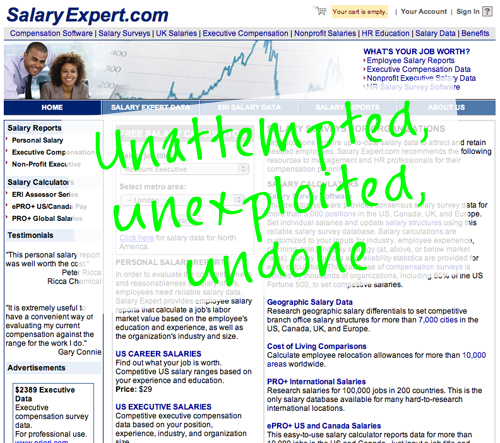 SalaryExpert.com Website Design Review
What does an HR professional call "community?" Answer: networking. I asked that question because knowing all the sites dedicated to nothing more than networking, either career or social (Linked In, Friendster, etc…) I can't believe that SalaryExpert.com, attracting an audience of verifiable networking junkies—HR professionals and career-climbers—is letting this opportunity, this incredible core strength of the Web, to just slip by, unattempted, unexploited, just un-done!