Psychotherapy Networker adds new revenue streams in digital age
There's no better example of how critical a subscription website can be to a legacy publisher than the story of Psychotherapy Networker.
This 30-year-old magazine was launched by a group of therapists who knew their colleagues had a need for in-the-trenches information, rather than lofty academic articles that didn't help them in their day-to-day work.
Having turned themselves into publishers in the 1970s and succeeding quite well along the way, Editor Rich Simon and his team also had to figure out how to further leverage their content when the newest challenge arrived in the Internet era.
But it was a puzzle. Like many other B2B publishing companies who didn't know quite how to take best advantage of this new platform, Psychotherapy Networker simply shoveled the existing magazine onto the Web as a free product – remember the days when everything on the Internet had to be free?
The company's real revenues at the time – it's not the kind of business that can draw advertisers – came from a live event it had established in the late 1970s, its annual Symposium, drawing some 3500 attendees.
The beauty of Mequoda B2B portals
Simon cheerfully admits that he and his team were "slow adopters" after the Internet arrived. B2B portals were still something of a mystery to everyone, though Psychotherapy Networker found that its website was a boon in promoting the Symposium, even as the team also began to experiment with online audio courses.
So Psychotherapy Networker's website offered a free online magazine, promoted paid subscriptions to the print product, and sold event registrations and audio courses. Not bad for a bunch of therapists-turned-publishers!
But B2B portals can be so much more – and Simon discovered just how to do it when he attended a Mequoda Digital Publishing & Marketing Intensive. Unlike some legacy B2B publishers, Simon wasn't resistant to the Mequoda Method of leveraging free content to sell premium content.
"If I had heard it from someone else, it would have seemed preposterous," he admits. "But you hear it from Don, and he's so enthusiastic about it, and he quotes all those success stories." Psychotherapy Networker signed on as a Mequoda client, and that's when the real magic of B2B portals kicked in.
Psychotherapy Networker's new Mequoda website is easily recognizable to readers of this blog. It features simple, easy-to-navigate architecture, with pages for a free daily blog, free downloads, a forum, premium products (online courses, webcasts and the live event) and the magazine.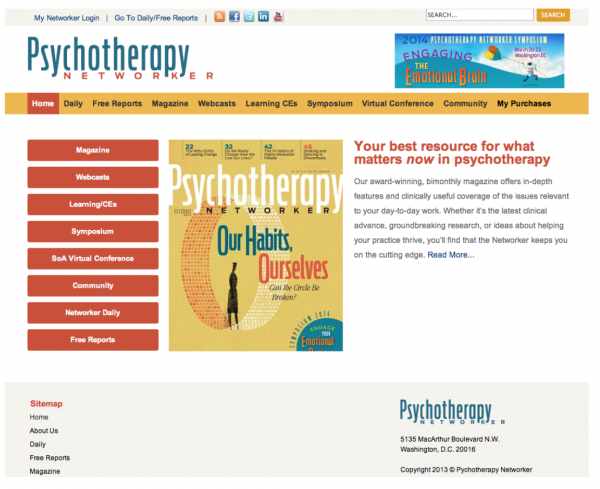 The magazine and the daily blog are available to all visitors. To access forums, the magazine archive and an audio library, and network with other users, you have to register for free. As you've probably guessed by now, that also gets you an email newsletter – another Mequoda staple – with its circulation of 40,000.
The only paid subscription is for the print magazine, though that will change this year.
Psychotherapy Networker thus keeps its users coming back daily, uses the website to promote its free products, and also has that nice big email list to promote to. On the website, there are numerous opportunities taken to promote the premium products, including banner ads, OFIEs and lists of the free reports to tempt the new visitor.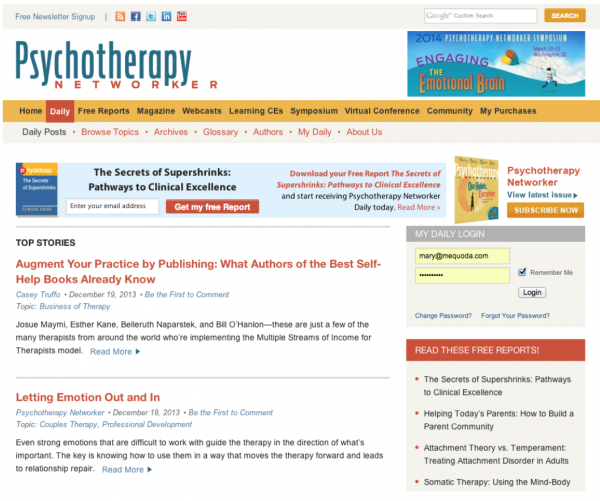 There's even a special touch: A two-minute video invitation from Simon to attend the Symposium this March, explaining in his pleasant therapist voice exactly what attendees will get from attending. As simple as it can be to produce one of these videos, it's surprising how few event producers do this.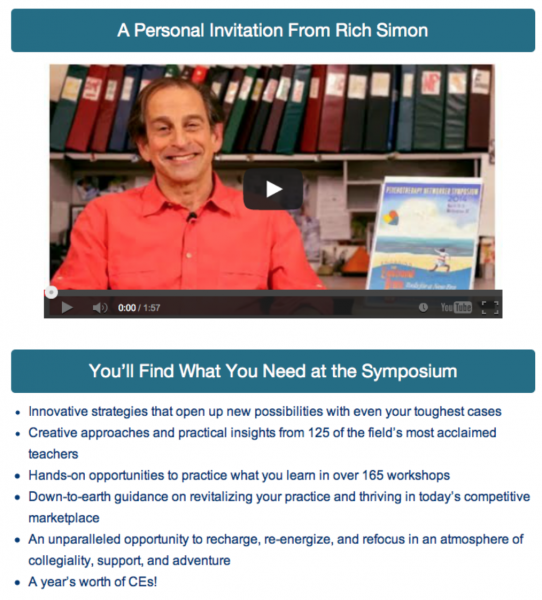 Of course, using the Mequoda Method of driving traffic through organic search, there are plenty of visitors to try to convert into registered users or product buyers: Since launching this Mequoda-built site on Oct. 16, traffic has increased almost 30%, with some 53,000 unique visitors in November alone. As for revenues, Simon reports that the webcasts have now become their primary revenue stream, and those revenues have literally doubled in the past year.
With the webcasts, a new product enabled by the company's website, leading the way, the company still has its annual event as a secondary revenue stream – and the magazine will return to the revenue-generating fold in the coming year, with the new paywall for the online version and a digital edition coming up, too – thus completing the company's transition from legacy publication to 21st-century multiplatform publishing company.
Indeed, according to the business plan Mequoda has prepared for Psychotherapy Networker's publications, the company will be earning as much as 55% of its digital revenues from its seven weekly digital newsletters in Year 5, with 45% coming from the bimonthly digital magazine; the key to making money as a digital newsletter publisher is that high frequency of contact with customers!
Are you a legacy publisher wondering how B2B portals work? Have you had success with them? Let us know so we can all learn!