3 Noteworthy Landing Page A/B Test Results
By— Amanda MacArthur • 09/27/2010
Landing page optimization tips from A/B tests that made a big difference
If you're not testing your landing pages, then how do you know whether your products are not selling, or if it's the landing page that is not doing a good job of selling the product? Check out these examples of landing page A/B tests that boosted results 31% to as much as 131%.
Lesson: Play with design elements
In this test, according to Performable.com:
When Luke Stevens created a landing page for his book, his conversion numbers weren't what he hoped they would be. Though he had spent a lot of time designing it, he A/B tested it against a totally different site layout, one he whipped up rather quickly, and got impressive results: a conversion increase of 131%.
Lesson: Rearrange your page elements
In a webinar landing page test according to WhichTestWon.com:
"Flipping the hero shot to the left [in version A] and the button to the right increased clickthroughs 129% compared to Version B's exact opposite layout." This particular test was crowned a Gold Ribbon winner on the WhichTestWon.com site. Bob Bly, who helped judge the award said, "The results show us that placing the response device in the top right corner can double response rates. Yet many webinar landing pages I see place the response form in the top left (as their old control did) or beneath the top banner — a logical choice but clearly not as effective."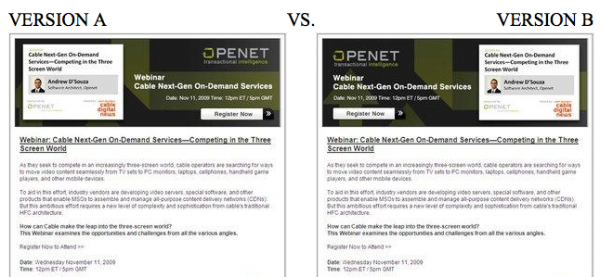 ------------------------------------------------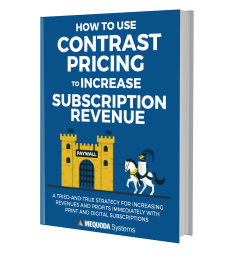 Learn how to choose the best subscription pricing & single-copy pricing strategy for your subscription websites & subscription apps when you download a FREE copy of How to Use Contrast Pricing to Increase Subscription Revenue.
------------------------------------------------
Lesson: Write a better headline
In another test also according to Performable.com:
When Carelogger, a Diabetes logbook application, redesigned its homepage, it tested two different headlines against each other. The headline "Maintain your optimal health by keeping tabs on your diabetes" converted more than 31% better than an identical page with the headline "Keeping tabs on your diabetes just got a whole lot easier." A stronger headline that addressed a specific pain point (maintaining optimal health).
Start testing the most important elements on your own landing pages: headlines, buttons, designs and call-t0-actions to see what works better for you!

Posted in Subscription Website Publishing