3 Reasons to Develop a Subscription Website
By— Chris Sturk • 06/05/2012
The subscription website is the ultimate tool for digital publishers
After years of selling subscriptions for print products, digital publishers realized that subscription websites could be the digital counterpart. In today's world, where tablet publishing is quickly gaining popularity, presenting content in an interactive digital format provides a new opportunity for publishers.
Any media company with frequently added content could benefit from a subscription website.
For many companies who have already developed subscription websites, there are three core reasons for doing so.
First, there is the reduction in delivery costs. Not having to create and ship physical products reduces the amount of money that needs to be spent. This in turn can have a favorable impact on the company's bottom line.
------------------------------------------------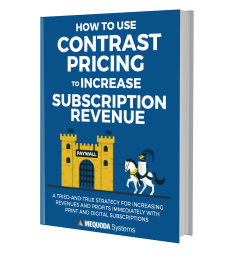 Learn how to choose the best subscription pricing & single-copy pricing strategy for your subscription websites & subscription apps when you download a FREE copy of How to Use Contrast Pricing to Increase Subscription Revenue.
------------------------------------------------
Next, there is the possibility of building a larger market. Since the Internet is a global force, you have the ability to reach people all over the world. A print magazine or newsletter's audience may grow significantly while easily selling content to interested subscribers worldwide.
Finally, there is the continuous service model. As paying subscribers register for a premium subscription online, the continuous service model will charge the user each time the subscription is up for renewal. Doing so has resulted in increased renewal rates by 20 percent, for some publishers.
Do you have a subscription website? If so, what was your reasoning for developing one? Please share your story in the comments below.
Posted in Subscription Website Publishing