Publishers are making adjustments to their websites to incorporate the social engagement opportunities presented by Facebook, which claims to have over 845 million active users.
Beyond strategies for publishing on Facebook, many of the adjustments being made by publishers involve the use of social plugins.
Below I've listed five of these plugins which can to create more engagement surrounding your website and the Facebook community.
Like Button: Digital publishers who put the Like button on their website make it easy for Facebook users to share content. With a single click of the button, users can share a web page on their Facebook timeline.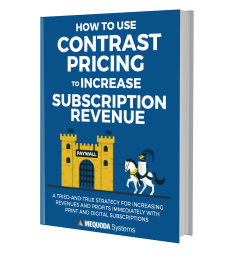 Learn how to choose the best subscription pricing & single-copy pricing strategy for your subscription websites & subscription apps when you download a FREE copy of How to Use Contrast Pricing to Increase Subscription Revenue.
Comments: With this plugin, users can add comments to any piece of content on your website.
Recommendations: Personalized suggestions can lead to more interaction with your content. This plugin gives personalized suggestions for pages on your website that users might like.
Live Stream: If you participate in live events often, this plugin allows your users to share in real time as they interact during the event.
Registration: For digital publishers seeking subscribers, this plugin lets users register for your website with their Facebook account.
For more information on these social plugins, including information on installing them, take a look at this page for Facebook developers.