A Best Practice for Publishers: Rapid Conversion Landing Pages
By— Amanda MacArthur • 08/21/2009
Build a valuable database by using your website to offer free reports that convert casual visitors into email subscribers
The essence of online marketing is building a database of potential customers and marketing to them, both on your website, and with editorial and advertising email messages.
Email can account for up to 60 percent of online revenue. In fact, some Mequoda publishers tell us that every name and email address in their database is worth an average of as much as $70 annually.
Job #1 for an effective website is building your database — adding names and email addresses to your list. This is true for both B2B and B2C publishers, both ad-driven and product-driven.
The Rapid Conversion Landing Page initiates an online relationship. It always requests an email address from the user in exchange for permission to send additional offers. You may also know it as a squeeze page or a name capture page.
------------------------------------------------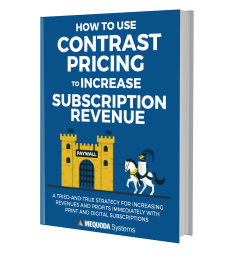 Learn how to choose the best subscription pricing & single-copy pricing strategy for your subscription websites & subscription apps when you download a FREE copy of How to Use Contrast Pricing to Increase Subscription Revenue.
------------------------------------------------
The power of a free-with-free offer
The most effective technique for quickly building a large opt-in email list is called "free on free." It's a takeoff on the department store cosmetics counter offer known as "free gift with purchase." Only in this case, it's a free gift for agreeing to accept a free email newsletter or free email tips.
As an incentive to subscribe to the free email newsletter, you also offer a free gift — usually an instantly downloadable PDF book or report on the same subject. Thus the name, "free on free." It's a second incentive for the user to give up their email address.
Studies have shown that leading with the free-with-free offer usually gets a higher response than leading with the free email newsletter offer.
Frankly, how many users really want to subscribe to another free email newsletter? Your response is more likely to increase when you entice the user to accept the free downloadable report while simultaneously and somewhat surreptitiously obtaining her agreement to receive "free email updates."
Since we get asked so often about how to create a Rapid Conversion Landing Page that ranks on page #1 in Google and drives massive amounts of email subscribers, we've put together a new white paper called: Rapid Conversion Landing Page Optimization Guidelines. Check it out!
Posted in Subscription Website Publishing