One of the Internet's leading online publishers tested a simple technique for increasing his email newsletter signups and saw a very impressive lift as a result.
The leading publisher is Andrew Palmer, Director of Ecommerce and Web Marketing for Agora Financial. Andrew calls this technique the "Free on Free" offer. He shared the details of his test and the results with us at the Landing Page Driven Internet Marketing pre-conference workshop we hosted at SiPA conference in DC earlier this month.
His benchmark was an offer to sign up for his free email newsletter, The Daily Reckoning. The copy on his landing page, of course, was peppered with all the benefits of subscribing to his very valuable email newsletter.
He then tested that offer against an offer for a free subscription to The Daily Reckoning, plus a free Special Report titled Real Asset Explosion: Make Ten Times Your Money in the Astounding Resource Boom of 2006-2007.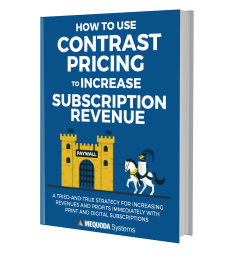 Learn how to choose the best subscription pricing & single-copy pricing strategy for your subscription websites & subscription apps when you download a FREE copy of How to Use Contrast Pricing to Increase Subscription Revenue.
The test proved to be the clear winner, generating a 17 to 55 percent lift in signups for The Daily Reckoning.
Other Internet marketers and copywriters use similar techniques. Clayton Makepeace offers his prospects a free weekly email newsletter titled The Total Package, plus a free guide titled Beat the Blank Page Blues – 3 beginning outlines for every type of copy you'll ever write. Our guess is he's also tested this offer and has seen clear lifts in response.