Specifics for online publishers selling subscriptions via apps
No need to speculate on Apple's approach to handling subscriptions anymore. A representative from Apple recently told app developer Texterity that publishers could now sell digital subscriptions via apps.
The stipulation is that Apple has to be allowed an equal opportunity to do so.
The specifics for selling subscriptions within apps appear more favorable than many had originally thought.
Here's the run-down for publishers according to Texterity's conversation with Apple:
-Paid Content: Publishers are allowed to sell print subscriptions and offer a "digital companion" through an app as long as there is no additional fee for those subscribers.
-Mobile Access Only: This has to be offered through the In-App Purchase mechanism but can also be offered through the publishers' own website.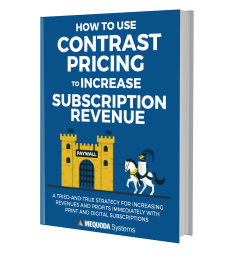 Learn how to choose the best subscription pricing & single-copy pricing strategy for your subscription websites & subscription apps when you download a FREE copy of How to Use Contrast Pricing to Increase Subscription Revenue.
-B2B Magazines: Publishers with free content are allowed to distribute their content through apps, which lets qualified subscribers receive the content. Publishers will notify digital solutions providers like Texterity of new subscribers, who will then be added to a database so they can access the content for a specified amount of time.
-Association Publishers: Any association publisher is allowed to deliver content through apps. In doing so, a "join" button that lead's to the association's website is permitted.
For digital-only magazine subscriptions, the consumer now has a choice to purchase from the app store or directly from the publisher.
This new plans for selling subscriptions within apps give consumers a choice in the purchasing process, and allow publishers to offer memberships without having to go through Apple.
What are your thoughts on Apple's outline for selling subscriptions through apps?