The design of your online store is crucial to selling products. It needs to be clean and easy to navigate or potential customers are likely to get frustrated and leave.
Beyond a clean, manageable design, there are different ways of creating your online store. For instance, some retailers incorporate search engine optimized content to help rank in search engines. Others allow for on-page comments, typically about the products on page, to also help in ranking.
------------------------------------------------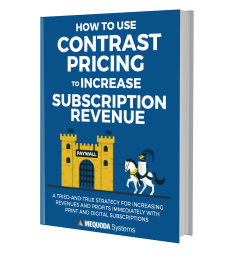 Learn how to choose the best subscription pricing & single-copy pricing strategy for your subscription websites & subscription apps when you download a FREE copy of How to Use Contrast Pricing to Increase Subscription Revenue.
------------------------------------------------
Beyond those options, your products should be clearly listed and defined. Numerous tests should be conducted in your online store to assure all sales can be conducted and your payment service works properly.
The Mequoda Development team has created custom WordPress-based stores for Gold Member clients. If you need a properly functioned, well-designed online store that follows best practice for retailing online, contact Kim Mateus via email or by phone at 401-293-0401 to discuss consulting options.