Add links to all your social media sites with this plug-in
If you visit a half dozen reputable websites right now, I'd bet most, if not all, have social media icons on their website.
These sites want you to interact with them in other manners. Brands are attempting to be more personal through their activities on Facebook and Twitter.
Website operators on the WordPress platform can join the rest of social websites out there but using the Social Media Widget. This plug-in supports dozens of social media sites and offers icons at different sizes: 16×16, 32×32, and 64×64.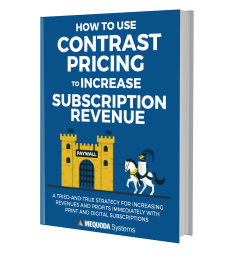 Learn how to choose the best subscription pricing & single-copy pricing strategy for your subscription websites & subscription apps when you download a FREE copy of How to Use Contrast Pricing to Increase Subscription Revenue.
Additionally, there are multiple icon packages to choose from, which utilize different artist renderings so the icons can be used that fit your site the best. And if animation is desired, they even have options that include: fade, scale, bounce, and combo.
Decide where you want your social media icons to be located on your site and try using the Social Media Widget for WordPress websites; the social media fanatics in your audience will thank you.