One of the biggest problems a Membership Website can have is that it's not a Membership Website
Membership Websites are as commonly used as they are misunderstood.
Hiding information behind a firewall with a username and password gate and charging for access does not automatically make a Membership Website.
A Membership Website should be designed to be a unique destination—not another place to provide access to your print publication's content.
Websites that offer subscribers downloadable versions of a print publication are more accurately described as Retail Subscription Websites. These websites:
Are complimentary to a print product
Sell subscriptions to that product
Offer customer service to subscribers
Sometimes sell back issues of a publication at a premium
Are organized by date of publication, not by topic of interest
Membership Websites are very different. The most successful ones:
Offer unique information
Are reliant on memberships for revenue
Are organized by topic of interest
Answer the users' informational need as quickly as possible
Are primarily used as reference tools
While accessing Membership Websites and Retail Subscription Websites is very similar, the two operate on a very different business model and require different strategies.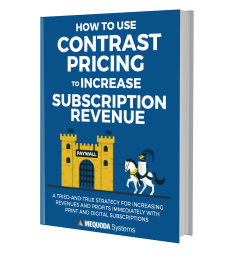 Learn how to choose the best subscription pricing & single-copy pricing strategy for your subscription websites & subscription apps when you download a FREE copy of How to Use Contrast Pricing to Increase Subscription Revenue.
ConsumerReports.org, for example, is one of the most successful Membership Websites we have discovered, and it has a well known print publication.
Its publishers explained to us in an interview that readers use the magazine very differently than the website, requiring each to have a different approach.
Magazine subscribers read to master product consumption. They want to be the one person on their block that everyone seeks purchasing advice from.
Online subscribers to ConsumerReports.org use the website as a reference tool. If their lawnmower breaks, they will consult ConsumerReports.org to direct them to a quality new one.
To learn more about the Membership Website business model, and how to design or refine your Membership Website, read our new Membership Website Publishing handbook. Inside we break down correct foundations and guidelines that successful website publishers are executing every day.