How transparency can improve your overall landing page quality score.
According to Google, there are three main components that determine your overall landing page Quality Score.  Today we'll discuss the second component:  maximizing your site's transparency.
Why is transparency important?  Transparency enables you to build trust with users.  To maximize you site's transparency, here are three areas you should pay attention to:
1) The nature of your organization or your business information
Clearly define exactly what your organization is or does.
Always honor promotions and ads you offer.
Deliver products and services in a timely manner.
Only charge for products and services successfully received.
Distinguish all sponsored links from your site's content.
2) How your site interacts with a visitor's computer.
Never alter a users' browser settings without first getting permission.
Be upfront about automatic installs and allow for easy removal.
3) Using visitor's personal information.
Do not request personal information unless it is absolutely necessary to the service you're offering.
Always provide users with a privacy policy that discloses how their personal information will be used.
Offer opt out options that allow the user to limit the use of their personal information.
Allow users to preview your site's content without requiring them to register.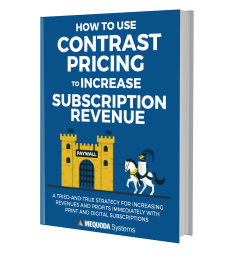 Learn how to choose the best subscription pricing & single-copy pricing strategy for your subscription websites & subscription apps when you download a FREE copy of How to Use Contrast Pricing to Increase Subscription Revenue.
Following Google's landing page guidelines will  not only improve your trust factor but it will also help improve your landing page quality score.  Why is that important?  A high landing page quality score can decrease your keywords' cost-per-clicks (CPCs).
Following these landing page guidelines will also improve your site's overall rank. Why is that important?  A higher page rank means more page views, which leads to increased website traffic.  Wouldn't we all like to be on page one for every keyword?
Transparency is only part of the equation, next time we will discuss navigability