How Many Landing Pages Do You Have?
By— Chris Sturk • 08/25/2010
You may have more landing pages than you think
I was recently speaking to a friend about online publishing. He is a content producer and was curious about the options for organic marketing and search engine optimization.
After about ten minutes of conversing he began discussing his website. A very important lesson popped into my mind around this time.
He was talking about his landing page. Yes, "landing page" in singular form. I allowed him to finish his thought then chimed in.
Search engines have changed the Internet landscape. Every page of a website can and should be a landing page nowadays. It isn't about just getting users to visit your homepage.
------------------------------------------------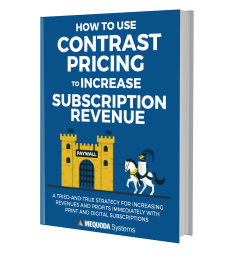 Learn how to choose the best subscription pricing & single-copy pricing strategy for your subscription websites & subscription apps when you download a FREE copy of How to Use Contrast Pricing to Increase Subscription Revenue.
------------------------------------------------
I expressed the notion that all pages are landing pages, especially when they are optimized with keywords that align with a specific audience.
This is a concept people engaging in the online world often forget. However, allowing every page of a website to be a landing page will do a few things for you.
First, it gives you more areas to optimize with your keywords. Secondly, those areas can be more aligned with a single topic like "Landing Page Templates" or "Landing Page Optimization". Lastly, realizing that all pages are landing pages brings in the potential of attracting more visitors.
Landing pages are a topic of interest with us at Mequoda Group. Please feel free to download our three free reports on landing pages, listed below. If you already have them, feel free to pass this information along to colleagues or friends who are interested in landing pages.
Landing Page Handbook: Creating Sales Letter Landing Pages that Sell
12 Master Landing Page Templates
Rapid Conversion Landing Page Optimization Guidelines
Posted in Subscription Website Publishing