Do you follow these website homepage design guidelines for content webification?
By "webification" we mean the most efficient use of all the multi-media and interactive technology available. This does not, however, mean using technology just because it's there.
The Internet is not a book, magazine or newspaper. Nor is it TV, a live event or a brick-and-mortar store. The web is a unique medium. A well-executed website offers the opportunity to do things that other media and physical venues cannot do, the execution of which is particular to the Web.
Let's look at a few examples: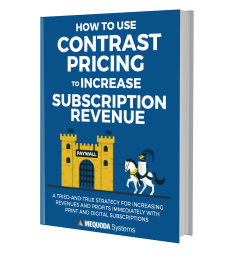 Learn how to choose the best subscription pricing & single-copy pricing strategy for your subscription websites & subscription apps when you download a FREE copy of How to Use Contrast Pricing to Increase Subscription Revenue.
The key to successful website publishing lies in exploiting the user benefits that the Web has to offer at the expense of traditional media and retailers. Successful website publishers use content to create unique user benefits.
On this scorecard, where do you rank?
CONTENT WEBIFICATION

A

Innovative use of interactivity and multimedia technology

B

Some use of web-based communication technology

C

Text and graphics have been webified

D

Website looks like a book, magazine or other old media

F

Website content is non-existent and/or hard to consume
A Word of Caution
Never let the technology outshine the message. Don't let your readers be so dazzled by the bells and whistles on your site that they forget to buy or subscribe to your email newsletter. Technology should be used to enhance the message, not to replace it.