The MIT Technology Review's new "Insider" subscription plan, which the journal debuted last week, offers three tiers of annualized content access, Folio: reports.
The $29.95 plan includes a one-year subscription to either the digital or hard-copy magazine, plus a few bonuses.
The $79.95 level includes both subscriptions, plus the journal's Science Fiction Anthology and full archive access.
Finally, the $179.95 option includes all of the above, plus copies of exclusive reports and MIT Press releases.
"People are engaging in so many different ways … reading a magazine on just a mobile device or computer screen is not going to cut it for us," the MIT Technology Review's Bruce Rhodes told Folio:. "All along we wanted to test this out and get into a feedback loop with our customers. We'll survey them hard on the ad-free option, asking whether they joined for that or different reasons. It's definitely a slippery slope and we don't want to alienate our advertisers, but we've also developed other ways to engage with our audience than just banner ads."
To read more about the MIT Technology Review's new tiered subscription plan, visit Folio:.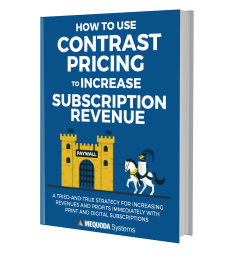 Learn how to choose the best subscription pricing & single-copy pricing strategy for your subscription websites & subscription apps when you download a FREE copy of How to Use Contrast Pricing to Increase Subscription Revenue.