3 website factors that can lead to lower page ranks
Online publishers and content marketers are constantly looking for ways to increase their search engine optimization.
We are all aware that Google makes algorithm changes and plays with ranking factors each year. Due to this, a lot of attention is given to correlating factors that lead to better search engine page ranks.
For instance, social media sharing and high-quality content are two of those correlating factors that have led to higher page ranks since Google's Panda updates hit earlier this year.
However, there is a plethora of website characteristics that are overlooked in the process of search engine optimization. Among these are negative ranking factors. Publishers and content marketers are often times busy looking for the positive factors leading to better page ranks, yet it's important to not forget about the negative factors that may be effecting your SEO without you even knowing it.
To address this, I wanted to quickly list three negative SEO factors that SEOmoz highlighted in a recent article.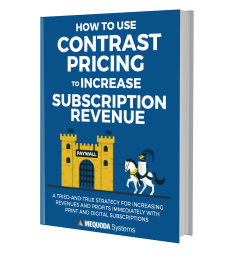 Learn how to choose the best subscription pricing & single-copy pricing strategy for your subscription websites & subscription apps when you download a FREE copy of How to Use Contrast Pricing to Increase Subscription Revenue.
Three negative factors that may be affecting your SEO
Domain name length and hyphens: Keeping your domain name simply may help in better page ranks. Long domain names with a lot of dashes tended to not do as well as shorter domain names with fewer dashes.
Another reason to use dashes sparingly is the possibility of it appearing spammy. Domain names with a lot of dashes may not receive as many links due to this characteristic.
Response time: Although, according to SEOmoz, there isn't a definite answer on whether response time is a huge correlation factor, they have seen that slower sites tend to rank a little lower than faster sites.
AdSense: Websites with a lot of Google AdSense ads tend to rank lower than websites with fewer AdSense slots. Additionally, the amount of space actually taken up by ads on your website is another website characteristic associated with lower rankings. Furthermore, a lot of AdSense slots above the fold may lead to lower page rankings.
It's important to note that these factors have been seen to lower page ranks, although there isn't a hard and fast rule saying that it's always the case. These are simply observations that SEOmoz has noticed while conducting research.
Do you pay attention to negative SEO factors? Were these three tips already on your SEO radar? I'd love to read your thoughts in the comments section below.