How to create a rapid conversion landing page metatags template
Rapid Conversion Landing Pages build circulation for your free email newsletters. The more value they create — and deliver — the more effective they are at building your subscriber file.
The rapid conversion landing page (RCLP) strategy works equally well for B2B and B2C websites, for large publications as well as small publications. That's because of the power of the word "free" and the value of reliable information in a freemium with an irresistible title. Popular freemiums include reports, white papers, software, tutorials, tips, even patterns; really anything a user can download for free.
The following RCLP metatags template can serve as a helpful reminder of the elements required for a Mequoda Best Practice Rapid Conversion Landing Page.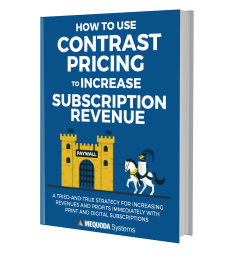 Learn how to choose the best subscription pricing & single-copy pricing strategy for your subscription websites & subscription apps when you download a FREE copy of How to Use Contrast Pricing to Increase Subscription Revenue.
Keyword: This can be a single word or a keyword phrase.
<H3> Optional pre-headline: Attention grabber. This works best when the headline reads into it, as if it follows a colon.
<H1> Main headline: The name of report must appear here, because some users will eventually search for the report by title.
<H2> Sub headline: This should explain the free offer or state the call to action.
Meta title: This should focus on the product name. Often the meta title is identical to the main headline.
Meta description: This must focus on the product offer and name. Usually the meta description is also the subtitle of the report.
Meta keywords and metatags: Start with keyword phrases from title, then add other keyword phrases that are present in the body copy.
URL: Write out the full report title sans the original punctuation, with hyphens used as separators between the words.
Offering free premium downloadable content on a Rapid Conversion Landing Page — one element of a properly designed website — is a win/win for all concerned: Google, the user, your publishing colleagues, and you.