The tablet era continues to make waves in content consumption
Since the release of the iPad in 2010, publishers envisioned a new world where their content could live digitally.
There were hopes of tying editorial content with brilliant multimedia and interactive social elements.
New editions could be sent directly to the tablet when ready, so a subscription model could help publishers retain a healthy circulation of avid readers.
Unfortunately for many, the tablet strategy hasn't taken off as planned…not yet at least. However, new research from Knowledge Networks gives hope to online publishers using, or planning to use, the power of the tablet.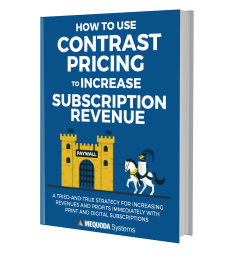 Learn how to choose the best subscription pricing & single-copy pricing strategy for your subscription websites & subscription apps when you download a FREE copy of How to Use Contrast Pricing to Increase Subscription Revenue.
Tablet owners spend more time online than non-tablet owners
According to Knowledge Networks, "tablet-owning consumers (ages 18 to 64) spend 4 hours, 19 minutes with the Internet daily, compared to 2 hours 55 minutes for all consumers 18-64 – a difference of 84 minutes, or 48%."
Tablet users spend their time engaging in social media, playing games and searching for content that interests them. Social media and search are two focal characteristics of a successful organic marketing strategy, which we teach to Mequoda Gold Members and attendees of our live events, like the Mequoda Bootcamp and the Mequoda Summit.
Another astonishing statistic shared by Knowledge Networks was that mobile Internet usage time has tripled in only a year – from 7 minutes in 2010 to 25 this year.
The need to provide high-quality, unique content for digital devices is here. These statistics show that the tablet device can truly affect the manner in which people consume content. In this case, it's more attractive than desktop PCs and laptops as it's being used 48% more each day. As tablets come down in price over the coming years, more users will adopt the technology, which may eventually be the preferred device by a majority of Internet users.
Take a look at this article for more from Knowledge Networks.