After you have a keyword universe developed, how do you make sense of all the data? A keyword universe, which is the backbone of online marketing efforts, typically consists of hundreds of thousands of keyword phrases. Where do you rank on those terms? Which keyword phrases are the most important to your online business?
The Google Visibility Report, developed by Mequoda in 2006, provides you with these answers by documenting the popularity and organic competition for each keyword phrase. By citing the Keyword Competitive Index (KCI), you can determine which phrases provide the best targeting opportunities.
------------------------------------------------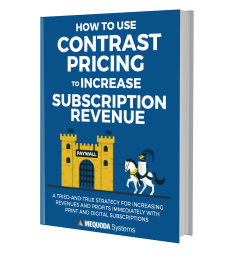 Learn how to choose the best subscription pricing & single-copy pricing strategy for your subscription websites & subscription apps when you download a FREE copy of How to Use Contrast Pricing to Increase Subscription Revenue.
------------------------------------------------
The information uncovered from the Google Visibility Report helps publishers develop website topics and name free reports for their content marketing efforts.
A Google Visibility Report provides publishers with a clear, concise way of tracking all the keyword phrases relevant to their online business. If you are interested in having a custom Google Visibility Report built for your content, reach out to Kim Mateus via email or by phone at 401-293-0401 for more information.