When I first became the Managing Editor of Mequoda Daily, I wasn't very familiar with optimizing images. However, I learned quickly, and realized how important it can be to optimize images.
If you are adding images to your website that aren't optimized for the Internet, you website's load time can be impacted.
Load time is a major factor in the user experience. If you website loads too slowly, first-time visitors may bounce off the site opposed to waiting for it to load fully.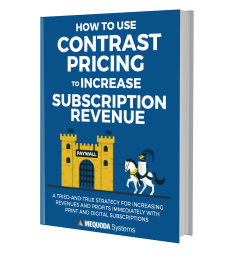 Learn how to choose the best subscription pricing & single-copy pricing strategy for your subscription websites & subscription apps when you download a FREE copy of How to Use Contrast Pricing to Increase Subscription Revenue.
There are multiple tools that can help you align load time with a good user experience. Here a few suggestions:
Image software: Many different types of image or photography software can easily allow you to optimize images. Fireworks and Photoshop are two that come to mind.
Measure current load time: If you don't know how long it currently takes your website to load, try using Pingdom. This tool will analyze a web page, tell you how long it takes to load, and uncover any possible loading issues.
If you want to double-check your load time, Uptrends has a free tool for doing so.