Website Design Tips and a Lesson in Online Publishing from DailyCandy.com
By— Kim Mateus • 03/30/2006
Sharply focused on a niche market of hip, young, women shoppers who reside in major cities, Daily Candy proves that publishers can make money selling online advertising.
In a recent website design review of DailyCandy.com, Mequoda Editor-at-Large Peter A. Schaible outlines the site's business model and shares a few website design tips and suggestions he pulled from reviewing the site.
Daily Candy publishes 11 email newsletters that recommend shopping, entertainment, food, travel and media to young, affluent, mostly female consumers in Atlanta, Boston, Chicago, Dallas, London, Los Angles, New York, San Francisco and Washington, D.C. There are also "everywhere" and "kids" editions.
Each edition receives a different Daily Candy story every day, except for Saturdays, when they deliver Daily Candy Travel to all city editions. Daily Candy Everywhere is a national edition; everything featured is accessible online at DailyCandy.com.
------------------------------------------------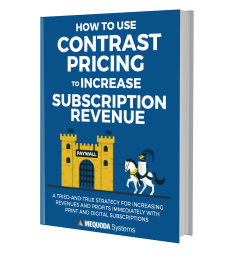 Learn how to choose the best subscription pricing & single-copy pricing strategy for your subscription websites & subscription apps when you download a FREE copy of How to Use Contrast Pricing to Increase Subscription Revenue.
------------------------------------------------
Daily Candy describes itself as "the ultimate insider's guide to what's hot, new and undiscovered." Founded in 2000 by Ms. Dany Levy, a former New York Magazine staffer, the site's business model seems simple enough.
The editorial content is free and is supported by banner ads and sponsored links.
It sends subscribers dedicated emails on behalf of its subscribers, which are entirely about one client's product or service and are always clearly labeled.
Daily Candy is essentially a Mequoda hub where advertisers pay for access to the newsletter subscribers.
The site says it maintains "an extremely strict line between editorial and advertising," meaning featured Daily Candy items are selected solely by the editors and no advertiser can pay to be featured.
Advertising is always labeled as such.
Here are a few website design tips and suggestions Peter gathered from running DailyCandy.com through the 14 Mequoda Website Design Guidelines.
The top left quadrant of the landing page is the most looked at and therefore the most valuable website real estate. It's the best place for the signup box—and the higher on the page, the better.
Daily Candy describes itself as "like getting an email from your clever, unpredictable and totally in-the-know best friend-the one who knows about secret beauty treatments, must-have jeans, hot new restaurants—and always shares the scoop." So a discussion forum would seem to be a logical addition to the site.
The left panel text links on this site could look more like links. When moused over they change to different colors. Generally, consistency is a better idea and less confusing to the user. Even so, given that DailyCandy.com is targeted to such a young, hip audience, most of whom are presumably very Internet-savvy, it probably doesn't make the slightest difference. They won't find this inconsistency confusing.
Bob Pittman, the former chief operating officer of AOL, quit after its merger with Time Warner. In 2003, he bought controlling interest in Daily Candy for $3.5 million.On February 15, 2006, a Wall Street Journal article said the Daily Candy was on the block and could sell for more than $100 million.
Not a bad site to model after if you're a publisher whose online business model is to sell advertising!
Posted in Subscription Website Publishing