5 Ways Your Website Taxonomy Should Work For You
By— Kim Mateus • 04/09/2015
Almost every publisher falls into these website taxonomy traps
If your website taxonomy is perfect, it means that your readers are never confused by the language on your site. It means they know what they're clicking on and subscribing to, or unsubscribing to, based on the words you use. We often focus the taxonomy conversation around the primary website navigation, usually at the top of your site. But your entire website is full of the taxonomy you chose, like buttons and links in your footer.
Even social media buttons can get confusing, for example, those in usability tests often wonder when they see a LIKE button if they are liking the article, or the Facebook Page of the publisher.
Another angle that peeks into taxonomy is how you label your content. For example, if you're mixing free and premium content, some users may think they already "subscribe" when they're simply "registered," and may take out their frustration by simply walking away when confronted with a paywall.
And if there's any text explaining the three-article limit on the Economist website, it's not readily evident, making the sudden appearance of the registration wall an uncomfortable surprise, putting on the brakes just when you're starting to enjoy the content.
If you're truly engaged, maybe you'll overcome your annoyance and register. Read that registration notice carefully, though, because then you'll learn you'll only get three more articles before being required to pay for the content. Are you a happy camper after all this? Do you feel inclined to pull out your credit card after all these interruptions? Probably not.
Good website taxonomy is all about what your users, not your management, want, need and expect.
It's also the key to all of your goals, and may be the underlying problem in sales, leads, registrations and community building.
If you perform usability tests to find out more about your users and how they interpret your lingo, you'll get:
A better understanding of your customers – getting to know how your customers think and process your information.
Current terminology – gaining an inside look at the current business jargon through your customers' comments.
Market segmentation – finding new ways to market your product by discovering the additional categories users put it into.
A new perspective – finding out things you never realized about your product by looking at it through the user's eye.
The ability to follow the customer – now that you know what they're thinking, you also know where they're going and what they're looking for.
------------------------------------------------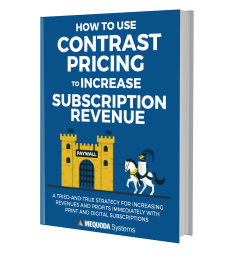 Learn how to choose the best subscription pricing & single-copy pricing strategy for your subscription websites & subscription apps when you download a FREE copy of How to Use Contrast Pricing to Increase Subscription Revenue.
------------------------------------------------
And here are the areas where you should definitely be testing your website taxonomy in order to make your website perform better for you:
Navigation taxonomy
As we talked about last week, your navigation is key. Don't funk it up with jargon. At the top of this page you can see that our taxonomy is fairly simple. Free Advice, Free Handbooks and Free Videos come first. I imagine you know what you're getting when you click any of those links. In fact I'd love to know in the comments if our navigation confused you in any way!
Footer taxonomy 
Very often, publishers use their website footer to add any miscellaneous links, almost like a mini sitemap, plus links to privacy policies, ad packages and other things that don't belong in the limited space of the website header. This is another zone where some publishers get "cute" in order to shorten links. Don't be tempted to do it, just name your links exactly as you'd expect your users to look for them.
Calls to action / button taxonomy
One big "oops" we see in this area is when you have multiple pages in an orderflow. Most likely there's a big landing page, and then after it comes the registration form. Because of this, you may drop "register now" or "learn more" buttons in your emails or other promotions. But every so often, a publisher uses a "register" button to link to the sales letter landing page, rather than the registration form. Not a huge deal, but it could decrease click rates when the reader doesn't know enough and really just wants to "read more."
Link taxonomy
Everywhere on your site, links should act like links. Don't underline words on the web without making them links, as they easily confuse users who expect them to be hyperlinks. And don't link to completely unrelated articles either – give the reader what they expect to find on the other side of a hyperlink.
Subscription language taxonomy
If you want to lose a sale, get tricky here. If you don't, make it completely clear and obvious what's happening. Are they subscribing, or are they registering, as was the case with the Economist. Now is not the time to come up with your own jargon.
Sales taxonomy
Every product has its own lingo, whether it's industry lingo, or new jargon that was developed with the creation of the product. At any point, determine if an eighth grader could read your sales copy and understand what you're saying. And on that note, if you're using sarcasm or satire, is it obvious to everyone?
As a user, what frustrates you most? As a publisher, where have you made improvements that resulted in more sales?
Posted in Subscription Website Publishing