Last chance to sign up for our Website Homepage Design Workshop webinar
Register now for our Website Homepage Design Workshop webinar
Is your website homepage confusing to visitors, or does it engage them and keep them coming back for more great content?
With all the competition on the web, you need to make a good first impression to visitors, or they may never return to your website.
In case your website homepage is currently lacking in some areas, we have some best practices for you. These best practices will help you better understand your audience's expectations and perspectives so you can appropriately serve them.
Register now for our Website Homepage Design Workshop webinar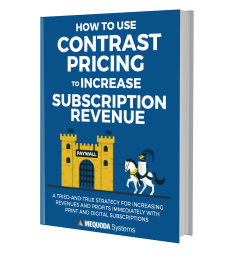 Learn how to choose the best subscription pricing & single-copy pricing strategy for your subscription websites & subscription apps when you download a FREE copy of How to Use Contrast Pricing to Increase Subscription Revenue.
The Website Design Scorecard
Nancy Horan, Mequoda's Systems Director and featured speaker of this webinar, will take you through our Website Design Scorecard. These 14 guidelines are essential in creating a sound and effective website design, one that will hold the attention of your visitors and give them reason to come back.
By the end of this 90-minute webinar you will have an understanding of the 14 best practices from the Website Design Scorecard. You can then apply this knowledge in two different manners.
First, you can take a look at the sites of your competitors and make comparisons. Second, you can take a look at your own homepage in order to make any necessary updates that will make the user's experience even better.
If you are looking for a way to create a better website experience for your users, this is the webinar for you. We look forward to joining you on the Website Homepage Design Workshop webinar on Tuesday, May 4th at 12:30 pm EST.