Today we're sharing insight into how to successfully write one of the creative templates responsible for the impressive increase in subscriptions this publishing partner has enjoyed—the editorially-driven creative known at Mequoda as a Collection Preview Framework—specifically the version sent to non-members; the member version would include direct links to content.
The Collection Preview Framework is all about promoting subscriptions through thoughtfully featured excerpts of some of the most captivating paid content available on your site. Rather than leading with a direct offer, the Collection Preview Framework instead focuses on the editorial material your site offers its paid subscribers. The Collection Preview Framework attracts consumers with a compelling piece of content before making a brief, but persuasive, sales pitch to entice them to subscribe in order to continue enjoying all of the content your site provides for paid subscribers.
Today we'll review Yankee magazine's top-performing Preview, which promotes their Ten New England Foliage Towns Not To Miss This Fall article, along with the Fall Destinations Special Collection from which it is featured.
Yankee magazine is best known in New England for its spot-on travel advice and restaurant recommendations. Subscribers enjoy guides to the cutest coastal towns, drives for foliage, the best places to grab lobster rolls, and even how to make the best apple pies. If you're a New Englander, or someone who loves New England, you simply aren't getting the most out of the region without consuming every new issue of Yankee. And that's not just our opinion as New Englanders, just ask their 25,000+ digital subscribers!
The goal of the Collection Preview Framework is to subtly promote Yankee All-Access, a membership package that includes six issues of their print magazine, their digital web edition with a massive travel library of back-issues, their Weekends with Yankee television show, and 25+ digital collections.
Each Preview focuses on one collection, and the one below is pulling content from Fall Destinations Special Collection, specifically from one of their most popular articles, Ten New England Foliage Towns. Let's take a look at the full Preview, and then break it down.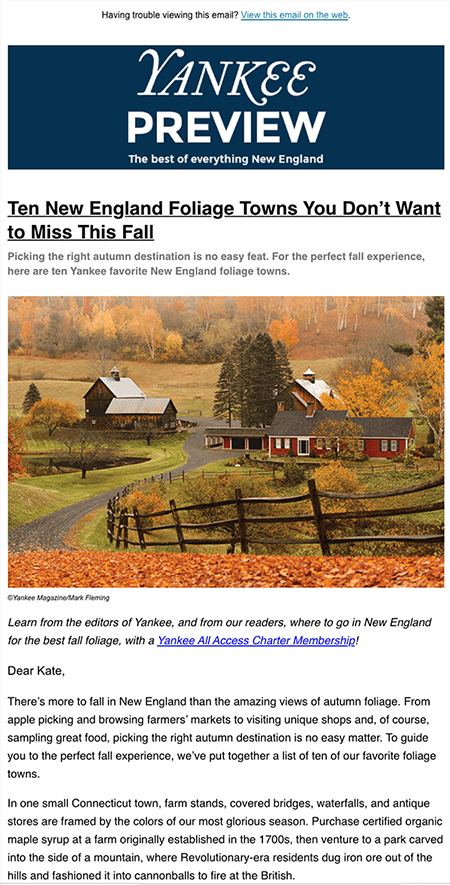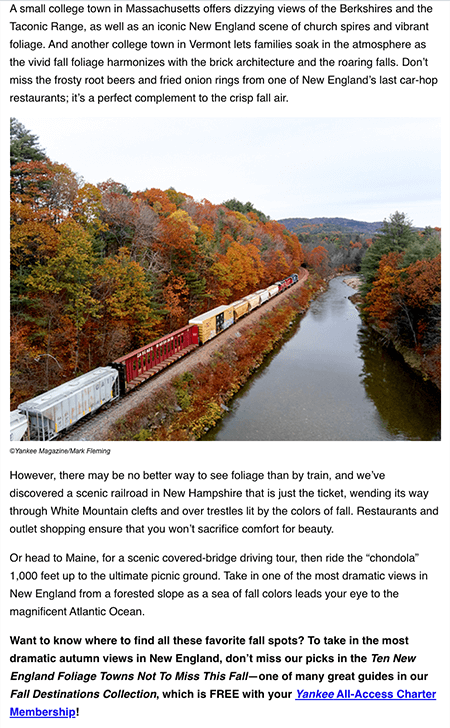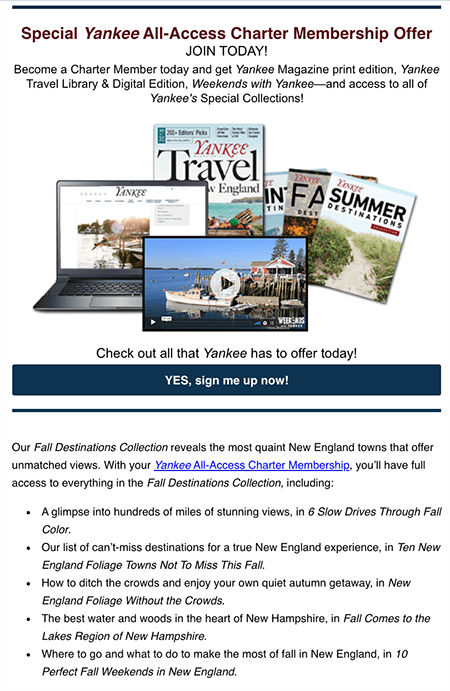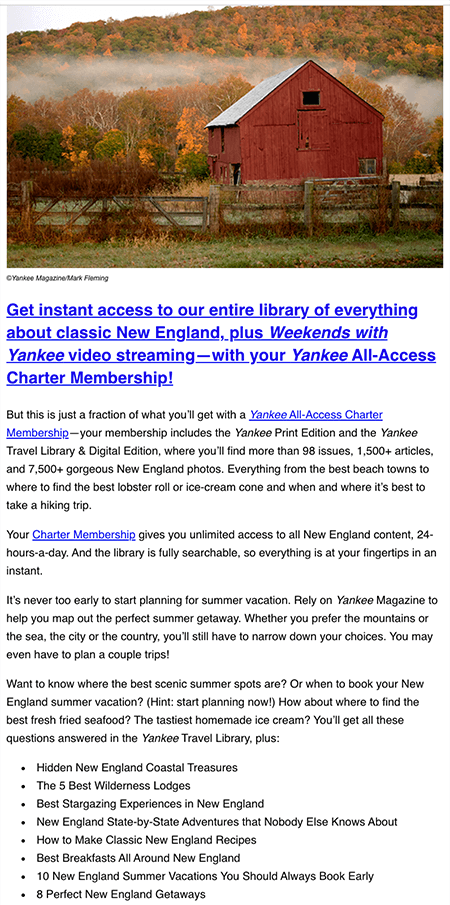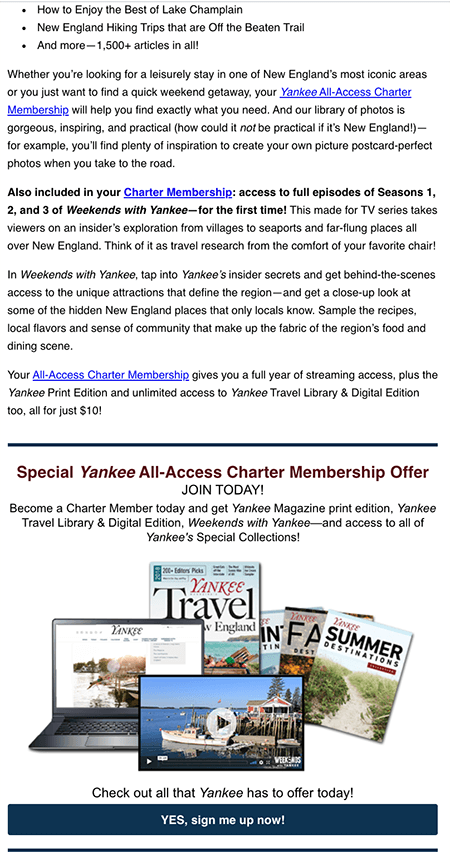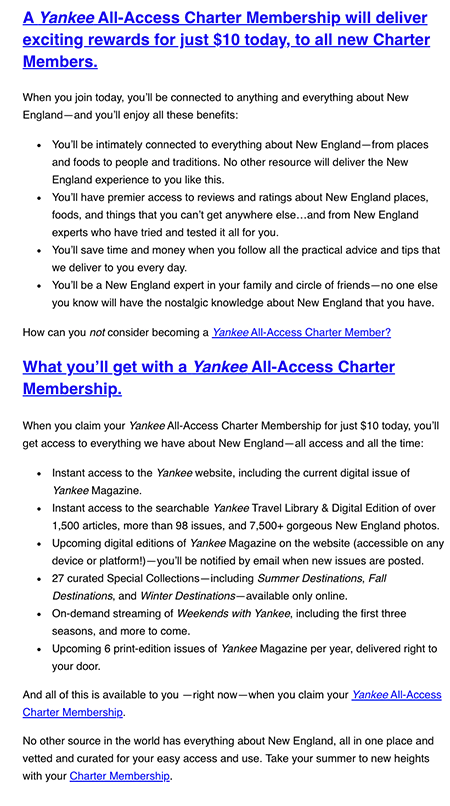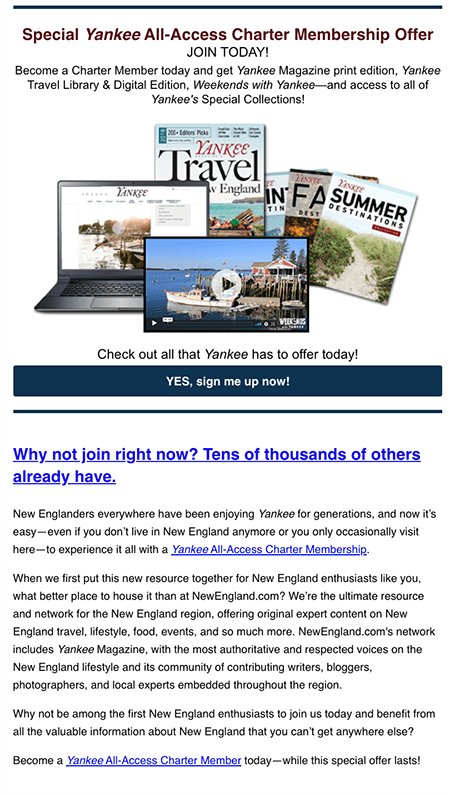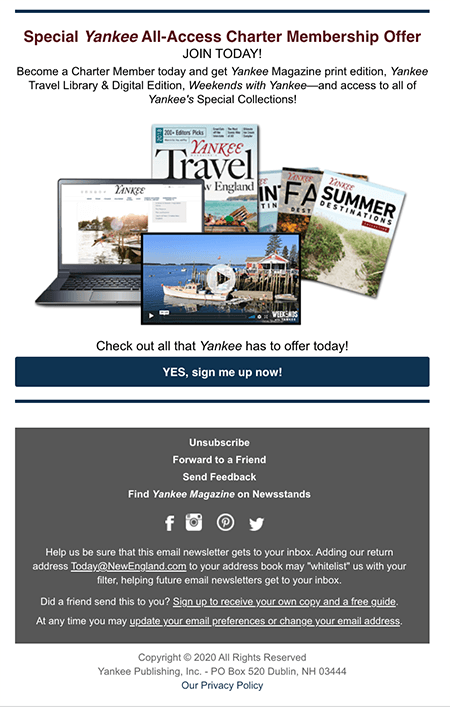 As mentioned, to create a best-practice Collection Preview, we start with a Special Collection of curated content, like Yankee's Fall Destinations Special Collection, and then hone in on one or more featured articles from within. The goal is to pick a popular topic that will draw a reader in, and then show them the breadth of content available on that same topic within the archive or content library.
The Collection Preview Framework almost always follows the same formula, and in our experience, it has proven to be a winning one, especially this one, New England Today's top-performing Ten New England Foliage Towns preview.
Email "From" Address

If you see an email come in from a friend, you open it, right? If you see it come in from a company you like, you might open that as well. Most companies, unless they have a familiar name (like Chris Kimball, for example) will send emails with the name of their publication or website in the "From Line" and that's exactly what Yankee does. You don't need to try and hack the From Line by making it unfamiliar to the reader, either. You might be surprised how many people don't open or unsubscribe because they don't recognize you.
✓ Yankee meets expectations with this component of the Collection Preview Framework by identifying their brand in the display name and including the full email address with their name.
Testing Ideas
Want to make your email feel even more personal? Do you have a person in your company with a name that your readers recognize? Put a real name to the Collection Preview Framework. Make this part of your testing efforts. Including a real person in the "from" section of your email gives the email an added personal dimension; your prospect will feel like this is a one-to-one communication—and that can help enhance engagement and get that email opened.
Email Subject Line

The Email Subject Line has one goal: get the email opened. While other Frameworks may focus on urgency and percentages off to make sales, the Preview Framework is editorially-driven, which means that the email subject line needs to pull people in with content.
In addition to getting opened, your email subject line also has a second job: don't get the email deleted unopened—or worse, pegged as SPAM and sent straight to the junk folder. Or relegated to total oblivion for this email (and perhaps subsequent emails)—getting blocked by an Internet Service Provider (ISP).
How do you assess the power of your subject line without doing blind testing? Use the industry-standard assessment tool: www.subjectline.com helps you check your subject line before you hit Send. SubjectLine.com rates your subject lines on several criteria, including urgency, length, personalization, and potential SPAM terms—helping your subject lines meet basic industry standards.
Enter your planned subject line and you'll get not only a score but an explanation of where the subject line meets industry standards and how it could do better.
✓ Yankee's email subject line appeals to anyone looking to find the best foliage in New England – who doesn't?
Testing Ideas
One of the cardinal rules of email marketing: test, test, test. And that includes your subject line. After all, it's the first part of the email your recipient is going to see—don't make it the last. In general, we recommend you craft 3 subject lines for each email you send. Then you're one step ahead of the testing game, ready for the next time you send out that email. For this Collection Preview Framework, try other subject lines that might get the reader's attention:
Email Subject Line #1:  10 New England foliage destinations [scores 88 out of 100 at

www.subjectline.com

]

Email Subject Line #2:  10 Fall foliage towns you'll love [scores 91 out of 100 at

www.subjectline.com

]

Email Subject Line #3: Don't miss these 10 fall foliage towns [scores 100 out of 100 at

www.subjectline.com

]
Email Pre-Header Text

You see Pre-Header Text every time you look in your inbox. That little snippet of copy that shows up below the email subject line is typically pre-programmed copy. Many marketers overlook or ignore this essential component of marketing emails, but it gives your recipient a sneak peek at what's inside the email—another enticement to open the email, on top of your compelling subject line.
Think of Pre-Header Text as a way to add to your Email Subject Line.
One basic rule for writing your Email Pre-Header Text is to keep it short, because it will get cut off anyway. This is not the time to ramble on with a long statement—many email programs will truncate the Pre-Header Text if it's too long, defeating the purpose of your message. We like to keep our Email Pre-Header Text to less than 140 characters—that's including spaces. Stick to 140 characters or less, and you'll be laser-focused in your Email Pre-Header Text copy.
✓ Yankee stays on point with their Email Pre-header Text!
Testing Ideas
You have a little more space for copy with the Email Pre-Header Text than you do with the subject line, so there are more testing opportunities. Examples (all are less than 140 characters, with spaces):
These quaint New England towns are top Yankee picks for the best experiences amidst views of autumn's dreamcoat of reds and yellows.
Experience the essence of classic New England!
Picking the right autumn destination is no easy feat. For the perfect fall experience, here are ten Yankee favorite New England foliage towns.
Preview Nameplate

The Preview Nameplate is a powerful marketing tool that can be used to reinforce your brand and give the recipient of an email a visual cue about how important they might find this message.
We recommend you identify the segment or type of email in the nameplate; this makes it easier for users to manage their email preferences back at the website with a corresponding segment that is clearly named. The banner immediately identifies the category of the email, saving you the pain of global opt-outs. Users like choices.
Tailor your Preview banner to your product; make it readily identifiable and keep it consistent. This is not really a time for subtle artwork: make your statement so the recipient knows what they're getting—just like Yankee has done.
Make sure your Preview graphic speaks clearly and to the point. And don't bother testing this element. In this case, consistency is the best policy.
✓ Yankee is spot-on with its Preview Nameplate!
Preview Headline and Sub-Headline

For Yankee's version of this Preview Framework, the Preview Headline and Sub-Headline follow best practices:
The headline tells readers they can find the best foliage destinations, which reinforces the message in the Email Subject Line!
The headline tells readers just what they can expect—to find ten New England foliage towns that have the best leaf-peeping.
The headline is a hyperlink to the order page back at the website.
While the headline is a hyperlink, it's presented in a more understated way than you might see in another email. It's black like the text, but it's underlined and a quick mouseover will show the recipient that it's a link.
The sub-headline reinforces the title without revealing that it's more promotional than it's letting on.
All in all, these components work well for this Collection Preview Framework.
✓ Yankee's Preview Headline and Sub-Headline—clear and compelling.
Testing Ideas
Testing headlines and sub-headlines can be important parts of a continuous improvement email marketing program. Best ideas here involve dramatically different copy that follows the same formatting rules.
Body Section 1
The Collection Preview Framework typically relies on three main sections.
Section 1 is derivative of one or more premium articles. We typically start with an introduction followed by a 300 to 500 word summary from a piece of paid content that tells a part of the story but leaves the audience wanting more.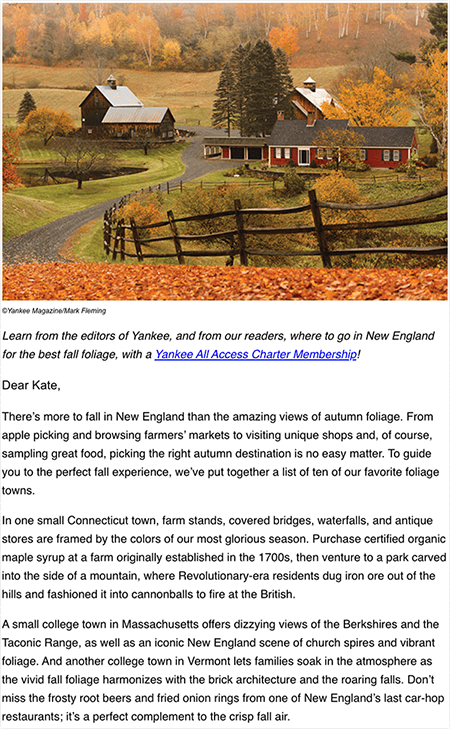 We choose one to three related articles and offer 100-word summaries of each. In the above preview, the user doesn't yet realize that each paragraph is the preview of a town that has its own article once they become a member and get access to the Special Collection they are promoting.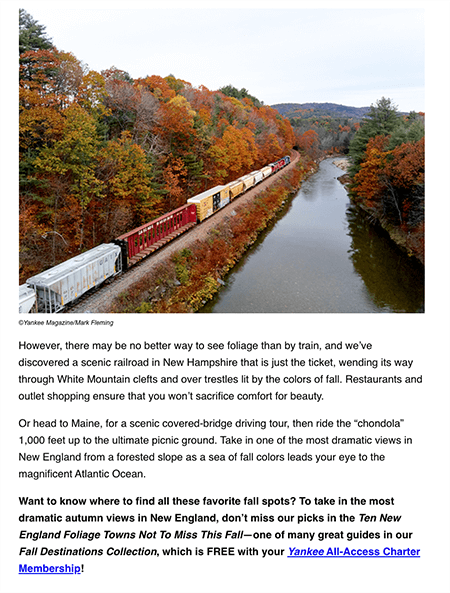 Each Collection Preview Framework also has a call to action below the excerpts to get the user to subscribe to get access to the full library of content, which we'll review later. This is followed by a description of related content they can also get access to when they subscribe.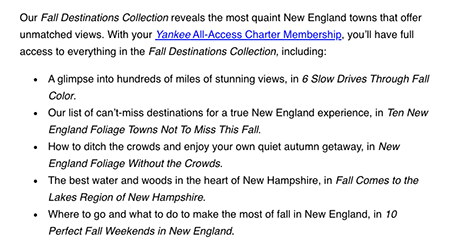 Body Section 2
Section 2 describes the scope of library coverage across what could be dozens or hundreds of articles on that topic. This is where you can talk more about the related articles. For example, New England Today's Preview is about visiting New England towns, so the Preview talks about more premium content about Hidden New England Coastal Treasures, The 5 Best Wilderness Lodges, Best Stargazing Experiences in New England, and other feature articles.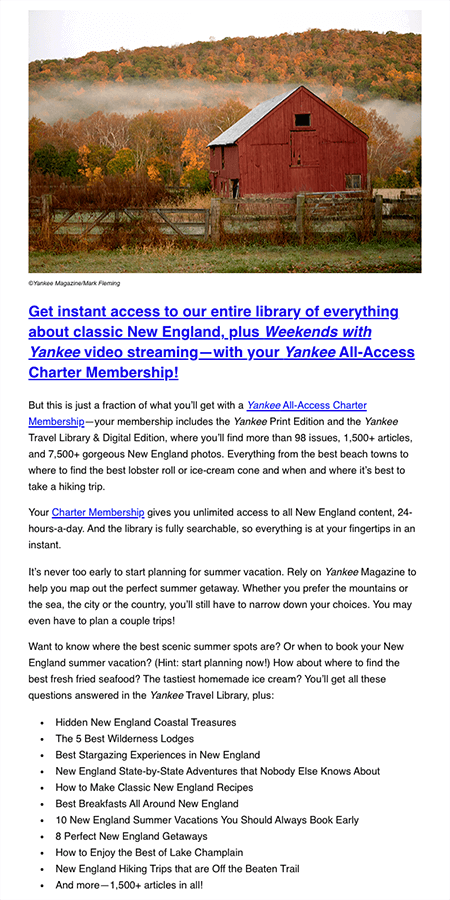 Body Section 3
Section 3 is a standardized marketing pitch for the entire service that can be recycled from preview to preview, also called a boilerplate. It should be thought of as a control and any changes to it should be tested.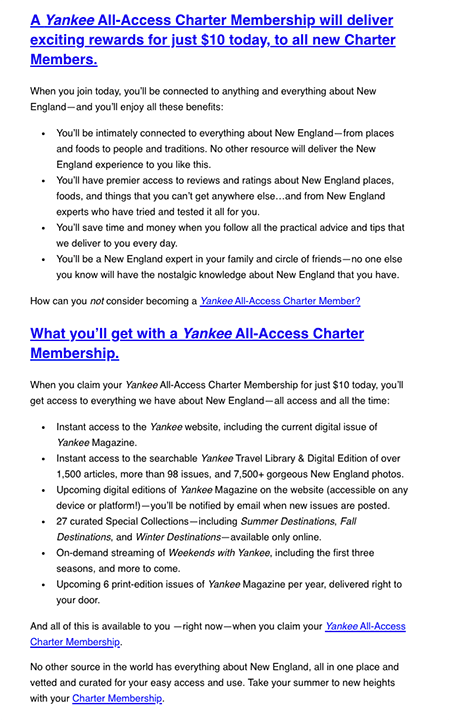 This Collection Preview Framework builds on the popularity of Fall in New England and is made up of Yankee blockbusters to create the featured guide. Yankee uses both images and copy to draw the reader in to make them want to experience whatever the guide is telling them. Previews are a great way to take advantage of seasonality. This one would work well from mid-July to mid-October.
OFIEs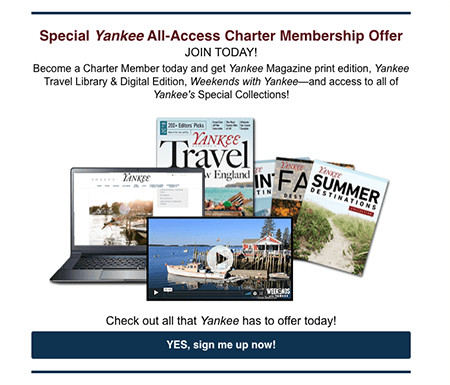 An OFIE is an Order Form In Editorial. Think of it as a type of billboard. In longer marketing emails, you'll see OFIEs interspersed throughout the copy, so there's one on every screen as the recipient is scrolling and reading.
In the Collection Preview Framework, the copy is quite long, so you'll find an OFIE between each of the above sections. Notice the collage that represents everything a user will get when they register to become an All-Access Member. The closer you get to the end of the Collection Preview, the more the copy urges the prospect to action.
✓ Yankee's OFIE is a powerful interrupter in this otherwise editorially-focused Collection Preview.
Testing Ideas
Instead of sending people directly to the order page, test sending them to the guide. Since the paywall is metered, users will quickly use up their credits and will soon get directed to the order page.
Summary
This Yankee Collection Preview Framework is a great way to help email subscribers sample the depth of your Content Library. Without sampling content from within it, your All-Access benefits are just a bulleted list on a page.
Here's a performance checklist for you to use when you try the Collection Preview Framework:
Mequoda's Collection Preview Email Newsletter Checklist
| Element | Criteria | Done? |
| --- | --- | --- |
| Email From: Address | Connect with your readers! | |
| Email Subject Line | Make the case to open the email. | |
| Email Pre-Header Text | Convey the sense of the offer. | |
| Preview Nameplate | Good brand reinforcement. | |
| Preview Headline and Sub-Headline | Make offer and benefits compelling and link to order page. | |
| Body Section 1 | Derivative of one or more premium articles | |
| Body Section 2 | Describes the scope of library coverage across what could be dozens or hundreds of articles on that topic | |
| Body Section 3 | A standardized marketing pitch (boilerplate) for the entire service that can be recycled from preview to preview | |
| OFIEs and Calls to Action | Include pictures of the product(s) | |
| | Include Calls to Action and links to order page throughout: header, pictures, order button. | |

© 2022 Mequoda Systems, LLC
Bottom Line: If you want a less-promotional way to engage your non-buyers via email, the Collection Preview Framework can help you do that. Plus, you'll enjoy digging up your most interesting content to do it!