A marketing email is no time to be subtle. People are inundated with email all day long, and sometimes they just don't have the time or inclination to wade through a long email. Your goal is to grab their attention from the get-go and hold on to them until they hit that CTA button.
You have a product that's perfect for your prospect. How are you going to tell them that?
How about you show them? You know the old adage—a picture and all that.
With this Template Tutorial, we'll dig into the "Hero Shot" Spotlight Framework that uses a special technique to grab prospects' attention and lead them to a purchase. "Spotlight" is Mequoda's preferred term for email sends that are fully marketing-focused—shining a "spotlight" on a particular product or service for sale. And we have a broad array of frameworks that have proven successful in selling all sorts of products and services.
Here, we're featuring Yankee's version of the "Hero Shot" Spotlight Framework—an email marketing effort that offers prospects the opportunity to join the Yankee family.
Yankee's flagship product is Yankee Magazine. The publisher has a long history, and therefore a deep well of back issues. That, plus a travel library, access to the program Weekends with Yankee, and dozens of specially curated collections—available only to members.
Yankee draws a lot of prospects to its newengland.com website, where visitors will find scads of free content — all under the flagship Yankee name. While there's plenty of great content available for free, the really good stuff is for members only. That's where you really want to focus.
Let's take a look at Yankee's version of the "Hero Shot" Spotlight Framework, and we'll rank it based on our checklist of core components that can help connect with prospects and make the sale!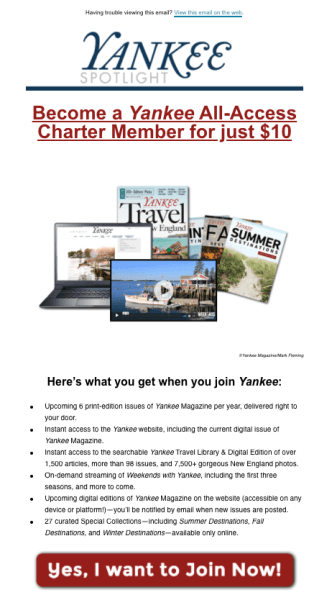 Email "From" Address

Your "From" email should be clear and recognizable. One quick glance, and the recipient knows who this email is from. They're one step closer to opening it.
Since we know people get loads of email each day, it's important to stand out. With luck, those folks who have opted into your email list will already have whitelisted you; that keeps you out of the dreaded spam bucket.
Publishers working with Mequoda follow our best practices for audience development and subscription marketing, and only use highly qualified, opted-in email names for their Spotlight marketing efforts. So these emails aren't cold calls—they're emails your prospect pool has already opted in to receive; they're expecting you.
✓ Yankee meets expectations with this component of the "Hero Shot" Spotlight Framework by identifying their brand in the display name and including the full email address with the Yankee name.
Testing Ideas
Want to make your email feel even more personal? Put a real name to the "Hero Shot" Spotlight Framework. Make this part of your testing efforts. Including a real person in the "from" section of your email gives the email an added personal dimension; your prospect will feel like this is a one-to-one communication—and that can help enhance engagement and get that email opened. Example: "Jenn Johnson, Yankee." This can work even though this format of email doesn't include a closing with a signature. If people are used to receiving (and reading) emails from Yankee, this adds a layer of familiarity. And contrary to what you may have heard, familiarity breeds…more familiarity — at least in email marketing.
Email Subject Line

Imagine an email without a subject line. Go take a quick look at your inbox; got one? Are you going to open it?
There are many reasons a sender might omit a subject line: forgetfulness is probably at the top of the list. But if you don't recognize the sender (see above), then you're just as likely as not to delete the email. If you don't know who it's from or what it's about, is it worth the risk or hassle of opening it? Probably not.
The Email Subject Line really has just one job: get that email opened. You'd think that developing a compelling subject line would be easy; but a quick review of your inbox might indicate otherwise. Writing a subject line that gets the reader's attention long enough and strong enough to get them to open the email is as much art as science. So, of course, the Email Subject Line does have a secondary job: don't get the email deleted—or worse, pegged as SPAM and sent straight to oblivion in the recipient's junk folder. Or the real kiss of death for an email—getting blocked by an Internet Service Provider (ISP).
So how can you gauge the likely effectiveness of your subject line without doing blind testing? Well, there's an app for that—or, more precisely, a web tool. Try out www.subjectline.com to help you rate your subject line before you hit Send. SubjectLine.com rates your subject lines on several criteria, including urgency, length, personalization, and potential SPAM terms—helping you keep your subject lines in line with basic industry standards.
Enter your planned subject line and you'll get not only a score, but an explanation of where the subject line meets industry standards and how it could do better. This Yankee email subject line earned a score of 100 out of 100—which should always be your goal. If you fall short of a perfect score, you can keep tweaking your subject line until you reach a score of 100. And while it's not a perfect tool, it does put you in the mindset of choosing your subject line with strategic intention.
The subject line in this Yankee email makes its point with urgency and a fabulous deal. Yankee for $10? Not many are going to pass that up.
✓ Yankee's Email Subject Line—to the point!
Testing Ideas
If you're not testing, you're selling your product short. Try different approaches to enhance the personal-feeling nature of this "Hero Shot" Spotlight Framework. Examples (all score 100 out of 100 with the free online rating tool):
"Please Claim Your Instant Access Now"
"[FIRST-NAME PERSONALIZATION], get a year of Yankee for $10 today!"
"Get Yankee All-Access today for just $10!"
Email Pre-Header Text

So, what's Email Pre-Header Text and why should you care? Email Pre-Header Text is that short copy that shows up in your email box after the subject line. Many marketers overlook or ignore this essential component of marketing emails. Email Pre-Header Text gives your recipient a sneak peek at what's inside the email—another enticement to open the email, on top of your compelling subject line.
Just like the Email Subject Line, the Email Preheader Text has one job: get prospects to open that email. That means the copy has to connect to the subject line, continuing to encourage the recipient to open the email.
For the Email Pre-Header Text in Yankee's version of this "Hero Shot" Spotlight Framework, the appeal of this offer is clear. For anyone who knows Yankee Magazine, the prospect of getting unlimited access to the magazine online is a strong selling point.
Remember when Twitter limited you to 140 characters? They had a good idea going there: keep it short and sweet. We like to keep our Email Pre-Header Text to less than 140 characters—that's including spaces. That's because email clients may cut off longer copy, and your message along with it. Stick to 140 characters or less, and you'll be laser-focused in your Email Pre-Header Text messaging. Yankee's Email Pre-Header Text in this effort is 103 total characters—well under the limit!
✓ Yankee nails the message with their Email Pre-header Text!
Testing Ideas
You have a little more space for copy with the Email Pre-Header Text than you do with the subject line, so there are more testing opportunities. Examples (all are fewer than 140 characters, with spaces):
"Get instant access to the Yankee Magazine, our Travel digital library, plus Weekends with Yankee."
"[FIRST-NAME PERSONALIZATION], get access to more than 7,500 stunning New England photos, plus on-demand streaming of Weekends with Yankee."
"Get exclusive access to the Yankee website, plus our digital library of Yankee issues!"
"Get exclusive online Special Collections when you join today!"
Spotlight Nameplate

Another important component of an effective marketing email is the Spotlight Nameplate that appears at the top of your email.
At Mequoda we recommend you identify the segment or type of email in the nameplate; this makes it easier for users to manage their email preferences back at the website with a corresponding segment that is clearly named. The Spotlight banner immediately identifies the category of the email, saving you the pain of global opt-outs. Users like choices.
Tailor your Spotlight banner to your product; make it readily identifiable and keep it consistent. This is not really a time for subtle artwork: make your statement so the recipient knows what they're getting—like the Yankee Spotlight graphic. That distinctive typeface will get the recipient's attention.
Make sure your Spotlight graphic speaks clearly and to the point.
✓ Yankee sends a clear message with the Spotlight Nameplate!
Testing Ideas
Nameplates are a testable element, and you may need to repeat the test for a full month across five to 10 efforts to get a statistically valid result.
Spotlight Headline
For Yankee's version of this "Hero Shot" Spotlight Framework, the Spotlight Headline follows best practices:
The headline tells readers exactly what they can get and what it will cost, in true New Englander style — direct and to the point.
The headline is a hyperlink to the corresponding order page back at the website. While it's not a pure Call-to-Action (CTA), it's definitely enticing.
It's bold and underlined to make it super-easy for the reader to click through to sign up. The color of the headline isn't your classic weblink blue. It's sandwiched between the blue Yankee nameplate and rotating images that include several water shots. This is a conscious, strategic decision that helps the headline stand out.
Since this is a short-form email, there is no sub-headline, which is where you often find the first CTA. But the CTA in this "Hero Shot" Spotlight is subtly and economically incorporated in the headline.
All in all, these components work well for this "Hero Shot" Spotlight Framework.
✓ Yankee's Spotlight Headline says it all!
Testing Ideas
Testing headlines can be important parts of a continuous-improvement email marketing program. Best ideas here involve dramatically different copy that follows the same formatting rules—bold and blue (or red for a more dramatic effect) with the headline as a hyperlink. Examples:

Spotlight Images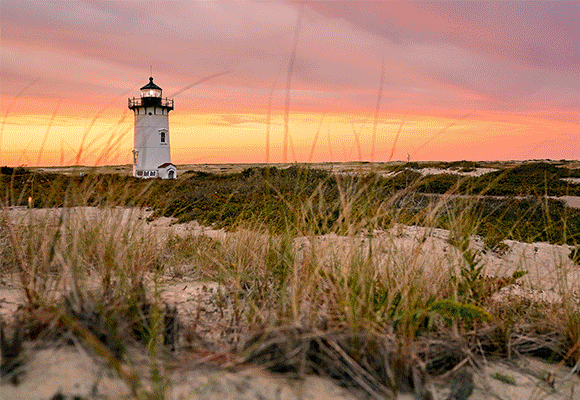 In Yankee's version of this "Hero Shot" Spotlight Framework, the images give the recipient a sense of the magnitude of information available to them, with the Yankee name prominently featured in the graphics. The images rotate through quintessentially New England scenes, punctuated by a graphic showing all the ways the prospect can enjoy Yankee, from hard copy to online to on-demand streaming.
BONUS: Click on the image and it takes you right to the order page for Yankee All-Access!
✓ Yankee scores big for the images in this Spotlight!
Testing Ideas
Testing ideas for Spotlight imagery should include widely different treatments—to get breakthroughs, you have to test things that are dramatically different. Tweaking this component might result in incremental gains—or losses—so be bold when it comes to testing. Examples:
Use seasonal images as part of the rotation.
Use fewer images that stay in place longer.
Make the CTA images stay up longer than the scenic shots.
Try a collage of scenic images that switch to the CTA.
Include images that cover all 4 seasons, plus key landmarks (and food!)
Spotlight Body Copy
Now, the "Hero Shot" Spotlight Framework is heavy on visuals, and relatively light on copy. The images are the big attraction; the copy is concise and to the point, with a simple subhead leading to the bullet points: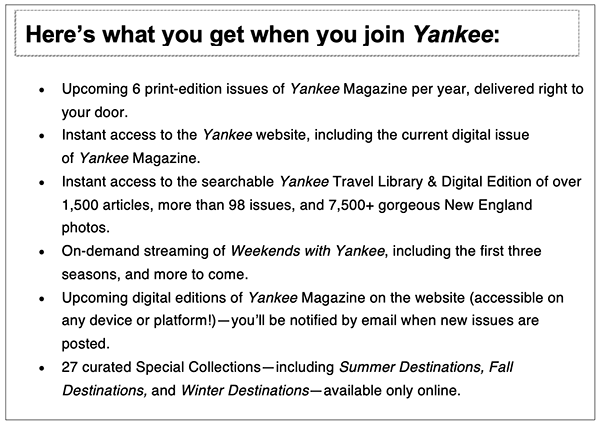 In true New England fashion, there's no beating around the bush on this offer. The recipient gets stunning photographs that draw them in, and a concise yet detailed list of what's included in the offer. No muss, no fuss, no waiting.
✓ Yankee's Spotlight Body Copy covers the right ground!
Testing Ideas
Testing ideas for body copy in the "Hero Shot" Spotlight Framework should hew closely to the concept of conciseness; this is not a format that lends itself well to wordiness. Tweaking the copy might result in incremental gains—or losses—so choose your words carefully when it comes to testing. Examples:
Change up the order of the bullet points.
Use a graphical check mark instead of a regular bullet point.
Add bolding to some of the copy to emphasize the impressive number of articles or photos.
Try a short paragraph instead of bullet points. Use bold to call out key features.
Call-to-Action

So, Yankee offers a great deal, shows the prospect the beauty and the bounty of a Yankee All-Access membership, and concisely lists all that the membership entails. All that's left is for them to hit that Join Now button.
This call-to-action button is affirmative without being pushy. Note that it's in the prospect's voice, not Yankee's. This is the prospect's decision — and really, how can they resist?
✓ Yankee's CTA button does the job and follows best practices!
Testing Ideas
Your CTA should be big, bold, and clear. Test different approaches. Examples:
Change up the color of the button: red, blue, deep gold.
Change up the color of the text: make it a high contrast to the background.
Test the Text: "Join Now!" "Yes! I want All-Access to Yankee!"
What's Missing?
OK, it's a trick question. The answer is nothing is missing. All the essential components for this format are present and accounted for.
However, you may have noticed the lack of a salutation and signature. That is intentional. The focus of this format is product, not personality. This is the equivalent of a billboard, promoting the product, the price, and the profuse number of features that come with joining. No greeting or signature is necessary in this case.
Summary
Yankee gets a hero's welcome. Yankee gets the job done with the "Hero Shot" Spotlight Framework, effectively showcasing its offer in a big, bold way.
Here's a performance checklist for you to use when you try the "Hero Shot" Spotlight Framework:
Mequoda's "Hero Shot" Spotlight Framework Checklist
| Element | Criteria | Done? |
| --- | --- | --- |
| Email From: Address | Connect with your readers! | |
| Email Subject Line | Make the case to open the email. | |
| Email Pre-Header Text | Convey the sense of the offer. | |
| Spotlight Nameplate | Good brand reinforcement. | |
| | Keep it consistent. | |
| Spotlight Headline | Make offer concise and compelling. | |
| | Work in a subtle Call-to-Action. | |
| Spotlight Images | Show off your product. | |
| | Big, bold, engaging! | |
| Spotlight Body Copy | Keep it short and to the point. | |
| | Bullet points work best. | |
| Call-to-Actions | End with a bold Call-to-Action button. | |
| Test, test, test! | One element at a time! | |

© 2022 Mequoda Systems, LLC
Bottom Line: If you want to get your prospect to Yes!—just like Yankee—follow their recipe for success and test your own version of this "Hero Shot" Spotlight Framework today! Gain more paying customers, clinch more sales, and boost your brand affinity, too!