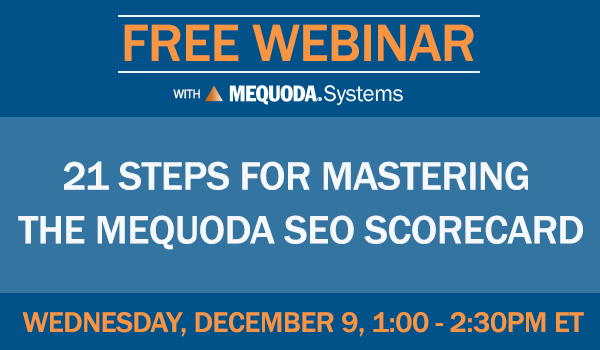 How to Leverage your Existing Content into a Blockbuster SEO Strategy
Dear Publishing & Marketing Professional,
You're invited to join us on December 9 at 1:00 PM ET for a FREE webinar, 21 Steps for Mastering the Mequoda SEO Scorecard, where you'll learn how to leverage your existing content into a blockbuster SEO strategy. We will walk you through a case study of one publisher who increased traffic by 56% to 12 of their best-ranked article pages, and improved conversions on those pages by 213% in just 30 days.
To get those results, they applied our SEO Scorecard to the content, which we'll teach you in detail during this webinar.
In 21 Steps for Mastering the Mequoda SEO Scorecard you'll discover basic SEO principles for content publishers, and why optimizing your content is worth the effort. We'll show you how to identify your top-ranked pages in Google Analytics, how to apply our scorecard to them, and how you can use this tool with all of the new content you publish to increase traffic even more.
You'll also discover how to research keywords when developing content, and how that research will help you come up with topics to write about that people are proven to be searching for. When you attend this FREE webinar, you'll get our Mequoda SEO Scorecard and a complete walkthrough of an SEO content audit, so you can learn how to apply each line item to your own posts.
But it's about much more than just the scorecard
We see SEO (great content + great keywords) as a primary driver of website traffic for successful publishers who are doing it right. These publishers are building a steady stream of dependable organic traffic by writing great editorial content and repurposing legacy content for the web in the form of keyword-optimized website portal posts. They get more than half of their traffic from search by pursuing an intelligent and systematic campaign of highly re-purposed search-friendly content, and the process is called Blockbuster Content Management.
In this webinar, you'll learn about an organization whose adoption of the Mequoda SEO Scorecard and our approach to Blockbuster Content Management increased their organic search engine arrivals by 4X in 4 years—growing from an average of 32K arrivals a month to an average of 129K arrivals a month. We'll show you exactly how they did it, and will teach you the principles of best-practice blockbuster management so that your organization can achieve similar results.
During this 90-minute webinar, 21 Steps for Mastering the Mequoda SEO Scorecard, you'll:
Discover how to get more from your top-ranked posts that are already driving traffic to your site
Learn the ways you can transform your worse-performing articles into blockbuster posts that drive visitors to your site for years to come
Discover how to apply the methodology to your new content, including how to research keywords, and how that research will help you determine post topics that align with what people are searching for
Get the scorecard that our partners are using to create content that's not only increasing their search engine traffic but perhaps, more importantly, their email capture rates
Over the past 20 years, our team has been innovating, testing, improving, and documenting a step-by-step digital publishing and marketing methodology with hundreds of best practices that have helped our partners—and can help you—use their magazine media brands, content, and organizational resources to build engaged audiences and create highly profitable membership websites.
Join me and Mequoda's Communications Director, Amanda MacArthur, as we share our organic search engine optimization best practices, while showing you how to audit your content and get the most out of it. And because we want you and your team to attend without impediment, we are presenting this webinar absolutely free! The only caveat is that seats are limited to the first 97 attendees to help ensure a successful Q&A session at the end of the webinar.
Amanda is our resident expert on search engine optimization, social media optimization, and content marketing. Amanda and her team generate content for dozens of websites including the newly launched Financial Freedom Daily, Program on Negotiation at Harvard Law School, and our own Mequoda Daily. Amanda's content optimization programs have been responsible for doubling, and sometimes tripling organic website traffic for dozens of our client systems over the past decade.
Amanda also serves as a coach for many of the editorial teams responsible for implementing our blockbuster content management program across topics that range from gardening and travel to investing and health. Amanda maintains and updates our suite of best practice scorecards covering everything from search engine optimization to email capture architecture and landing page optimization. Amanda is also a best-selling cookbook author who loves gardening and travel.
Register today so you don't miss out, and please pass this along to colleagues and any friends in the industry who may benefit from this webinar.
Amanda and I will be available at the end of the webinar to answer your questions and help you relate our SEO methodology to your organization and goals.
If you have any questions, please don't hesitate to reach out!
Sincerely,

Kim Mateus
Chief Strategy Officer, Mequoda Systems, LLC
Program Leader, 21 Steps for Mastering the Mequoda SEO Scorecard
PS: Seats are limited, so please register today so you won't miss out on this important event.