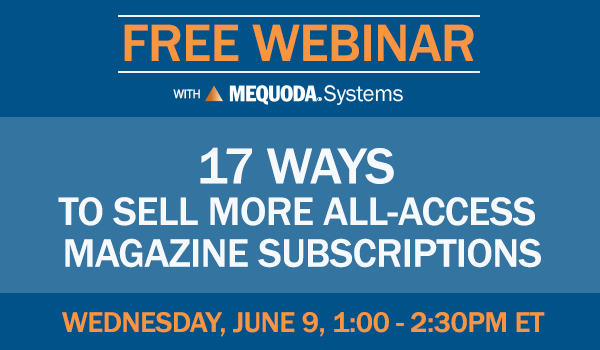 Increase Subscription Revenue with Better Offers, Next-Gen Order Pages, and Proven Marketing Methods
Dear Publishing & Marketing Professional,
You're invited to join us on June 9 at 1:00 PM ET for a FREE webinar, 17 Ways to Sell More All-Access Magazine Subscriptions. We'll show you the techniques used over a five-year period for a special interest publisher that led to growing their online order volume from 300 monthly online subscription orders per month to 2,000 online subscription orders per month.
To start, we'll discuss three different subscription/membership models:
Digital-only all-access subscriptions/memberships
Digital + print hybrid all-access subscriptions/memberships
Club-style memberships that include content plus other non-content benefits
You'll dive into case studies of the publishers who are using these models, and how they're growing every day.
Discover How to Double, Even Triple Your Subscription Revenue
In 17 Ways to Sell More All-Access Magazine Subscriptions, you'll discover three buckets of opportunities for boosting revenue and profits with these models.
Email opportunities, including a number of different email templates, reciprocal marketing deals, and master file mailings
Web opportunities, including conversion architecture, navigation, landing pages, paywalls, and order flow abandons
Paid opportunities using social media, push notifications, Google Adwords, and other ad networks
When you attend this FREE webinar, you'll learn all of this through an in-depth look at publishers who are leveraging some, or all of the above opportunities to glean ideas you can use in your own publishing business.
Over the past 20 years, our team has been innovating, testing, improving, and documenting a step-by-step digital publishing and marketing methodology with hundreds of best practices that have helped our partners—and can help you—use their magazine media brands, content, and organizational resources to build engaged audiences and create highly profitable subscription and membership websites.
In this FREE webinar, 17 Ways to Sell More All-Access Magazine Subscriptions, please join me and my colleague Eileen Shea, Mequoda's Content Marketing Director and resident expert on print and digital magazine subscription marketing. In 2015, Eileen and I took on the challenge of increasing online subscription sales for the Biblical Archaeology Society.
Over the next 5 years, we developed and refined a process that we now call Six Sigma Marketing that includes all the elements we'll be discussing in the 17 Ways to Sell More All-Access Magazine Subscriptions webinar, including next-gen order pages, content previews, marketing spotlights and a myriad of other subscription marketing sources.
Eileen currently manages the Six Sigma subscription marketing programs for several consumer websites such as I Like Crochet, I Like Knitting, Recipe Lion Clubs, Biblical Archaeology Society, Old Farmer's Almanac, and Food Gardening Network. Prior to joining Mequoda, Eileen was an experienced marketing and publishing professional working at Harvard Business Review, US News and World Report, and Thompson Publishing Group.
This webinar will be the first time Eileen and I have shared the entire Six Sigma marketing program and results in a single presentation, and you'll benefit from seeing the last five years of developing this next-gen approach to subscription website marketing.
For every system we've implemented this on, we've doubled, tripled or quadrupled the number of subscriptions sold online each year, and we'll show you how to do the same!
So why are we sharing this information with you in our 17 Ways to Sell More All-Access Magazine Subscriptions webinar for FREE? Because we truly love magazines and want to see the industry thrive for decades to come. Join us on June 9 and leave the webinar packed with the know-how to implement these tactics on your magazine subscription website.
The only caveat is that seats are limited to the first 97 attendees to help ensure a successful Q&A session at the end of the webinar
Register today so you don't miss out, and please pass this along to colleagues and any friends in the industry who may benefit from this webinar.
Eileen and I will be available at the end of the webinar to answer your questions and help you relate our methodology to your organization and goals.
If you have any questions, please don't hesitate to reach out!
Sincerely,

Kim Mateus
Chief Strategy Officer, Mequoda Systems, LLC
Program Leader, 17 Ways to Sell More All-Access Magazine Subscriptions
PS: Seats are limited, so please register today so you won't miss out on this important event.