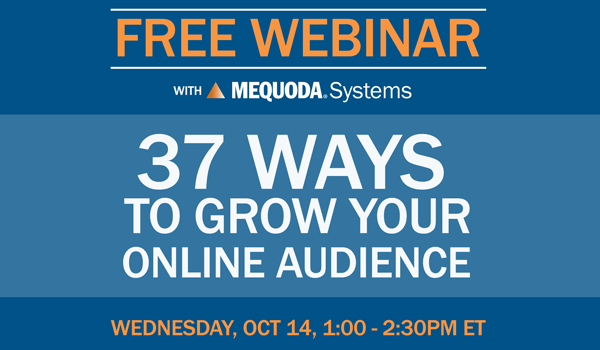 A Comprehensive Checklist for Organic Audience Development
Dear Publishing & Marketing Professional,
You're invited to join us on October 14 at 1:00 PM ET for a FREE webinar, 37 Ways to Grow Your Online Audience, where you'll learn how to use organic and paid programs to build an audience that is five or even 10 times the size of your largest paid subscription audience.
In this webinar, you'll learn proven organic and paid programs publishers are using to build a large and engaged web and email audience. You'll discover the keys to succeed at online audience development—and the many and diverse ways in which it can be leveraged to build a loyal email list. You'll learn how to use free subscription offers, email capture architecture, web and social traffic drivers, brand building tools, and audience import programs to generate an engaged list that aligns with your content, and underpins the success of your revenue generation programs.
You'll also discover how a simple Internet portal is the key to online audience development, and the myriad ways in which it can be leveraged to build a large and loyal audience. When you attend this FREE webinar, you'll get a checklist of proven, profitable online marketing opportunities to build your audience, from America's leading publishers.
During this 90-minute webinar, we'll provide a condensed summary of the key strategies that are working today to help publishers build a sustainable future for their brands and businesses. In this 90-minute webinar, you'll:
Discover the email capture elements that capture the most amount of new email addresses
Learn the sophisticated conversion architecture and other programs our partners use to build large databases of free email subscribers who engage daily with their content
Find out how one publisher is getting 70% of their organic search traffic from just 5% of their posts, and why that's a good thing
See how other publishers are using the most popular social media networks to convert followers into email subscribers
Discover modern email frameworks, online tools, and social ad techniques that few publishers even know about
Over the past 20 years, our team has been innovating, testing, improving, and documenting a step-by-step digital publishing and marketing methodology with hundreds of best practices that have helped our partners—and can help you—use their magazine media brands, content, and organizational resources to build engaged audiences and create highly profitable membership websites.
You may have attended one of our seminars, webinars, or workshops in the past. If so, you know that at our core, we are teachers on a mission to transform the print publishing industry into a digital-first, multiplatform publishing industry that will succeed and grow for decades, and beyond.
You'd also know that we are lifelong testers, committed to the continuous improvement of the methodologies we practice and teach. And while it may be reasonable to assume that best practices for audience development and subscription marketing haven't changed in the past few years, the reality is they've evolved significantly. We've discovered the tried-and-true approaches to digital publishing and marketing that have revolutionized how we market free and premium content, and how consumers engage with that content.
Join me and Mequoda's CEO, Don Nicholas, as we share and demonstrate how publishers are thriving in 2020, even in the middle of a pandemic. And because we want you and your team to attend without impediment, we are presenting this webinar absolutely free! The only caveat is that seats are limited to the first 97 attendees to help ensure a successful Q&A session at the end of the webinar.
Register today so you don't miss out, and please pass this along to colleagues and any friends in the industry who may benefit from this webinar.
Don and I will be available at the end of the webinar to answer your questions and help you relate our methodology to your organization, mission, and goals.
If you have any questions, please don't hesitate to reach out!
Sincerely,

Kim Mateus
Chief Strategy Officer, Mequoda Systems, LLC
Program Leader, 37 Ways to Grow Your Online Audience
PS: Seats are limited, so please click this link to register today so you won't miss out on this important event.