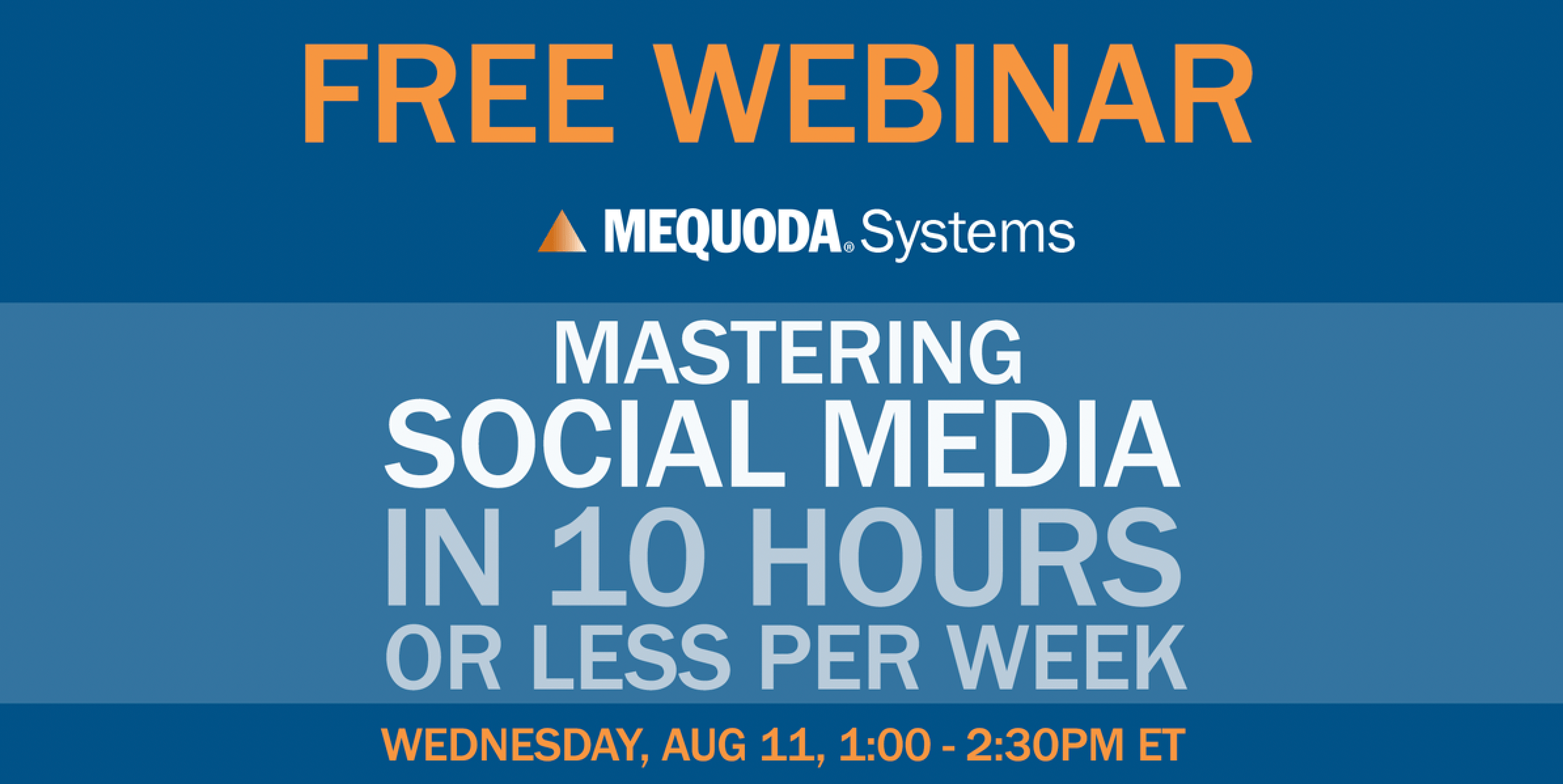 Boost Social and Search Traffic with the Strategies, Templates, and Tools Used by Today's Most Successful Magazine Publishers
Dear Publishing & Marketing Professional,
You're invited to join us on August 11 at 1pm ET for a FREE webinar, Mastering Social Media in 10 Hours or Less Per Week. We'll show you the techniques used by a magazine that publishes 15 articles every week, and manages to run Facebook, Pinterest, Instagram, and Twitter on relative autopilot. And, these strategies that make running a robust social media program doable in under ten hours per week are used by publishers like Cabot Wealth Network, Harvard University, Yankee Publishing, and many more.
In this FREE webinar, you'll discover:
The social media tools that make automation simple to build into your workflow
The social-publishing schedule our content partners are using to save time, and to boost the longevity of content published
How this process can also boost your SEO results
How to stop wasting money on social ads, and get the most bang for your buck instead
How to align your promotional email calendar with your social media calendar
And you'll learn how to do all of this as a side-hustle in less than 10 hours per week, even with an incredibly robust and packed editorial and promotional calendar.
How to Get More Out of Social in Less Time
In Mastering Social Media in 10 Hours or Less Per Week, we'll discuss the best platforms for driving traffic from editorial content, including:
Facebook
Twitter
Pinterest
Instagram
Linkedin
Sure, there's Snapchat and Tiktok and others, but none of those platforms benefit editorial content specifically. Our focus, using the methods we'll describe, is improving your search engine optimization through a strategic approach to creating and recycling social media content, which in turn makes your business more money even if you don't have a ton of fans or followers yet.
Speaking of which, when you attend this FREE webinar, you'll discover how best to spend your advertising dollars on these social networks to make a real impact. One approach drove tens of thousands of shares on one post the first month a new magazine launched!
Over the past 20 years, our team has been innovating, testing, improving, and documenting a step-by-step digital publishing and marketing methodology with hundreds of best practices that have helped our partners—and can help you—use their magazine media brands, content, and organizational resources to build engaged audiences and create highly profitable subscription and membership websites.
In this FREE webinar, Mastering Social Media in 10 Hours or Less Per Week, join me and Mequoda's Communications Director, Amanda MacArthur, as we share our social media best practices, including templates, formulas, and scheduling. And because we want you and your team to attend without impediment, we are presenting this webinar absolutely free! The only caveat is that seats are limited to the first 97 attendees to help ensure a successful Q&A session at the end of the webinar.
Amanda is our resident expert on search engine optimization, social media optimization, and content marketing. Amanda and her team generate content for dozens of websites including the newly-launched Food Gardening Network, Cabot Wealth Network, Financial Freedom Daily, Program on Negotiation at Harvard Law School, and our own Mequoda Daily. Amanda's content and social optimization programs have been responsible for doubling, and sometimes tripling organic website traffic for dozens of our client systems over the past decade.
So why are we sharing this information with you in our Mastering Social Media in 10 Hours or Less Per Week webinar for FREE? Because we truly love magazines and want to see the industry thrive for decades to come. Join us on August 11 at 1pm ET and leave the webinar packed with strategies and tools you can start using right away for your magazine subscription website.
Register today so you don't miss out, and please pass this along to colleagues and any friends in the industry who may benefit from this webinar.
Amanda and I will be available at the end of the webinar to answer your questions and help you relate our methodology to your organization and goals.
If you have any questions, please don't hesitate to reach out!
Sincerely,

Kim Mateus
Chief Strategy Officer, Mequoda Systems, LLC
Program Leader, Mastering Social Media in 10 Hours or Less Per Week
PS: Seats are limited, so please register today so you won't miss out on this important event.