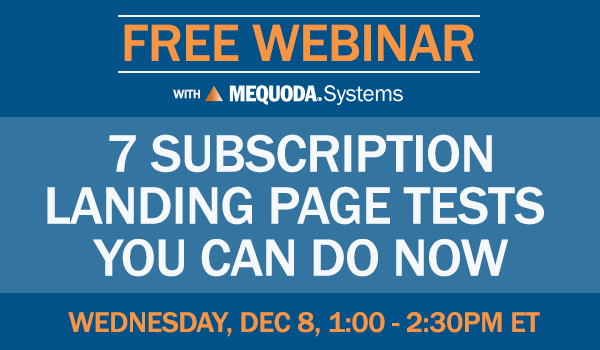 Knowing what to test is half the battle, so don't waste time testing things that don't matter.
Tests we'll reveal in this webinar have yielded increases in orders of more than 30%!
Dear Publishing & Marketing Professional,
You're invited to join us on December 8 at 1pm ET for a FREE webinar, 7 Subscription Landing Page Tests You Can Do Now where you'll discover the best landing page tests you can try to turn around dwindling subscription and membership sales.
At Mequoda, we have developed, designed, tested, and deployed hundreds of landing pages. Starting with the concept of classic direct marketing sales letters, we use a mix of lengths, offers, visuals, and copy—and we're constantly testing them and top-grading them for maximum response.
Re-positioning visual components in one test helped lift response by a whopping 33%
In one case, which we'll share with you on this FREE webinar, we saw success with one format when we realized that the placement of images helped to lift response.
We moved the images higher up the page so that the images would be the first thing the buyer saw when they got to the order page.
We evenly split all our email promotions for a month and saw a 33% lift in orders from people who landed on the revised page.
If you want to learn more about this case study and six more, join us on December 8 at 1pm ET for our FREE webinar, 7 Subscription Landing Page Tests You Can Do Now.
Discover how to double, even triple your subscription revenue
In 7 Subscription Landing Page Tests You Can Do Now, we'll share this test with you and more, including what we have learned over decades of landing page testing. We will curate the seven most important tests you can perform on your subscription landing pages that are pretty much guaranteed to make a difference, including multiple landing page formats that work.
Revealing one case study at a time, we'll reveal the tests, an example of a publisher who tested it, and their profitable results. The tests we feature will help you:
Boost new-subscription orders and clinch more sales on-the-spot
Minimize order landing page abandons
Determine if your customers prefer options or a single all-access product
Make a bundle of products virtually irresistible
Connect better with would-be subscribers
…and so much more that is guaranteed to improve conversions.
You'll dive into case studies of the publishers who have tested these landing page changes, and the impacts they've had on their bottom line.
Over the past 20 years, our team has been innovating, testing, improving, and documenting a step-by-step digital publishing and marketing methodology with hundreds of best practices that have helped our partners—and can help you—use their magazine media brands, content, and organizational resources to build engaged audiences and create highly profitable subscription and membership websites.
In this FREE webinar, 7 Subscription Landing Page Tests You Can Do Now, join me and Eileen Shea, Mequoda's Content Marketing Director. Eileen is our resident expert on subscription marketing, landing page, and email testing. Eileen currently manages landing page testing for several consumer websites such as I Like Crochet, I Like Knitting, RecipeLion Clubs, Biblical Archaeology Society, Old Farmer's Almanac, and Food Gardening Network.
This webinar is the first time Eileen and I have shared these landing page case studies and you'll be able to "walk" away from this webinar equipped with exactly what you need to start testing immediately.
For every system we've implemented these tests on, we've doubled, tripled, or quadrupled the number of subscriptions sold online each year, and we'll show you how to do the same!
So why are we sharing this information with you in our 7 Subscription Landing Page Tests You Can Do Now webinar for FREE? Because that's what we do best! And if you'd like us to help you with your landing pages, so be it, but you'll leave the webinar packed with all the know-how to implement the tests yourself on your own time.
The only caveat is that seats are limited to the first 97 attendees to help ensure a successful Q&A session at the end of the webinar.
Register today so you don't miss out, and please pass this along to colleagues and any friends in the industry who may benefit from this webinar.
Eileen and I will be available at the end of the webinar to answer your questions and help you relate our methodology to your organization and goals.
If you have any questions, please don't hesitate to reach out!
Sincerely,

Kim Mateus
Chief Strategy Officer, Mequoda Systems, LLC
Program Leader, 7 Subscription Landing Page Tests You Can Do Now
PS: Seats are limited, so please register today so you won't miss out on this important event.