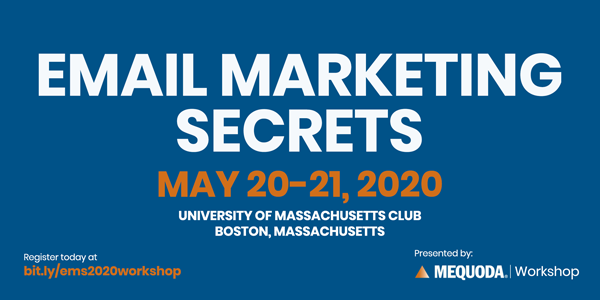 We are pleased to announce that the Email Marketing Secrets: 2020 Workshop is now open for registration.
You're invited to join us May 20-21, 2020 for a world-class workshop about running a powerful email marketing program that will help grow your publishing business's revenue and profits.
This two-day email marketing secrets workshop is strategic and tactical, a very effective way to master all aspects of email marketing—learn all the secrets and, upon successful completion of this workshop, you'll be certified for your email marketing knowledge and expertise as a "Mequoda Email Marketing Master"!
Become a Mequoda Email Marketing Master
At the end of this two-day workshop, you'll be among the publishing industry's elite—those who are ahead of the trends and will know exactly how to optimize your email marketing efforts, based on the latest business intelligence. There will be plenty of time for networking, too, so you can get to know your fellow publishing professionals!
You'll leave this event with a clearer vision and plan for transforming your magazine publishing business when you watch us debunk the most common email marketing myths, like "your customers are annoyed to get email from you," and "email is dying." We can show you how our email marketing methods prove these myths are false … if you follow our advice.
 The most successful magazine publishing businesses are already using the email marketing methods we'll walk you through in the Email Marketing Secrets: 2020 Workshop. You'll tap into each, when you learn how to:
Grow your audience, grow your revenue, and grow your profits!
Bond with your customers like never before.
Pump new life into your publishing operation and watch your margins grow.
Join other elite publishing professionals at the event of the year for anyone with a magazine!
Increase Email Profits Today
The Email Marketing Secrets: 2020 Workshop enables you to go back to your business with a clearer vision and plan for transforming your magazine publishing business.
Because the magazine publishing world is fast-changing and keeping up with trends can be a full-time job—this workshop will help you focus on only the key initiatives that will help drive growth for your business.
Specifically, you'll learn about:
Content-Driven Email Marketing Essentials
How to Build a Large and Engaged Email List
Boosting Email Revenue with Content-Focused Campaigns
The 7 Most Successful Email Marketing Frameworks
Best Practices for Six Sigma Email Campaign Management
All of which can help your publishing company compete in the marketplace when you walk away with a comprehensive best-practice checklist about how to enhance your overall email strategy for ensuring continuous success.
There's no workshop in the world quite like Email Marketing Secrets.
To save your seat at this unique, career-changing experience, register online today.
This entire email marketing workshop will be led by me, Kim Mateus, as Chief Strategy Officer at Mequoda Systems. Having guided the development of more than 20 subscription and digital marketing systems, my team and I monitor and maintain a robust best-practices database of marketing techniques and business processes that helps power all Mequoda partner programs.
If you already know that this event is for you, sign up right now while seats are still available. Register for the Email Marketing Secrets: 2020 Workshop—we look forward to issuing you full certification as an "Email Marketing Master" upon your successful completion of this workshop!