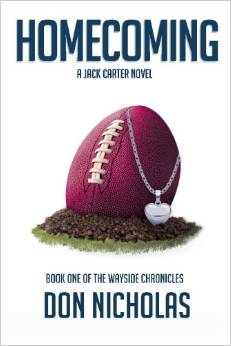 BOSTON, MA, January 30, 2015 – Don Nicholas, a journalist-turned-publishing consultant-turned novelist, has just published his first novel, Homecoming, a mystery inspired by many of his favorite writers and characters – and also by small-town politics, social life and true crime.
The book is now available on Amazon at $19.97 for print and $4.97 for the Kindle edition.
Nicholas's first novel is another step forward in his and his company's evolution. His current company, Mequoda Group, of which he is founder and CEO, is a leading publishing consultancy and software firm working with niche content publishers in the digital age.
"Mequoda walks the walk of digital publishing that we encourage our clients to pursue," explains Nicholas of his new star turn as novelist. The Mequoda Method of digital publishing is firmly based on multiple publishing platforms, including as websites, email newsletters, print magazines, app magazines, books, videos and more.
At the same time, Nicholas is a natural writer, returning, like his hero, Jack Carter, to his roots. "After three decades of journalism and consulting," says Nicholas, "I've returned to the medium that attracted me to the publishing industry in the first place: storytelling."
"While I love my day job as a journalist, teacher and publishing consultant," he adds, "in my heart I want nothing more than to tell stories that enlighten and entertain people." As anyone can attest who has attended one of Mequoda's quarterly seminars, or heard him speak at numerous industry events, he's a born and quite enthusiastic storyteller indeed.
Nicholas is a longtime resident of a town quite similar to Wayside, where Admiral Jack Carter has recently returned after his 37-year Naval career to become the town's chief of police.  There, he wrestles with local politics, serious questions about his relationships with family and with three different romantic interests, and two separate murders.
Nicholas wrote Homecoming after decades spent as a dedicated reader of mysteries, thrillers and historical novels. But his writing career actually began with a stint as a writer-producer for the Armed Forces Network while serving aboard the USS Enterprise as a nuclear engineer. From there, he earned his journalism degree and went on to work for Sacramento Magazine and Houston Home & Garden, before founding four separate companies over the years within the magazine publishing industry.
He holds a BA in journalism from California State University-Sacramento and an MS in organizational management from Capella University.
In addition to Nicholas' insightful observations of his community and his love of mysteries, Homecoming also reflects time in the Navy, love of sailing and fondness for pug dogs.
Nicholas and his wife, Gail, live in Massachusetts. They have three grown children, three grandchildren, a four-year old pug named Parker and a 31-foot Ranger tugboat named Sea Piper.
CONTACT INFORMATION
For questions about Don Nicholas and the Mequoda Group, please contact Chief Content Officer Ed Coburn, 781.697.8387.
ABOUT MEQUODA GROUP
Mequoda Group is a consulting firm specializing in multiplatform strategy for publishers.  It offers proven services and software to help publishers develop and successfully implement plans to become integrated, multiplatform publishers with growing profitability and dramatically increased exit value.