Jennifer Harnetty is the managing editor of CeramicArtsDaily.org, an online community serving active potters and ceramic artists worldwide
I feel very fortunate to find myself in a career that combines my interest in ceramics with my skills as a writer. I consider my time working for magazines combined with my work in the studio outside of work to be my "post-baccalaureate work" in ceramics because it really has been an excellent education. Though I am hesitant to use the word "expert" because I feel that one is never finished learning in ceramics, this post-baccalaureate education prepared me for my blogging role.- Jennifer Harnetty
Jennifer Harnetty became the managing editor of Ceramic Arts Daily in February of 2008. She has been involved with ceramics ever since discovering it a quarter before graduating with a BA in English. If she'd discovered it sooner, she probably would have been a double major. After graduating, she continued to take classes in ceramics at local art centers and universities. Then, in 2004, she was hired as assistant editor for Ceramics Monthly and Pottery Making Illustrated. Harnetty eventually became associate editor of the two publications and, in 2008, took on her latest position as managing editor of Ceramic Arts Daily.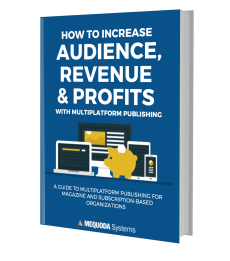 Learn the secrets behind today's most rapidly growing niche publishers. Download a FREE copy of How to Increase Audience, Revenue & Profits with Multiplatform Publishing, a guide to multiplatform publishing growth for magazine and subscription-based publishers. Download now.
Mequoda – How many blogs are you currently writing for?
JH – I am just writing for the main Ceramic Arts Daily blog. Other sections of Ceramic Arts Daily are updated nearly every day, however, with content from our magazines.
Mequoda – Which CMS (ie: WordPress, Typo) are you using?
JH – We have a customized Mequoda WordPress system.
Mequoda – Are you blogging for your company as part of you job (ie: corporate) or is this a personal passion?
JH – The Ceramic Arts Daily Blog is part of my job and, lucky for me, also a personal passion.
Mequoda – Has your blog enhanced your professional reputation? How?
JH – I think it definitely has. My blog posts reach about 53,000 registered subscribers, all of whom have strong interest or involvement in my field. It is flattering to hear people praise the website/blog at workshops or events, before they realize that I am the editor.
I was recently invited by Etsy to be a guest curator on their blog – also very flattering!

Mequoda – How often do you post a new blog?
JH – The main Ceramic Arts Daily blog is updated three times a week and the updates are sent out in our newsletter. Other content from our books and magazines is added almost daily.
Mequoda – Who is your target audience?
JH – Potters, ceramic artists, ceramic arts educators, and people who are interested in getting involved in ceramics.
Mequoda – What are you doing to grow your audience and to create customer loyalty?
JH – We are following the Mequoda model of offering free downloads to our subscribers, but we also realize that website content is king and are continually adding great content in the form of blog posts and new features to the site. And our readers are very vocal in their appreciation.
We also request links in from all of the artists that we feature on our site, so we have a large number of links into the site from other noted people in our field (and other websites with related content).
Other advertising methods include Google Adwords, press releases, advertising in our magazines and paid advertising on Facebook to spread the word about Ceramic Arts Daily.
In addition, we are currently developing a forum, which we expect to quickly grow to be an indispensable resource for potters and ceramic artists with specific technique or technical questions. So far, the closest thing to a forum that exists in our field is a legacy list serv. We are very optimistic about the forum because it is very needed in the field and we will be opening it up to the very large audience that we already have. The forum platform that we are using also features user blogs and galleries, so it will have a social networking component to it. We think this will be another big draw.
Mequoda – How are you using social media sites (Twitter, Facebook, Linkedin) to promote your blog? Has that changed the way you blog?
JH – We are currently using Facebook and Twitter to promote the blog. We have almost 11,000 fans on Facebook and almost 500 Twitter followers. We post and then tweet our new posts and other announcements. These have been a great source for traffic and finding new subscribers.
Mequoda – What is your main source of revenue: ads, sponsorships, products sales, donations?
JH – Our main sources of revenue are our product sales (books, DVDs, Magazines), as well as banner advertising, event sponsorships, and sponsorships of our free downloads. We also host ceramic workshops through our member organization, the Potters Council.
Mequoda – Approximately what percentage of your overall revenue comes from product sales vs. advertising/sponsorships or other sources?
JH – Our revenue is about 80% product sales and 20% advertising.
Mequoda – What is you main source of referrals?
JH – Our top five referring sites, besides mail engines, are Facebook, Google Images, Survey Monkey, Stumble Upon, and Twitter.
Mequoda – What key metrics do you monitor to analyze the health of your business?
JH – We use Google Analytics and the Mequoda Google Visibility Report to track our website trends and the tools of our email provider (StreamSend) to analyze the effectiveness of our email campaigns.
Mequoda – How many sites have you linked to in the last 30 days?
JH – I have linked to about 32 outside sites in the past thirty days through my blog, but this doesn't include the links that have been created in other areas of the site such as our two magazine sections (Ceramics Monthly and Pottery Making Illlustrated) and the Potters Council, our member organization.
Mequoda – What changes have you seen in your market since you began blogging?
JH – We have been able to expand our reach beyond the intermediate to advanced level artists, and to the beginners that we weren't reaching as well before. So we now realize that our audience has the potential to become much bigger.
Mequoda – Any interesting experience you'd like to share?
JH – Over the years, we have discovered that our audience can't get enough of technique-based content. They really enjoy seeing what other artists are doing and how they are doing it. As I mentioned before, there is always more to learn in ceramics, no matter how long you have been doing it. Our readership seems to prove this notion.
Our site really has shown us the desire and need for an online community for potters and ceramic artists. It has really turned into a community already, even before launching the more social-media-oriented features like the forums and reader blogs. Our readers have been using the comment function on the blog as their "forum" and we are really looking forward to having something more robust than the blog comments.
Mequoda – What advice would you give a new blogger?
JH – I think a large part of what makes my blog successful is that the readers can tell that I am genuinely passionate about ceramic art. Of course we also worked extremely hard to get our name out there too.
My advice would be to "leave no stone unturned" when it comes to using the Internet to spread your message. Combine that with a sincere interest in what you are writing about and great content, and you should be in good shape.
Mequoda – What ways are you planning to expand over the next year?
JH – We have recently brought on an Audience Development Manager who will be able to make a more concerted effort to monitor our performance and develop plans to grow the audience based on those findings. This will allow me to focus more on adding and improving content in order to increase loyalty.
We are also planning to reach out to our international audience in a variety of ways. We have more than 5,000 subscribers in 117 countries and we are planning to seek out content and products from other parts of the world. We hope to give those subscribers more of a presence on the site so that it truly feels like a global community.
Contact Information:
Jennifer Poellot Harnetty, Managing Editor
jharnetty@ceramics.org
www.ceramicartsdaily.org
Twitter: @CeramicArtDaily
Learn more about the creative world of ceramic art at CeramicArtsDaily.org.
Disclaimer: Mequoda worked directly with Ceramic Publications Company to build and optimize CeramicArtsDaily.org.