How They Created the World's Number One Business Website
We've been taught that successful website publishing in 2005 means creating happy users and healthy profits. With 10.3 million worldwide unique visitors per month, I think it's fair to say that Forbes.com has done just that.
As anyone who visits the site can immediately see, Forbes.com is a lively, interactive site offering lots of free business advice. Consider the facts:
Forbes.com publishes 1,500 stories each day.
Their email alert system is state-of-the-art.
The site features streaming video updates 24/7.
The site is completely free to users, making it wide open to search engines.
A Recipe for Financial Success
Forbes.com offers senior business executives just what they need to succeed, from news analysis to stock updates to interactive tools and community and real-time reporting. It's a place where business execs can go to get any and all business information and its 100 percent free for the user with support provided by a "who's who" of financial and business advertisers.
Now, considering the success of Forbes the magazine, one may have assumed that all Forbes.com had to do was take the magazine's print content and "shovel" it online. After all, there are other business magazines that in 2005 are still struggling with how to bring their brand online. But lucky for Forbes.com, Jim Spanfeller had a vision for taking the Forbes brand online that had little to do with how magazines are made and run. Spanfeller knew the Internet was a new medium that needed a unique strategy.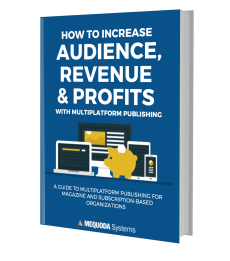 Learn the secrets behind today's most rapidly growing niche publishers. Download a FREE copy of How to Increase Audience, Revenue & Profits with Multiplatform Publishing, a guide to multiplatform publishing growth for magazine and subscription-based publishers. Download now.
"There's been a ton of magazine companies who have basically taken their magazine content and thrown in on the Web and say 'OK there it is. There's our site,'" said Spanfeller, President and CEO of Forbes.com, in a recent interview with the Mequoda Library.
"There's been a ton of magazine companies who have basically taken their magazine content and thrown in on the Web and say 'OK there it is. There's our site.' We didn't want to do that."

Jim Spanfeller
President and CEO of Forbes.com
Spanfeller understood early on that this "shovel" method was not going to work for Forbes.com. He knew the Web would offer more opportunity for editorial capacity and marketing creativity than was available to Forbes the magazine.
Plus, he knew there was a market for more interactive features that print simply could not offer. He says that currently, Forbes.com displays Forbes content online, which gets little or no viewership. Yet, Forbes.com sells more subscriptions to Forbes than any other source they have. So it's not that their user base doesn't want to read the magazine. They want to read the magazine, just not on the Web. And why should they have to? The Web is supposed to offer so much more than that.
The Web as a Unique Medium
Let's look at what separates the Web from any other medium:
It's immediate. It allows sites to "publish faster than any newspaper on the planet," as Spanfeller put it, giving users more immediate access to important news or information. No more waiting for the 6 o'clock news to hear that breaking story.
It's multi-media. Especially in 2005, if you're not taking full advantage of the multi-media the Web offers, then you start to look like yesterday's news.
It's limitless. Spanfeller says that if you talk to any editor of any successful publication, they'll tell you that one of their biggest issues is choosing what goes in to the publication that day, or week, or month. That is not an issue online. You can put it all up there, so the user then decides when they want to look at it, if they want to look at it, and how they want to look at it. Will it be on screen, video, database, email alert? Do you want the news fed to your cell phone or desktop?
So again, the key to successful website publishing is understanding the full capacity of the Web as a medium and how it's different than print.
Forbes.com Competition
Let's look at how Forbes.com stacks against their competitors in terms of unique monthly visitors:
Monthly Worldwide Unique Visitors
Forbes.com

10,340,000

Marketwatch.com

Bloomberg.com

3,231,000

BusinessWeek.com

WSJ.com

2,420,000

FT.com

TheStreet.com

1,737,000

SmartMoney.com

Fortune.com

966,000
Source: comScore MediaMetrix December 2004 Worldwide Unique Visitors
Forbes.com Content
Forbes.com publishes 1500 stories a day. No, that's not a typo. Fifteen hundred stories a day. They currently have between 60 and 80 editors solely focused on Forbes.com and they have about 100 or so folks who are in the Forbes magazine company or other magazines who also file on the site. In other words, these other editors are syndicating content to Forbes.com. They also have paid newsletter publishers who file on the site. Their total aggregate content comes from over 125 different sources, such as Wine Spectator, Inc. Magazine and the AP.
Last but certainly not least, they have community, people posting their own content on the site.
So needless to mention, their editorial content is very robust. In fact, they were voted top website for "Editorial Excellence" in the consumer category by min's (Media Industry Newsletter) Best of the Web Awards for the second consecutive year.
Email Alerts
After every story, you'll see an email alerts box, which allows you to opt-in to receive email alerts on topics related to the story at hand. For example, in a story about Walmart, the email alters box will have options to receive alerts about the Walmart company, or topics such as labor, settlements, illegal immigrant and civil rights. If the story is about an individual person, you may request to receive alerts on them.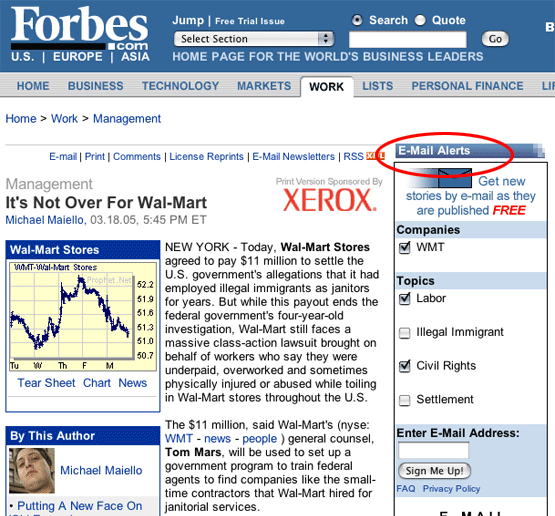 If you combined all the free email alerts that they send daily, the number would be in the millions.
Video Content
Right now, they're doing about 40 hours of original video content a week, and they're working their way towards 150 hours of original video content per week.
"Our new offices we'll have not one but two full-blown television studios," says Spanfeller.
Currently, their videos include three or four minutes of content and one minute of commercial. They're still working on developing a standardized model for this, as you can imagine, since it's still so new.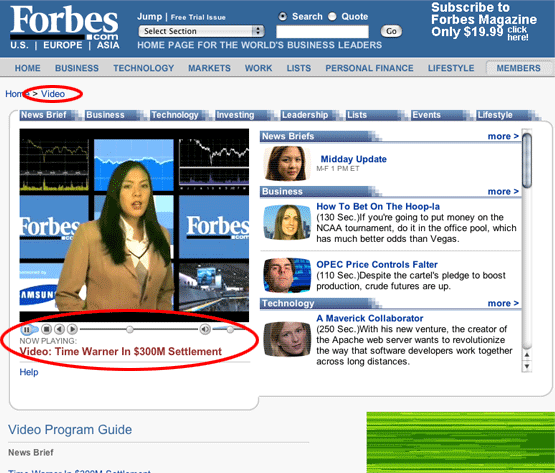 Newsletters
Currently on the Forbes.com homepage, you will find a link to a separate newsletter page. Some newsletters are under the Forbes brand, but the majority of them are not. In addition to syndicating some of that newsletter content on Forbes.com, they also receive a commission for every newsletter they sell.
"In fact, [syndicating the newsletter content] is the best way to sell the newsletters," says Spanfeller. But this only accounts for less than 5 percent of their total revenue.
So, how does Forbes.com make money?
"Ninety-five plus percent of the revenue comes from advertising," says Spanfeller.
This is where Spanfeller was revolutionary. He was one of the first publishers in the magazine space to offer all its content free online and make money strictly through CPM advertising.
Forbes.com Advertising
Forbes.com's position on advertising is that they are in the midst of a very important and fundamental change in the relationship between media providers and media consumers. They refer to it as media convergence.
Forbes.com says people are on the verge of relating to media in completely different terms than they have in the past. People are now self-selecting their media on a multi-level platform.
Multi-media entwinement, as Forbes.com refers to it, is a notion suggesting that individuals will not only choose what they want to access, but they will also choose the way, or ways, in which they want to get it. It's a version of complete self direction: Do I want this information in text? Video? Or some combination of the two? Do I want it right away or at a time I select? And most importantly, how granular do I want to go?
We live in an on-demand world where consumers find the immediate information they want, when they want it, in the way they want it.
Website publishers must understand this in order to be successful.
Accountability is another thing—advertisers are demanding a higher level of measurable returns from their media investments. It no longer makes economic sense to send a message to the many in order to persuade the few.
Because the Web offers a high concentration of the affluent and business leadership markets, it makes advertising the perfect business model for Forbes.com. (View a complete discussion of all the Mequoda Website Business models.) In fact, the Web has emerged as the most important source for business information. Research shows that more business leaders choose the Web as their single MOST important source of business information than any other media, hence one reason why Forbes.com is number one.
Last but not least, Forbes.com has developed programs that allow advertisers to take advantage of all they have to offer—a trusted editorial environment, high reach to affluent business leaders, targeting without waste and highly creative advertising options—with a risk-free, money-back guarantee. Forbes.com doesn't succeed if their advertisers don't succeed.
You can imagine that with this level of accountability and targetability, Forbes.com is clearly the leader in its space.
Forbes.com Challenge
Forbes.com has even taken this one step further with their Forbes.com Challenge. They guarantee that advertising on Forbes.com will outperform advertising in The Wall Street Journal, or any other offline media for that matter, or advertisers get their money back.
Wow! How could an advertiser go wrong?
Driving Traffic
The Forbes name obviously carries very solid brand recognition. "About half of Forbes.com visitors get there by typing Forbes.com right into their browser window," says Spanfeller.
Because their site is 100 percent open access, the search engines find their content easily, so SEO is a breeze for them. As opposed to WallStreetJournal.com, who has recently stirred attention by the fact that they are invisible to search engines, Forbes.com pulls excellent organic rankings.
Also, Forbes.com syndicates content through some of the big news sites, such as MSNBC.com's Business section.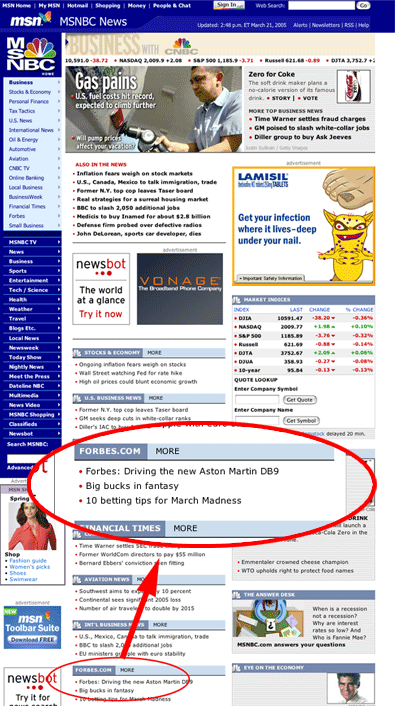 Conclusion
While some could argue that Forbes.com is too big to teach a lesson to the little guys, we'd have to argue and tell you to focus on the facts:
They're taking full advantage of the Web as a medium by offering email alerts and daily streaming video.
They've beefed up their editorial content by offering way more choices than their competitors and are delivering their editorial in a more robust way.
They offer all this great content and interactivity for FREE!
They've done so much research on accountability and targetability that they can offer a money-back guarantee on their advertising. This will inevitably attract the highest level of advertisers.
It's also important to remember that Forbes.com is a multi-million dollar operation. There may only be about 100 websites in the world that operate on their scale. Plus, Forbes.com's falls within the top 3 niches: money, health and travel. Now, if you're not in one of the top 3 niches and don't operate a multi-million dollar operation like Forbes.com, I do understand your hesitation to learn from their model. However, if you can find the creativity within you to take Jim Spanfeller's vision and scale it down to capture the essence of what's he's done with Forbes.com, you should be able to get good ideas for your online business.
Also note that Jim Spanfeller came from a magazine background. There have been very few pioneers like Spanfeller who plunged away from what everyone else was doing to create a formula that worked. While it's no surprise to see someone like Halsey Minor of CNET.com (who had no background in print), create a great advertising website, there is a lesson to be learned from seeing someone from a print background create such a remarkable website like Forbes.com.
Take from Spanfeller's vision and embrace it as a part of your own. Recognize that having creative guts and an expanding comprehension of what the Internet has to offer is the edge you need to succeed. Remember, Forbes.com found their recipe for success by understanding how the Web differed from print and working from that understanding to create a great website. Forbes.com certainly wins our approval for the best advertising-driven website out there and apparently, they also win the world's approval as their number one source for business news.