When the blowout of the U.S. economy a few years ago resulted in a decline in business travel, which was further affected by a general fear of travel triggered by 9/11, Harvard Business School Publishing (HBSP) sought a way to reach its audience with material that it would otherwise present in a traditional, in-person conference setting. Thus began the Harvard Business School Publishing Virtual Seminar, a continuing series of interactive presentations, featuring pre-eminent speakers, on timely business management topics. And, according to Eric McNulty, Managing Director of Conferences at HBSP, the seminars have turned a profit since the very first one launched in July 2002.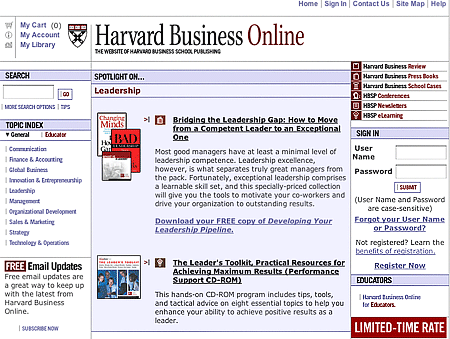 HBSP now hosts 15-20 virtual seminars per year—one or two per month except for August and December, which are dark—on topics such as "Mass Affluence: Seven New Rules for Marketing to Today's Consumer" and "Mastering Mergers: Four Make or Break Decisions," along with upcoming topics such as "Accentuate the Positive: Play to Your Strengths and Boost Personal and Organizational Success," "Workplace Power: How to Get It, Use It and Survive It," and "Winning Customers Through People and Technology."
Program Details
Each session lasts 90 minutes. The audio is delivered over the telephone, and the visual is delivered via the Web. And each seminar is priced at $349 per site—which means that one person or dozens of people can participate for the same price. Having multiple participants per site requires a speakerphone in a single room for the audio component, as all participants must be on the same phone line, and either one or more monitors or an LCD projector for the Web component.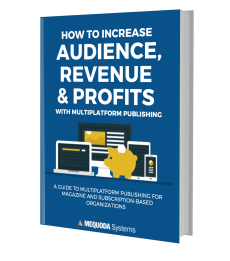 Learn the secrets behind today's most rapidly growing niche publishers. Download a FREE copy of How to Increase Audience, Revenue & Profits with Multiplatform Publishing, a guide to multiplatform publishing growth for magazine and subscription-based publishers. Download now.
After registering online (or by fax, telephone, or snail mail), participants simply log onto the website and call a designated phone number to access the program on the appropriate date and at the scheduled time. They listen. They watch. And they can email questions or comments at any time during the program and pose live questions over the phone during preset Q&A periods.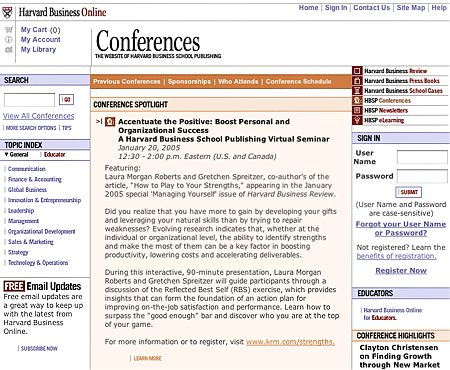 A moderator, often an HBSP editor already trained to be a panel moderator at in-person conferences but also brought up to speed on "webinar" technology and best practices, hosts each event. The moderator is well-briefed beforehand on the subject matter and, during the presentation, acts as the audience advocate to make sure "the trains run on time," to keep the speaker on message, to handle any emailed requests for clarification, and to field all questions during the Q&A periods.
Launching the HBSP Virtual Seminar program required a minimal investment, primarily because HBSP worked out a turnkey solution with KRM Information Services, a third-party provider with more than ten years of experience in online conferencing. While KRM appears to be the most expensive provider in the industry on a per-site basis, McNulty feels that the fee appropriately reflects KRM's level of service. "Never hire anyone just because they have a cheaper cost per minute or cost per site," he advises. "If you know what you're doing and are confident about your own quality control and your own internal resources, then perhaps you can cut costs. But don't just go with the cheapest option right out of the gate. We've experimented with bare-boned, lower cost options, and it just isn't worth it – both for our own sanity and for the quality of the customer experience. Utilizing KRM is a little more expensive, but it has helped us learn what we need to know."
Program Cost
For its audio-plus-Web services for each 90-minute event, KRM charges a $995 production fee and $99 per registered site, with a 60-site minimum required. When the number of registrants reaches 151, the fee is reduced by $20 per site; when it exceeds 250, the per-site fee is reduced by $40. The fees are non-negotiable, although the 60-site minimum is waived for an initial pilot program, and an accommodation is made when a client with otherwise well-attended events has one that falls below the minimum. On average, KRM's clients average 90 sites per event and four participants per site, according to Rick Olson, CEO.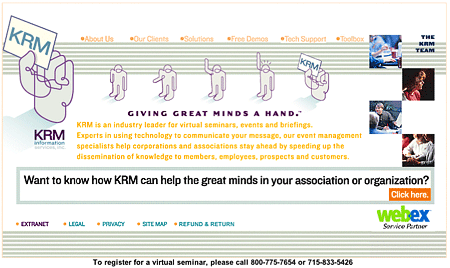 HBSP's experience is much higher on all accounts. "For each presentation, we average about 150 sites and ten people per site," McNulty says, "but we've received reports that as many as 150 people have participated at a single site." At $349 per site (with an occasional "special" for Harvard Business Review subscribers), HBSP also charges more than most of KRM's clients, whose registration fees generally range from $175 to $225 per site.
For its part, KRM handles all the event details, including registration services, payment collection and processing, help desk services for registrants on the day of the event, preparation and shipment of background materials for participants, speaker orientation, and, if requested, interactive polling. KRM will also record the audio portion of each seminar on audiocassettes or an audio CD or archive the entire audio and video event on a CD-ROM or online, any or all of which result in a secondary product and additional revenue for the seminar sponsor.
As for HBSP's costs, the most expensive single item is the speaker's fee. "We work with top-tier people on the speaking circuit," McNulty explains, "whose fees can run from $50,000 to $75,000 for a one-day, in-person appearance at a traditional conference." The fee for a virtual conference is less costly; nevertheless, he says, "they always command a certain amount of money but deliver that much value or more."
Marketing efforts for the HBSP seminars are mostly done online or via email. "Occasionally, we'll run a scheduled ad in the Harvard Business Review to push the next four or five seminars," he says, "but, in our experience, online marketing works; offline marketing does not."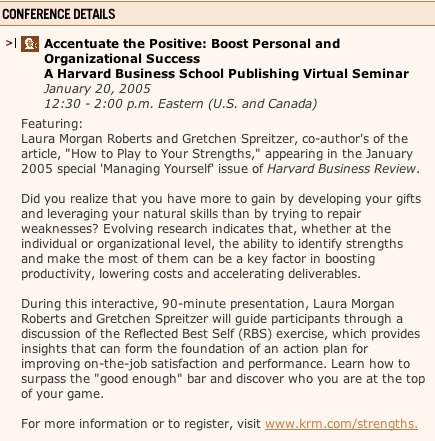 Profit Margins
The margins are attractive, according to McNulty, if you keep marketing costs in line and sell to an appropriate-size audience to spread the speaker fee, a fixed cost, over a certain number of sites. "You don't have to invest in a lot of infrastructure to get started," he says. "The only lead time required is for lining up a speaker and promoting the event. Email marketing is quick and inexpensive and works best for us." HBSP generally works with a lead of time of seven-to-nine weeks. "That's pretty short," he notes, "when compared to the time it takes to arrange a traditional conference."
Some of HBSP's seminars are more profitable than others, but none have ever lost money. HBSP doesn't disclose per-channel or per-product revenues, but McNulty says it's "significant" and that ROI was "almost instantaneous." Just doing the math, you could surmise that the program probably nets six figures in profits each year. That's a nice piece of change for anyone's bottom line.
Less Tangible Benefits
Beyond the profits, McNulty notes several important, less tangible benefits that this program offers the participants, the speakers, and HBSP itself. First of all, the program gives the thought leaders, the speakers, a chance to explore in greater depth the practical application of their ideas. "Authors can get away with being theoretical in an article," he says, "but when they hear people, first-hand, on the phone saying, 'Great, but how can I put that to work in our factory?' — the speaker has to respond with some practical advice."
The shared experience that participants enjoy is another important benefit. "We deal in the business of management ideas," McNulty explains, "and our customers take those ideas and put them into practice." Customer feedback indicates that the program provides each group of participants with a common frame of reference — a common language, so to speak — for discussing a problem, because they've all heard the same presentation. That makes it easier to keep the conversation going within that company and to actually launch some initiatives based on the content of the program.
Conclusion
"A company might not send ten people to a traditional conference this year," McNulty adds, "but those ten people could meet in a conference room for an hour and a half and get a first-hand, shared experience and some direct feedback from a pre-eminent management thinker. We've heard back from some of our seminar participants about how they're using the information that they've gotten through the seminars, and those comments have proven useful to us in promoting the program."
In addition, he says, "Virtual seminars are one more way to bring our content to an audience — and a much bigger audience than we get at a traditional, in-person conference." And although it's hard to tie the impact of the virtual seminars back to offline products, 92% of participants take part again, according to HBSP surveys. The virtual seminars are also efficient and cost-effective for both HBSP and the participants, although McNulty admits that a virtual seminar can't replace the audience spontaneity or the networking experience at traditional, in-person conferences — of which HBSP also presents eight to twelve each year. Nevertheless, he says, "virtual seminars are a great way to deliver content effectively to a large group. And since our effort has been a profit center from day one and also helps promote other products, that can't be a bad combination!"