Taking Community Building to the Next Level at the Greensboro News-Record
Citizen or participatory journalism, according to the experts, is the act of citizens "playing an active role in the process of collecting, reporting, analyzing and disseminating news and information."
So say Shayne Bowman and Chris Willis, authors of the report We Media: How Audiences are Shaping the Future of News and Information.
Bowman and Willis contend that the intent of this participation "is to provide independent, reliable, accurate, wide-ranging and relevant information that a democracy requires."
In South Korea, a country where democracy has not always been the most valued form of government, OhmyNews.com is the most influential online news site. It attracts an estimated 2 million readers a day, many of whom also write the content. OhmyNews.com has more than 26,000 registered citizen journalists. Its motto is, "Every Citizen is a Reporter."
The 40-plus traditional reporters and editors at OhmyNews.com write only about 20 percent of its content. The remainder is contributed by freelancers, most of whom are ordinary citizens.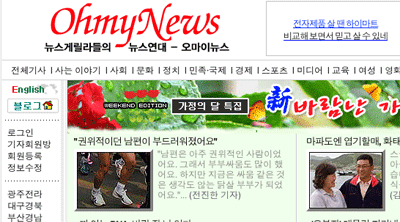 OhmyNew.com Homepage
On a slightly smaller scale, a number of traditional print daily newspapers in the United States have begun opening their websites to contributions from readers. The Greensboro News & Record, in North Carolina, a 92,000 circulation daily (122,000 Sunday), is leading the way.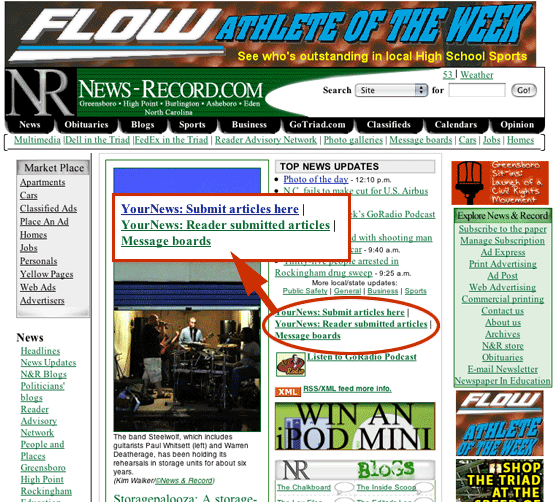 The News-Record.com homepage clearly invites users to submit articles.
Publishing Citizen Journalism Online
Welcome to Your News, where you can submit your news stories, features and opinion columns for publication online at News-Record.com.
Potentially libelous submissions—those containing assertions that could be both false and damaging—are not published, although Lex Alexander, the News-Record citizen-journalism coordinator, will give you the chance to revise them. He also tries to raise questions about false factual assertions, although he doesn't guarantee he'll catch all of them.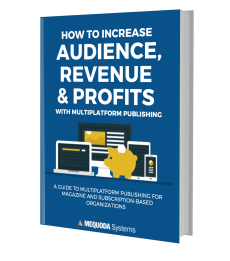 Learn the secrets behind today's most rapidly growing niche publishers. Download a FREE copy of How to Increase Audience, Revenue & Profits with Multiplatform Publishing, a guide to multiplatform publishing growth for magazine and subscription-based publishers. Download now.
Mr. Alexander will edit for grammar, spelling, punctuation and profanity, but what is published will otherwise be your words, your voice and your responsibility. And no anonymity: you need to include your name and e-mail address with your submission, which also will be published.
Some of the articles at News-Record.com are quite professional and would pass muster in a professional newsroom. Others are more opinion than straight news reporting, and reflect the first-person voice of the writer.
"I mean, we all know that our voice can be delivered to the four corners of the globe over telephone lines," writes Dennis Schooley, founder of Schooley Mitchell Telecom Consultants, in his article about VoIP (Voice-over-Internet Protocol). Kinda folksy, but not ineffective. It's just not what you might expect from a graduate of a top-flight journalism school.
Many of the Your News articles are contributed by citizen writers from outside the News-Record's circulation area.
R.W. Ward, of Essexville, Michigan, studies marketing and consumer trends in death care around the world. He recently contributed a 1,300 word article entitled "Cemetery Lots for Sale; One Man's Treasure is Another Man's Ultimate White Elephant."

Virginia Jansen (hometown not identified) submitted 500 words on dealing with carpenter bees.

"When my time comes, I hope I will just pop off," an article about death with dignity among Buddhists in Japan, was written by Dan Bloom, a freelance journalist and poet in Taiwan.
Your News readers are invited to comment on each submitted article, and may do so anonymously, but must first register and chose a fictitious username.
The Beginning of A Trend
The Your News section of News-Record.com launched February 13, 2005. As of April 25, there were a total of 39 submissions, of which 36 have been published. Mr. Alexander has returned one piece owing to libel concerns, one for factual assertions that were not accurate and one that was mainly an advertisement for a business.
The submissions from out of the immediate geographic area are either from people who have ties to Greensboro, or who are simply interested in newspapers and are responding to the publicity that the feature has gotten.
An April 11 Wall Street Journal article cited Mr. Alexander and concluded that newspaper websites that invite submissions "are betting the new approach will help them uncover feature stories that residents find interesting, but that staff reporters are unlikely to write about."
Some of the citizen writer submissions have provoked additional comments from readers, but Mr. Alexander says the paper hasn't yet begun to promote the Your News feature with house ads in the News-Record, although it will soon.
"As we promote this more, and as people come to check out the articles, we expect comment traffic to grow," said Mr. Alexander. "That was our experience with letters to the editor when we began publishing them online in blog format."
Perhaps surprisingly, he has not had to edit the citizen writer submissions very heavily.
"I try to edit as lightly as possible," Mr. Alexander said. "I edit for libel, and I will do enough cleaning up of grammar and punctuation that nobody is needlessly embarrassed online. Other than that, I try to use the writer's original diction and syntax whenever possible. I want it to be their voice, not ours."
Reader response has been mixed, according to Mr. Alexander. Some readers have been very enthusiastic. Some are taking a wait-and-see approach. And some are fearful that Your News is some sort of sinister effort to "own the blogosphere and take money away from them," he said.
Community building is not something new for the News-Record. The paper has long had forums on its website where people can post comments about the news or sports. A new web publishing system is planned that will make the process more user-friendly.
And starting next month, the paper will begin an outreach program by sponsoring community dinners where readers and the editorial staff can meet and exchange ideas about the future of the newspaper and the website.
Eventually, Mr. Alexander hopes community correspondents will write for the website covering events that the paper can't report on now owing to staff limitations. These might include very local neighborhood news, plus certain sports and recreation events.
"We will be trying to identify communities of interest and finding people to write about those communities, as well as geographic neighborhoods," Mr. Alexander said.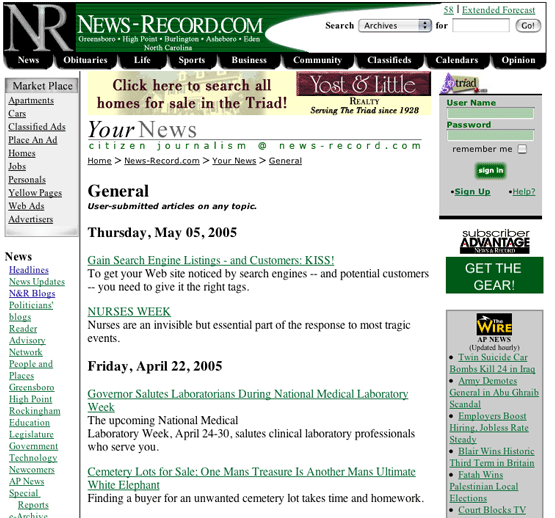 This is what the Your News section of the website looks like.
Partnering with the Public
Eventually, Mr. Alexander hopes to integrate some of the online stories into the Greensboro News-Record itself.
"Down the line, I expect that we will incorporate some community reporting into the printed paper. Ideally, long term, I would like to see reporters who are working on particular stories partnering with people in the community who have special expertise in the area of that particular story, even, possibly, to the extent of using a team of people from the community to pursue an investigative project," Alexander said. "That's one of my personal long-term hopes, that we will get to that stage.
"The big picture here is we are trying to change, not just the newspaper and not just the website, but the entire news organization to make our work process more of a collaboration with the public.
"We feel we need to do that for several reasons. One, to survive as a business and as an independent journalism entity. Two, to make our journalism better. And, three, because people in the community want that.
"They want there to be fewer barriers between us and them. They want more of a partnership and a collaboration—which makes sense.
"They want to tell their stories, and we want to tell their stories."
Other experts agree.
"Civic journalism is about providing people with the news and information they need to allow them to function as citizens, to make the decisions they are called on to make in a democratic society," says Edward M. Fouhy, Executive Director of the Pew Center for Civic Journalism.
"It takes the traditional five W's of journalism—who, what, when, where, why—and expands them to ask why is this story important to me and to the community in which I live?" (Read the full article.)