How TripAdvisor.com builds brand loyalty by interacting with their community and by search engine optimizing everything in sight
We've done some market analysis on content-based travel websites to see which site is leading the pack in terms of traffic and why. This particular profile is on our winner TripAdvisor.com, and all you travel publishers should really pay attention to see how you stack up against this leading travel website.
According to their site, the TripAdvisor® Media Network attracts nearly 32 million monthly visitors across twelve popular travel brands: TripAdvisor®, airfarewatchdog.com™, bookingbuddy.com™, cruisecritic.com™, holidaywatchdog.com™, independenttraveler.com™, onetime.com™, seatguru.com®, smartertravel.com™, travel-library.com™, travelpod.com™ and virtualtourist.com™.
Last year when we started researching them, they only owned seven of the twelve, so they're certainly growing.
When we were working on our research for the top 5 travel websites, these are the top five we came up with:
And by the way, TripAdvisor acquired VirtualTourist.com back in July.
You might be asking why Expedia and Orbitz don't fit the bill. Well, Expedia and Orbitz are primarily online retailers, not publishers. It's very clear that their intent is to sell a vacation. While TripAdvisor provides you the option to book through their website, the goal of the website is to provide their audience with reviews and relevant travel information.
With that said, TripAdvisor and the sites comprising the TripAdvisor Media Network are operating companies of Expedia, Inc.
What does TripAdvisor do that's so great?
TripAdvisor is #1 on our list for their SEO strategy and ability to build community. Want to know how they get 5.8 million visitors every month? Next to having a loyal audience that keeps coming back, the answer is SEO! If you look at Compete's search analytics metrics, you'll see that there are 33,381 keywords driving traffic to TripAdvisor.com. Most of their competitors don't even break the 10k keyword barrier.
Besides having extremely specific names for each of their pages (normally the names of resorts or restaurants), they go one step further and repeat the keyword as many times as they can on that page. On the page for the "Nisbet Plantation Beach Club", you can find that keyword 33 times on the page. When you Google "Nisbet Plantation Beach Club", they come up as result #3. The first two results are for the actual site, nisbetplantation.com.
The strategic intent of TripAdvisor.com is to share travel information. Site visitors can find information about travel from other users. For three years in a row, TripAdvisor has doubled it's number of reviews and opinions. In June, 2007, TripAdvisor.com announced that it featured more than 10 million reviews and opinions, doubling its content from 2006. Now, the site has over 20 million reviews and opinions, again doubling from the previous year.
"With 15 million members, you'll be amazed how many people you know are already on TripAdvisor and you'll be even more surprised by all the places they've been and the knowledge they can share," said Christine Petersen, senior vice president of marketing for TripAdvisor.
"We think we've created a category killer with our traveler network. By turning our model on its head and focusing on the community behind the content, we've created a social network with a purpose."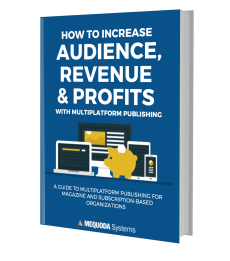 Learn the secrets behind today's most rapidly growing niche publishers. Download a FREE copy of How to Increase Audience, Revenue & Profits with Multiplatform Publishing, a guide to multiplatform publishing growth for magazine and subscription-based publishers. Download now.

The key to their success? TripAdvisor knows how to build community!
We have plenty of great things to say about TripAdvisor, but the key to their success is how they facilitate a community of travel lovers.
If you haven't noticed, building community within your brand is a big deal these days. People like to connect to other people and they trust the opinions of the average Joe more than they do of corporations. User-generated content is the new form of testimonials in our industry.
In June 2007, TripAdvisor launched a traveler network that allowed its visitors to quickly tap into their most valued resources— their friends— to help them plan their travel more efficiently.
With a My TripAdvisor account, users can bookmark reviews, hotels and attractions. They can organize their own trip itinerary and print it out when they're ready to go. Beyond that, they can leave reviews and talk to other TripAdvisor members in the forums. They can also subscribe to a newsletter that is customized to their travel interests and read travel guides for over 9,000 cities.
To build incoming traffic to their site, they launched a few promotional tools for business owners. According to the press release, "Business owners can now quickly and easily put a TripAdvisor reviews panel or an award badge for their specific business on their website. The reviews panel or widget can be customized to include snippets of the most recent guest reviews, ratings and photos of the business or destination from TripAdvisor's world-leading resource of more than 20 million reviews and opinions."
This site practically begs travelers to bookmark it and return again and again. Due to the site being mostly user-generated, content is always fresh.
They've also dipped their toes into other social media outlets with:
Facebook: Back in 2007 they launched an app called "Cities I've Visited" on Facebook where people could plant pins on a map showing where they'd been. The app currently has 1,387,194 monthly active users. "We certainly considered other social networks but what's particularly appealing about Facebook now is the viral nature of the news feed," Stephen Kaufer, CEO & President of TripAdvisor told the Boston Globe. "Of all of their friends, some portion will check out and install the application, which in turn, causes more people to notice."
Since then, they've expanded the app to MySpace, Bebo and a custom app that you can put on your own website. They've also launched a "Local Picks" app for Facebook that display reviews you've posted on TripAdvisor.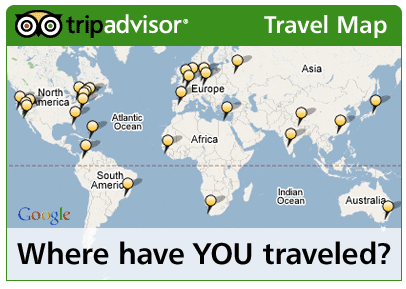 Google: They've launched a widget for iGoogle called "Window to the World – Amazing Destinations" so that when people come to their Google homepage, they will see a picture and information about a new travel destination. They've also created a Google Earth mashup where users can get "the ultimate view" of all their favorite TripAdvisor hotels on a Google Earth map.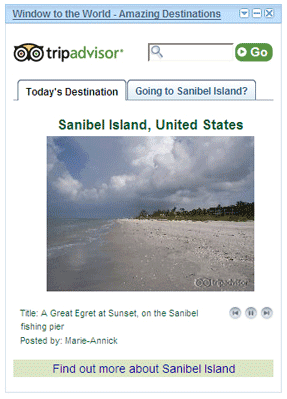 MySpace: The signature TripAdvisor owl "Ollie" has his own MySpace page where his interests include "Travel of course, also preening, rodent hunting, nest building, Tootsie Pops, reading maps and collecting bottlecaps" and his profile songs are all travel-themed. I'd highly recommend checking it out because it's a solid effort of the part of TripAdvisor.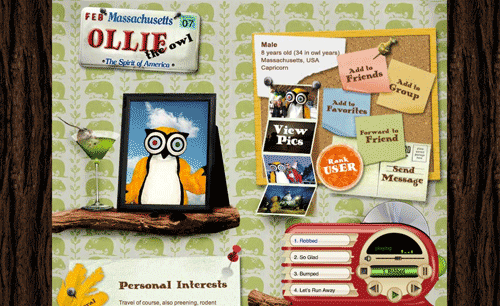 Blogs: The Snarky Owl writes a quirky blog over at the TripAdvisor "Shock Blog". What does he write about? "The stuff we can't publish," the blog intro says. "Whether it's funny, rude, bizarre, potentially libelous, incomprehensible, or all of the above, we love it, and we think you will too."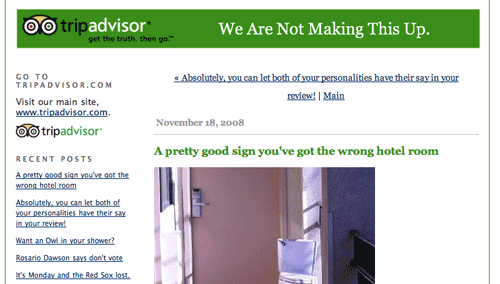 Yahoo! Answers: Ollie the Owl is a registered user on Yahoo! Answers where he's asked users questions like "When trying to save a buck, what are your limits when staying in a shabby, fleabag hotel?" and "What are your ten 'must visit' travel destinations around the world and why?". Both questions have hundreds of answers and guess where his profile links back to? You guessed it, TripAdvisor.com.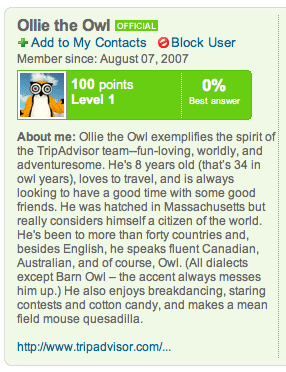 Twitter: What? No Twitter? If we could recommend anything, it'd be to get on the Twitter bandwagon. As you can see, their fans are all ready talking about them: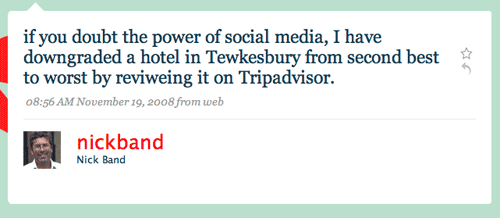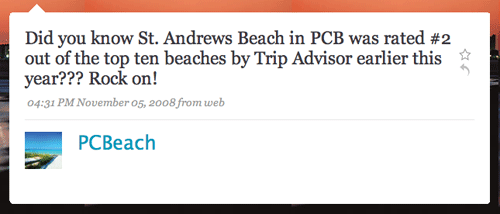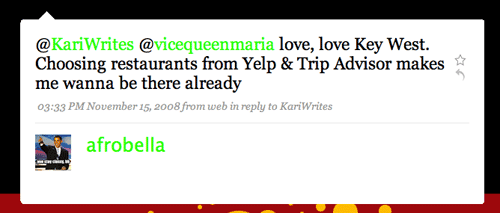 Online community building doesn't get any better than this. TripAdvisor is an ideal example of organized website architecture for user-generated content and of building brand loyalty with community and social media.